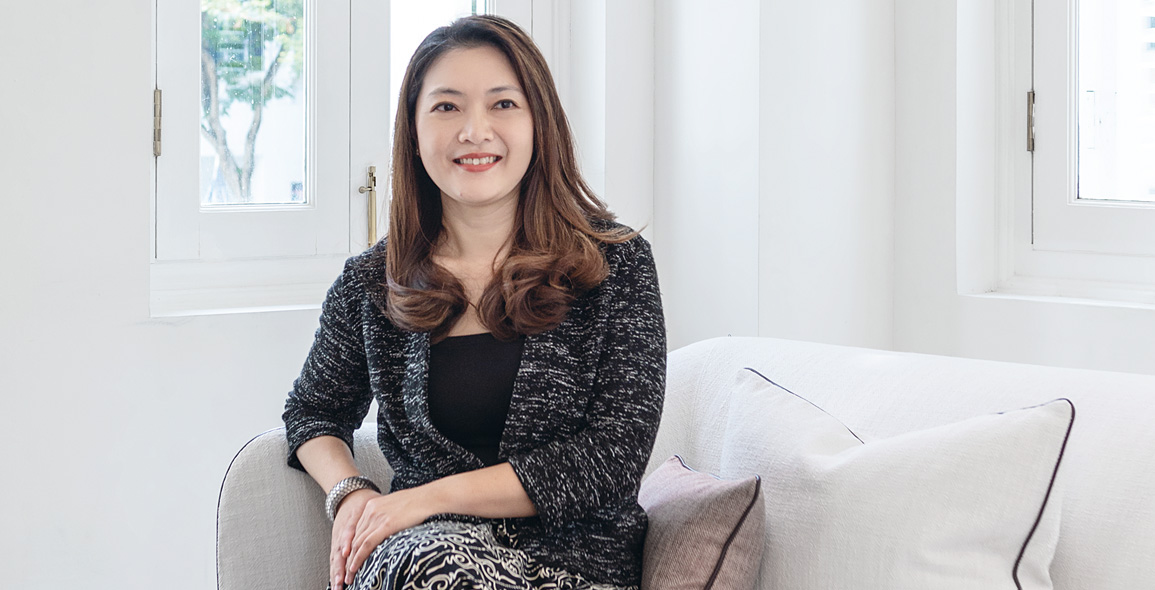 What is your design philosophy?
It is always people and context-centric. Some 90 percent of our projects are private residences, and we place great importance in engaging with the clients in the conceptualising of the design. We create spaces that tell the story of the owner residing within, so understanding their requirements is extremely key. The site-inherent characteristics influence the space planning and ambience; the client's brief and cultural background define the style language we will propose. I believe that a well thought through space is half the battle won. I seek to create designs that speak of the soul of the space, hence every project is tailored to co-exist with the site and existing interior elements.
Where do you draw your inspiration from to create your designs?
I am inspired by anything that is authentic and timeless. It can be a thought process in a book, an art work, a crafted detail on a historic building or a good piece of furniture. For instance, I might dally over an important art work from the client's collection in my attempt to map the details into the interior space. The rest of the design, such as the backdrop, patina, tone and proportion will unfold from there.
How does your work differ from other designers?
I do not deliberately work towards being different from others. Instead, I approach design based on intuition, logic and what the project brief calls for. The design direction is usually a reaction to the client's story. Coincidentally, 80 percent of our clients are foreigners from different countries. Different cultures have different ways of defining a comfortable home interior, which I have to be sensitive to.
Personally, I have always been interested in blending the local Asian context (weather, landscape, materials) with the motifs, colours and lifestyle influences from the client's culture. I do this by spending a lot of time talking to the client at the first few meetings. I ask them questions like what their dream home is like, what they like or dislike, if they intend for the home to be a family heirloom or investment and if they have collectibles they want to display. This allows me to get to know them very well and I can then design a home from their perspective.
What is the most interesting project you have worked on to date?
We were asked to design a penthouse at The Nassim on Nassim Hill. The client has a huge collection of antique sculptures, while his wife owns many modern Murano glass art pieces and Lladro fine porcelain. We conceptualised the interior to frame the dignity of the private collections with gallery-like display niches and lighting control. At the same time, we addressed the need to create a sense of luxury, combined with practical functions and comfort where they can relax and enjoy. It felt like we were doing two projects within a single interior, yet it was important to blend these two different types of requirements into a seamless experience within the apartment. Ambient lighting and getting the right proportion of the spaces were pivotal to create the appropriate distance to appreciate the client's collections.
What projects are you busy with right now?
We are excited to work on an A&A of a colonial bungalow built 20 years ago. It is now a holiday home to a three-generation family. The brief required a thoughtful design approach to present the old and new elements of the house in harmony, and tell the story of the family members staying in the house. For me, it is not about conservation or dutifully reinstating the existing old details. It is about keeping the essence of the old to bridge to the new soul of the interior.
Why do you enjoy shopping at Space Furniture?
Space Furniture is brilliant in curating furniture brands, offering designers a wide spectrum of styles to cater to our clients' tastes and preferences. The collection is very comprehensive, enabling our clients to grasp different furnishing concepts all within one building. This allows us to use our time more efficiently. One of my favorite brands is Giorgetti. None of its pieces shout out but they are still very luxurious. Its designs are original and can stand on their own as art pieces. Most importantly, they fit in with any interior design style.
This story is produced in collaboration with Space Furniture. It first appeared in Issue 115: April/May 2020 of d+a.
Photography:
Chino Sardea