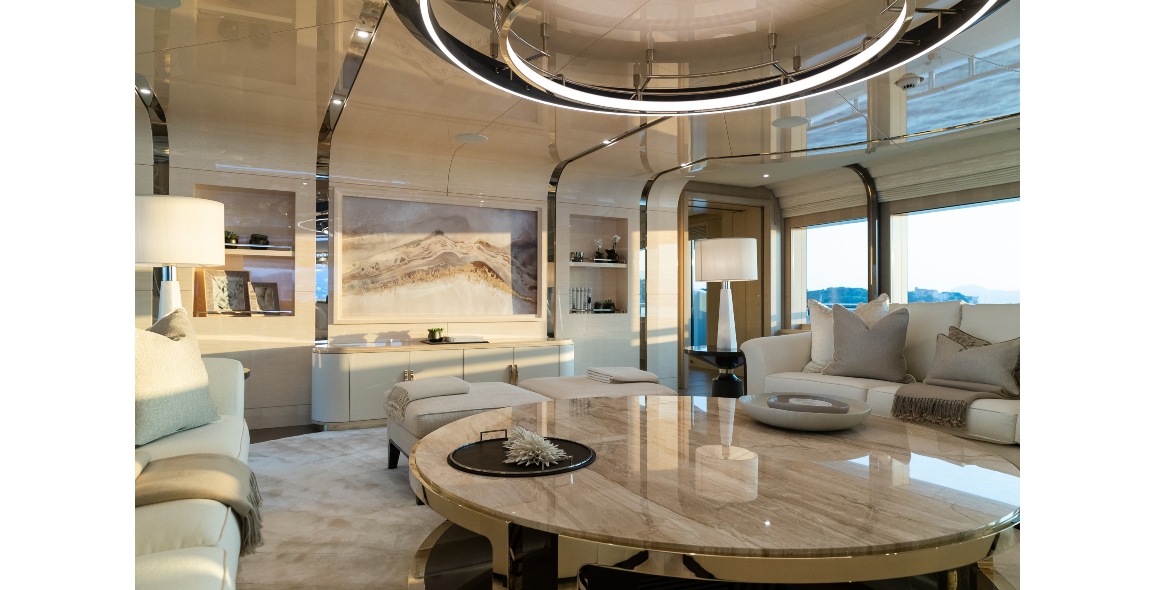 What are the key differences between designing for a superyacht and a residential project on dry land?
The main difference is that interior volumes must strictly adhere to the shape, form and volumes of the yacht. It is a piece of movable real estate constantly exposed to the aggression of the elements of sea, sun, wind and sometimes, storms. Yet, it has to remain an operating and safe vessel in all conditions. The natural light on a yacht constantly changes and is from an infinite possibility of angles and orientation.
On yachts, safety is paramount, particularly the firefighting and fire-retardant materials imposed by classification societies (Lloyd's, BV, ABS etc.), and escape routes have to be integrated into the design. Naval architecture drawings, structural drawings, volumes and circulation on board have to be approved by a classification society and Flag state.
A yacht is subject to movement, noises and vibrations, the structural support of its interior is what we call a "floating interior". None of it is directly fitted to the structure, and everything is fixed on flexible mounting.
Acoustic privacy is essential and also very complex to achieve, from cabin to cabin, staircase, galley, crew mess and deck circulation. The guest and crew circulations must be carefully studied so that latter does not interfere with the former, yet each deck will have service pantries, the crew must be able to carry on their duties and circulate without being heard or seen.
There is an incredibly complex engineering between structure and panelling, with wiring (electrical/data/AV/IT), piping (water supply/drains/toilets), ventilation HVAC, integrated sounds systems and alarms, fire sprinklers and smoke sensors.
The storage capacities for linen, tableware, silverware and glassware are essential for the service on board a yacht. It is alarmingly neglected by numbers of yacht designers these days, forgetting that the guest experience on a yacht is entirely related to the quality of service and not the design. The increase in window surface and use of loose furniture against built-in furniture has dramatically reduced the storage capacities of many yachts.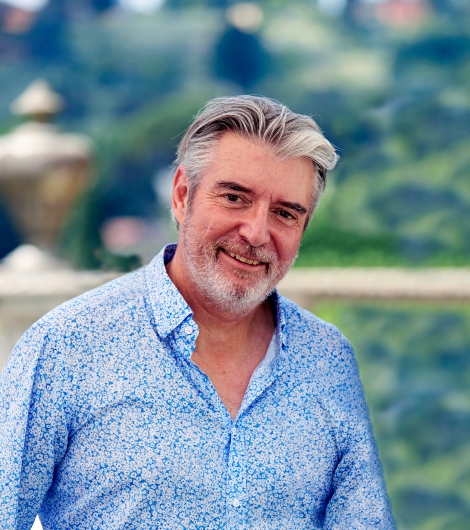 Antoine Larricq
What are some design practices that are unique to superyacht design and are not found on dry land?
The fundamental difference, I believe, is between wall and panelling. On residentials, walls are not necessarily panelled and can be part of the decoration or changed to create different volumes, which is impossible on a yacht. The naval architecture, the stability and trim of the vessel cannot be modified once all drawings are approved. Yacht designers need to integrate in their designs all aspects related to safety, acoustic privacy, engineering circulation and accessibility.
Yacht designers make better use of available volumes, which are generally less than on residential. Yachts are supposed to travel to different parts of the world with different climates and weather conditions, so much of their design has to adapt itself to a vast range of exterior lights with a multitude of different orientations.
Over the last 20 years, we have increasingly used large windows, to bring natural light inside but also for guests to be able to enjoy the scenery on a large scale. In effect, this requires an adapted temperature insulation system, light protection and when needed, the ability for total blackout.
The detail in the finish quality is generally far superior on a yacht than in a residential project because the observer's eye is so much closer to the finish details of a yacht.
What are some of the latest trends that are currently guiding superyacht design?
Better connectivity with the outdoors
- Increase in the size of windows used on board.
- Integration of virtual windows and intelligent mirrors.
- Increase in the use of balconies and openings allowing natural ventilation and mixing interior/exterior.
- Integration of pools in the interior/exterior.
More direct access to the sea
- Increase in the number of shell doors in hulls to create exterior sea access or balconies.
- Increase in articulated side decks (like Benetti's Oasis collection) to increase exterior surface nearer to the sea and better access to water toys.
- Creation of larger areas nearer to the sea, like "beach clubs" and spas, often much to the cost of engineering and technical storage.
Clearer separation of front and back of house
- The elevation of the owner and guest cabins to the main deck and possibly the owner's deck above.
- Dedicating the entire lower deck to crew cabins, crew mess and galley to free space on the main deck.
Technical upgrades
- Continual improvement of noise and vibration insulation.
- Carbon neutral propulsion, which will affect interior volumes with the use of hydrogen and/or methanol, fuel cell propulsion.
- Improvements in energy savings for the hotel load, involving the continuous running of generators to supply all the necessary power for lighting, air conditioning, laundry and galley
- Improvements in exterior temperature insulation and sun-generated heat on the superstructure
- Hopefully very soon, the increasing use of recycled materials for interior and decoration.
How do design trends on dry land impact superyacht design, if at all?
The trends are not necessarily positive when a residential designer forgets that a yacht is first of all a ship, which needs to be seaworthy for guests and crew. In this sense, it is not just about design but safety and functionality in all conditions and sometimes in very adverse conditions, which is especially important.
As a seaman, if I have to look at yacht designs (exterior) by residential designers, I am concerned about the lack of understanding of life at sea and particularly the work produced by the crew to keep the yacht safely operating and impeccable at all times and also about safe exterior deck circulation.
Designers tend to forget that the slightest sea spray when at sea will require an almost complete wash down of decks once back in the port. This is particularly critical when yachts have structural windows throughout.
Having no direct experience with residential design, I believe that yacht designing is a far more complex exercise. It includes the need to accommodate a larger number of parameters, and more than often, these are specifics that do not come into play and affect residential design. On a yacht, the importance of the design is not just the aesthetic, it is the aesthetic combined with functionality and safety, which will make it good.
Top image:
Jeff Brown of Breed Media