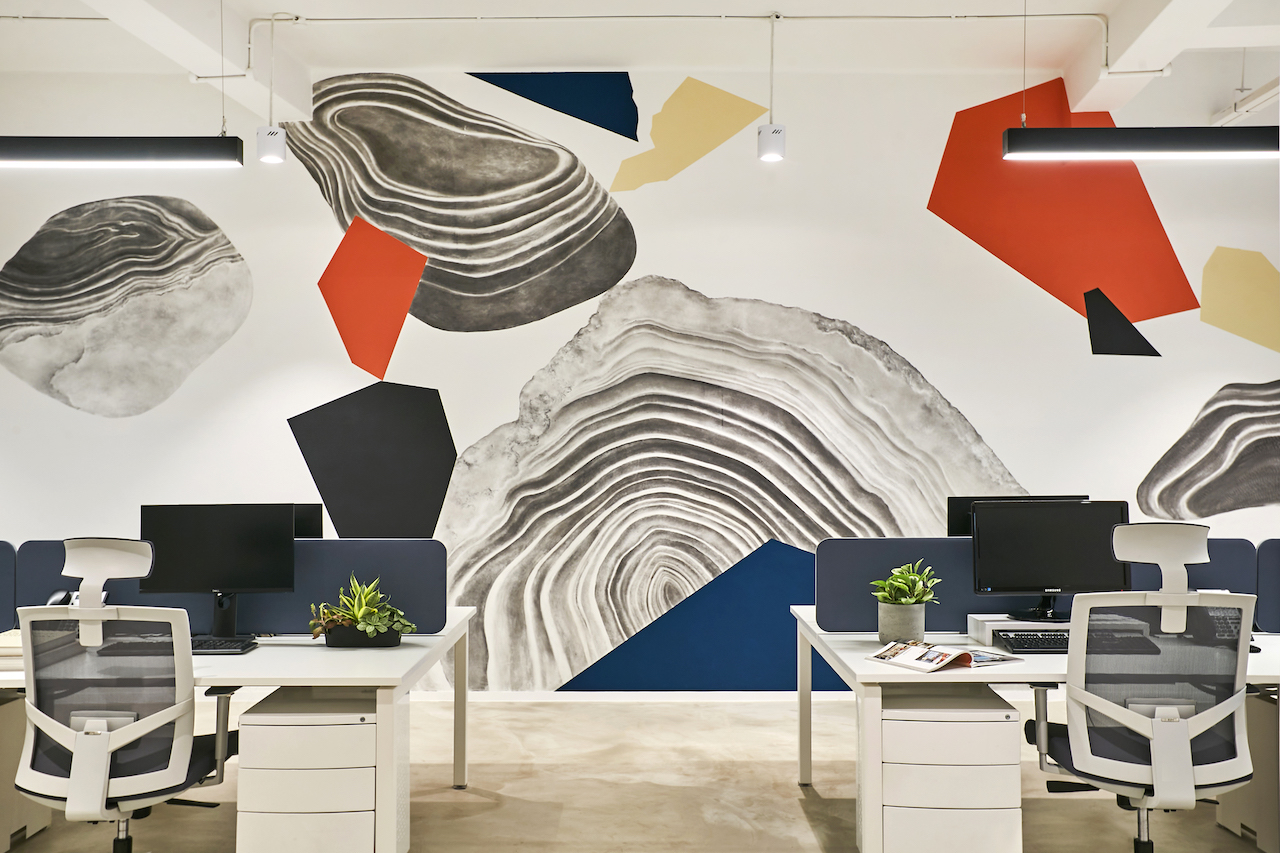 When multi-award-winning interior designer Patricia Ho Douven first set foot in an old warehouse in Singapore's Central Business District, she knew that she had found the perfect space for her new studio and office.
She wanted a place that was one-of-a-kind and in which the works of homegrown artists could be viewed and appreciated. She also wanted to be able to curate unique interior experiences for everyone who walked through the studio, and the warehouse's open plan allowed her to do just that. As she toured the expansive property, she envisioned "a series of interconnected and layered spaces that fostered a sense of intrigue and wonder among visitors as they moved through each room".
Seven months later, the White Jacket office opened its doors and Ho Douven's vision was finally brought to life. The soulful and vibrant space, which celebrates local artists and the communal spirit of public housing estates in Singapore, features bespoke furniture, statement lighting, and locally produced paintings and murals that are carefully curated by Ho Douven and her team. In 2022, the White Jacket office picked up the Best in Workspace Design award at the Singapore Interior Design Awards (SIDS).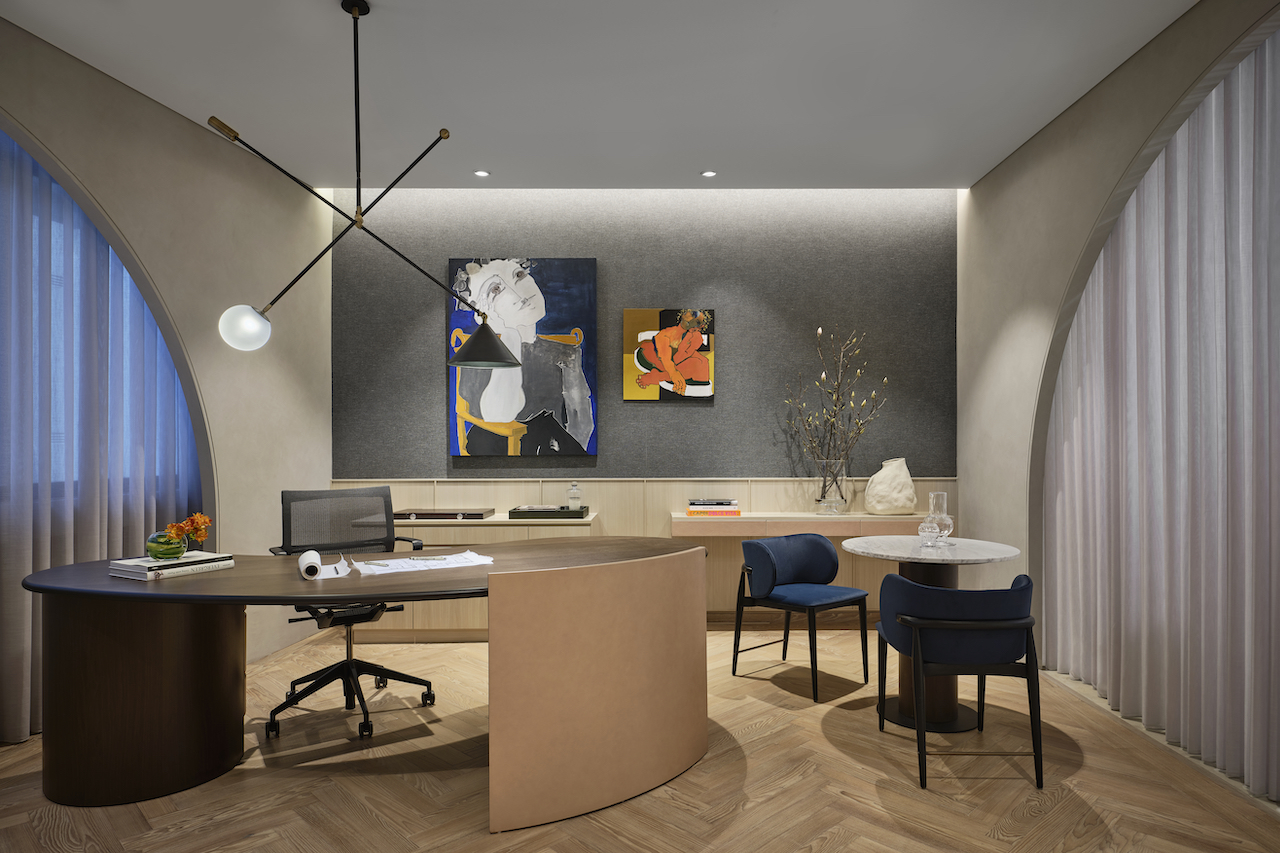 Social spaces inspired by her childhood
Ho Douven fell in love with the '80s vibe of the Upper Circular Road warehouse. Having grown up during that decade, she says that the space transported her back to her days growing up in Malaysia and Singapore.
"I wanted to recreate some of my most cherished childhood memories here," she shares. "Take, for instance, the bespoke terrazzo flooring in the studio's lobby. The flooring of my family home in Malaysia is made up of white and green terrazzo tiles. As a child, I spent many hours looking for fun shapes and patterns on the floor and doodling on the tiles to try to create my own masterpiece," she recalls.
When designing the lobby, she drew inspiration from the tiles in her childhood home. "The bespoke flooring, which took more than a month to create, incorporates leftover stone samples from our White Jacket library and donations from our company's stone supplier," she adds.
The White Jacket retail space was inspired by HDB (Housing Development Board) void decks. Ho Douven has fond childhood memories of playing with her cousins in the void deck of her grandparents' HDB block every Chinese New Year.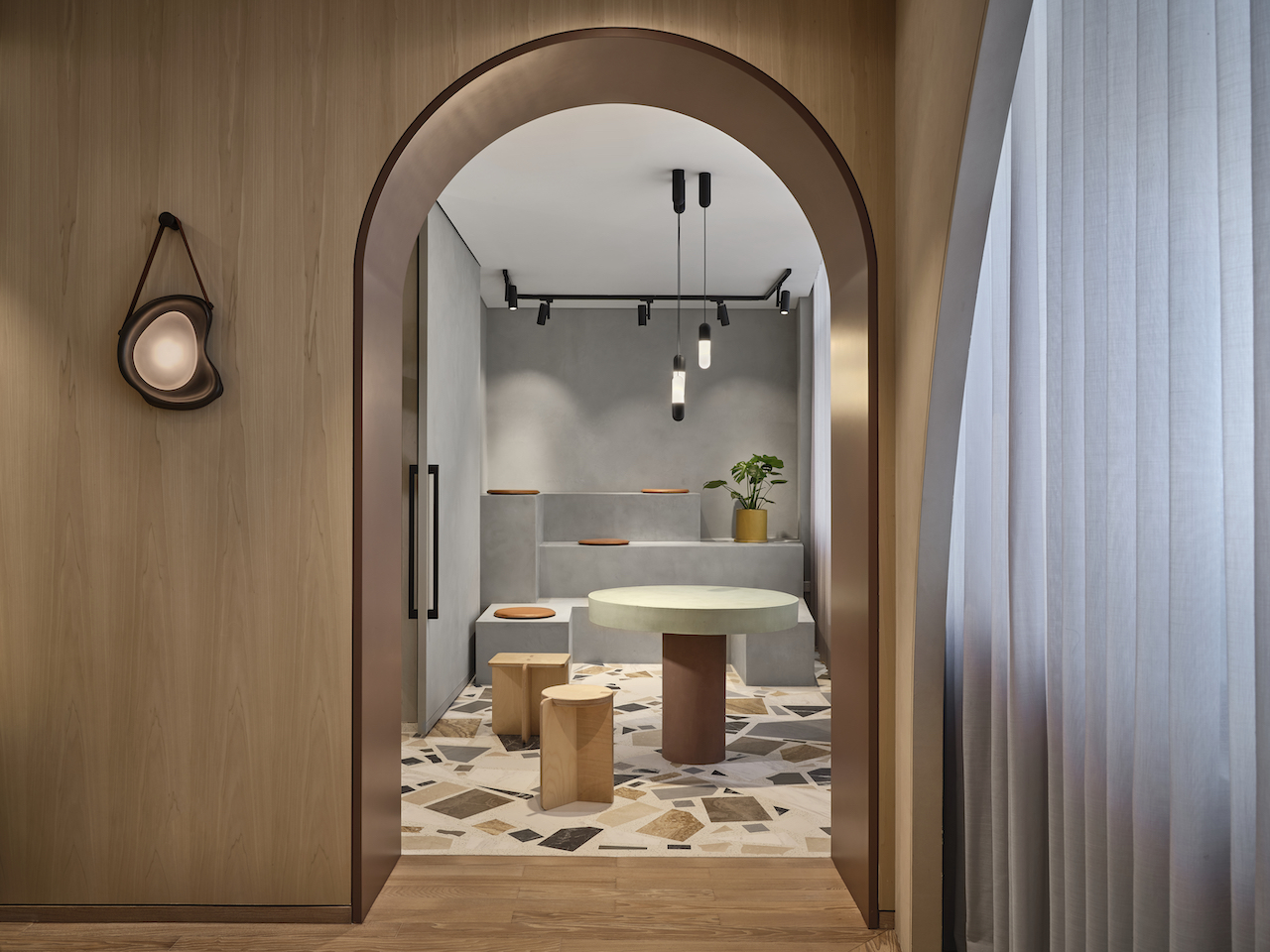 As an homage to the HDB void deck, she turned one of its ubiquitous fixtures – the tiled round table with stools – into the main feature of the White Jacket retail gallery. This space has become a place for Ho Douven and her team to hang out and connect with one another.
"It's a celebration of lepak (chill-out) culture," she says, adding that it's something that is typically associated with HDB void decks. "I wanted to inject life into the space by offering a modern take on local lifestyles and elements."
The library lounge and meeting room are the heart of the White Jacket office, yet they have been cleverly tucked away for privacy. These areas are furnished with the studio's very own designs: a meeting room table made up of two round modules arranged in a figure of "8", and a pendant lamp inspired by the suspended mobiles that, as a child, Ho Douven used to enjoy making out of paper and rattan.
A celebration of local art
The White Jacket studio is a tribute to local artists. The gallery not only offers artists a space to showcase their work; it is also where Ho Douven's clients can familiarise themselves with local art.
"Working in the hospitality design industry, we got to select artworks from all over the world, but It seldom came across Singaporean artists," Ho Douven points out.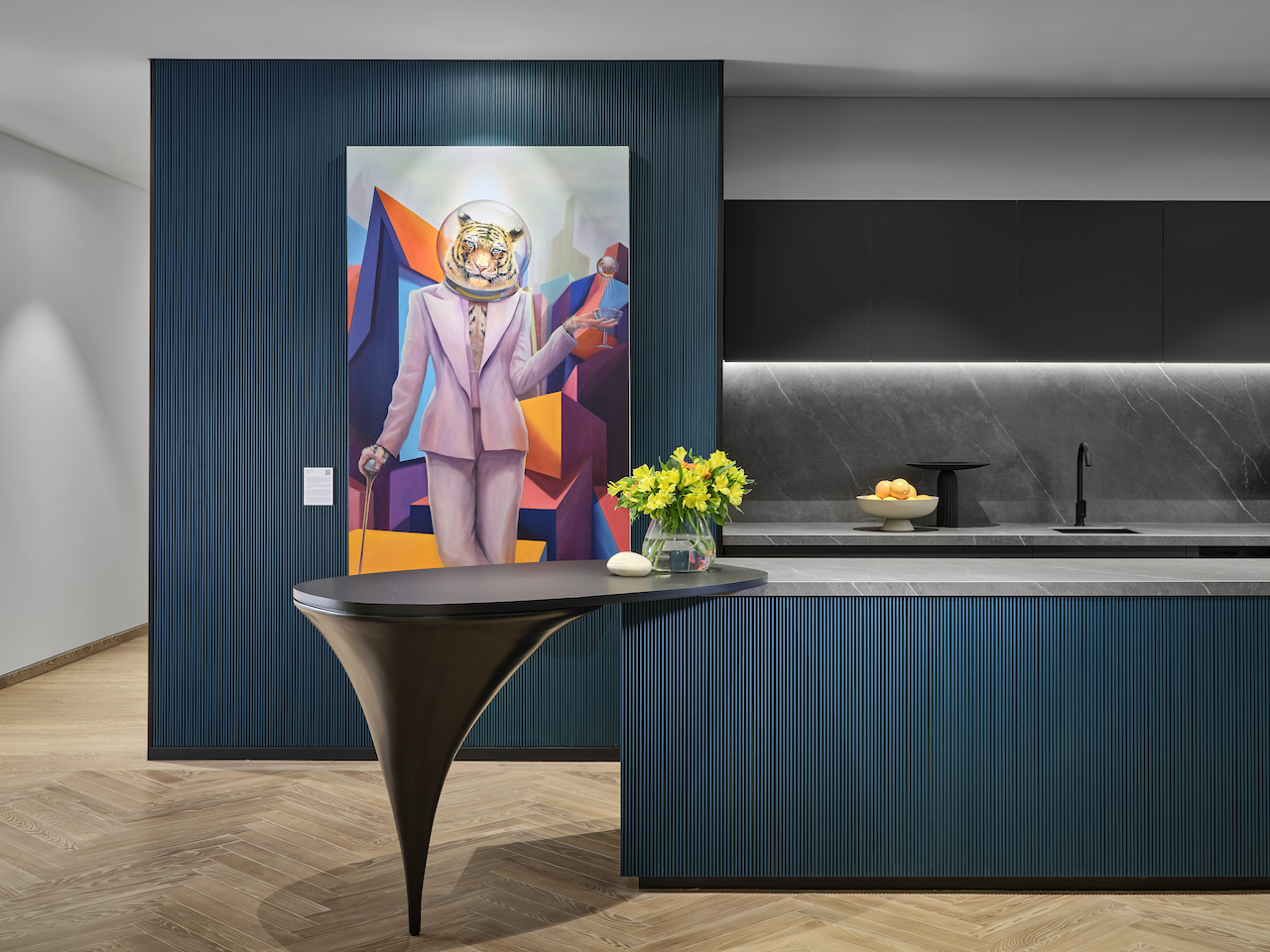 "(With this newly renovated studio and office), I wanted to a create a platform for local artists to display their talent, to raise their profiles, and to give them a spot on the international art stage."
Some of the pieces have a special meaning for Ho Douven and her team and are expressions of their creative process and the studio's location by the Singapore River.
"David Chan's Liminal, for example, is a key portrait in the office," Ho Douven explains. "The image of the tiger embodies the concept of a muse and speaks of the narrative-driven approach we take to all our projects."
"Earthing Way, a piece by Aeropalmics, is a mural that overlooks our main work area. It is an abstraction of the steps that line the river along Clarke Quay and it injects a meditative mood into the space," she adds. Meanwhile, Zhang Fuming's untitled piece struck a personal chord with Ho Douven. The woodblock print depicts an elderly man lovingly tending to his 'lucky' bamboo, which, in the local context is considered a symbol of growth, success and wealth. The scene reminds Ho Douven of her late father, who loved plants and always had 'lucky' bamboo in his living room. It also draws parallels to the success of White Jacket and symbolises the care Ho Douven continues to invest in the business.
"The pot bears an uncanny resemblance to a rice bowl – this visual element is a frequent recurrence in my work, as it represents a person's livelihood," she explains. "The library scene signifies a quest for knowledge and learning through an industry that is ever-changing."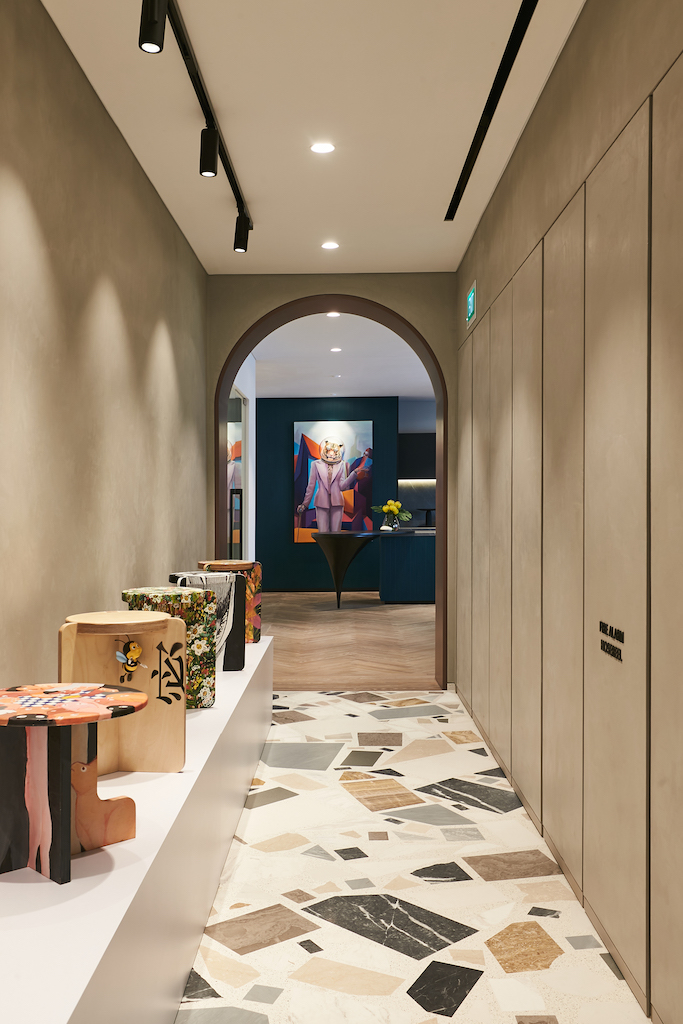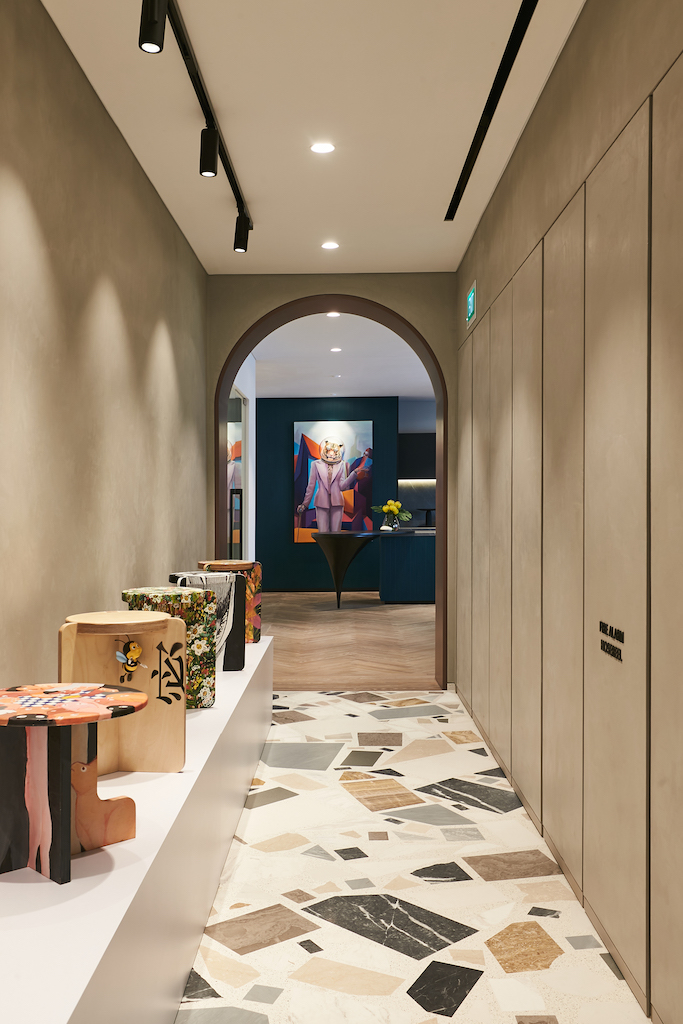 Paintings aside, last year White Jacket also partnered with Nanyang Academy of Fine Arts (NAFA) to conceptualise and develop bespoke stools for its void deck-inspired retail space. Ten stools were produced – Ho Douven invited eight NAFA artists to apply their unique touch to the stools, while the remaining two stools were designed in-house by White Jacket designers.
"We wanted to make art accessible to everyone and encourage the public to buy locally produced art and support the local art community," Ho Douven says, adding the proceeds from the sale of these stools went towards NAFA scholarships to nurture the next generation of artists.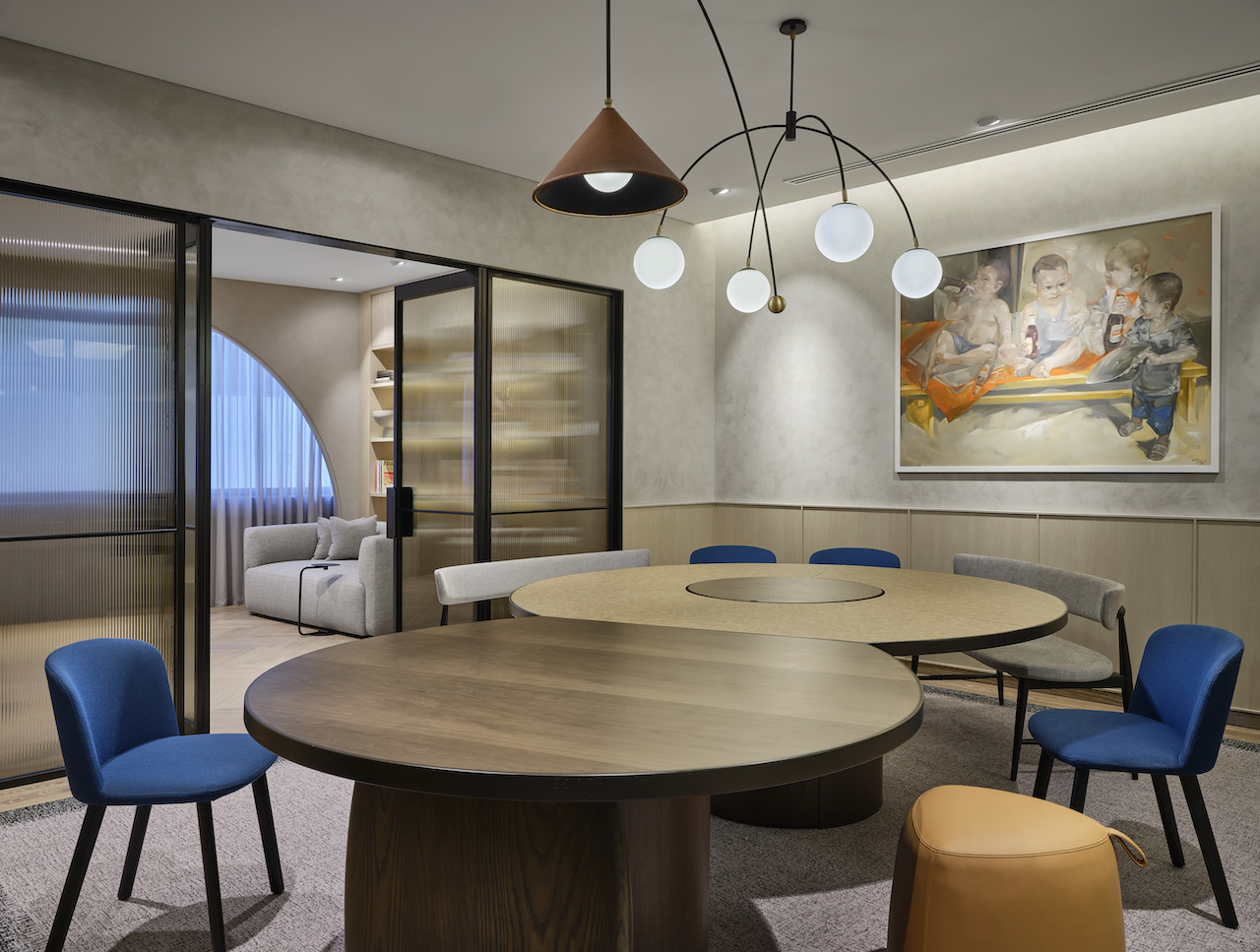 A unique place to work in
White Jacket's main work area is bright and airy with an open-concept layout. The elegant Elgin Bridge, which spans across the Singapore River, is visible through the main window.
Design elements like blonde wood, unused stones from factories, corrugated panels and sculptural furniture feature throughout the studio, giving the rooms a feeling of comfort and sophistication.
But what makes the studio a really special place to work in is the fact that almost everything in it is custom-made or commissioned and therefore unique – much like Ho Douven's approach to projects.
Just as 'bespoke' and 'one-of-a-kind' are apt descriptions of the White Jacket studio, they also define the way Ho Douven and her team work. "We are dedicated to creating beautiful interior spaces that are 'bespoke' and 'one-of-a-kind'," she says.