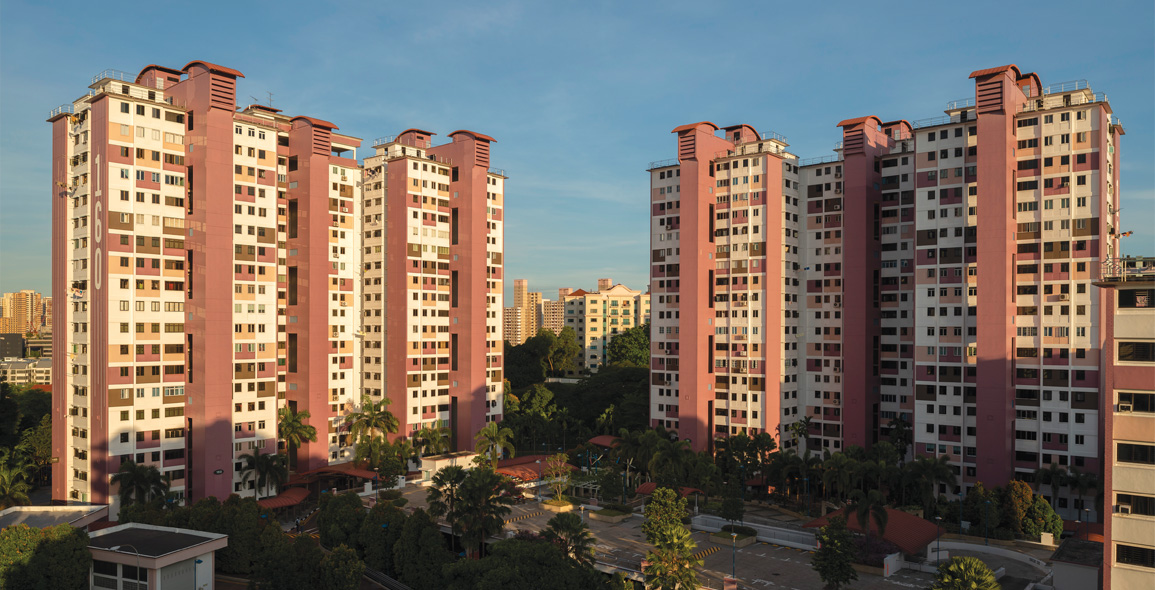 When we think of modernist buildings from Singapore's recent past, we often single out the "heroic" examples, such as Golden Mile Complex, Jurong Town Hall, the former Singapore Conference Hall and Trade Union House, and the former Subordinate Court.
These are heroic because they were bold and visionary in conception. Their striking forms and delightful spaces reflect the architects' ingenuity.
Some also attribute their significance to their zeitgeist, the fearless, can-do spirit of the nation-building era of Singapore during the 1960s and 1970s.
Indeed, many of these examples of heroic modernism have rightly been conserved by the authorities, or are being studied for conservation due to their architectural and social significance.
Heroic modernism on its own, however, does not fully capture the richness and diversity of modernist buildings in Singapore.
Singapore is one of the most modernist countries in the world. An overwhelmingly large proportion of its built environment was constructed after the 1960s, with the city centre primarily a result of urban renewal.
Around 80 percent of the population resides in outlying satellite new towns built around the same time.
Both of these were products of the "Ring Plan", first proposed by the United Nations planning experts and later implemented in a series of Concept Plans.
Taking the whole island as a planning unit, these plans radically transformed the territory of the city-state and how Singaporeans live through what Rem Koolhaas characterised as the tabula rasa mode of development typical of modernism.
Yet, unlike many places around the world, modernist buildings in Singapore are not stigmatised and are generally accepted and even well-loved by its inhabitants.
However, most of them remain unknown to us for various reasons.
It might be because they are so ubiquitous that they are deemed ordinary and thus taken for granted.
I call these well-loved but underappreciated modernist buildings "everyday modernism".
Together with writer Justin Zhuang and photographer Darren Soh, I have co-authored a book tentatively titled Everyday Modernism to document these ordinary but fascinating built backdrops to the daily lives of many Singaporeans.
Below, I draw from a few examples of everyday modernism discussed in the book. My focus is on those located in the public housing estates and predominantly designed by architects working in the government agencies, as these tend to be overlooked.
Everyday modernist buildings might be best appreciated through the typological framework. They are seldom singular; they tend to be part of a series.
HDB Blocks: The slab and point blocks designed and built by the Housing and Development Board (HDB) are probably the most repeated typologies. With rare exceptions, such as the circular point block at Ang Mo Kio Avenue 2, the same design for either a slab or a point block was built many times over and at different housing estates. But that does not mean that all slab and point blocks are the same, or that the designs are unchanging. In fact, HDB constantly sought to diversify the designs throughout the years. For example, it unveiled seven new block designs in 1979, giving rise to multidirectional point blocks and staggered slab blocks, among others.
Schools: Besides housing, the school was another building type that received great attention from the post-independence government. It went on an intensive school-building spell in the 1960s to train the human resources required for economic development. From the 1960s, the Public Works Department (PWD) developed a series of standard designs for schools. Each decade has its own unique "mass-produced" schools. These include the 1960s type with exposed brick walls and capped by a series of gable roofs; the 1970s type that each featured a unique 9m-by-3m mural to differentiate between the similar-looking schools; and the 1980s type with a large mono-pitched sloping roof that unified the few blocks underneath it. To encourage new ideas, the Ministry of Education and PWD even co-organised an internal competition to solicit school building designs among architects working in the government agencies in 1975. One of the most striking winners was a primary school with hexagon-shaped classrooms. Realised at a number of locations, at least one of them is still standing at Alexandra Road, currently occupied by the APSN Tanglin Special School.
Recreational Facilities: In addition to spaces of learning, spaces of recreation constitute the other key example of everyday modernism. These include typologies like the swimming pool, playground and community centre, which are an integral part of the "heartland", i.e. public housing estates. Like other amenities in the public housing estates, these typologies were designed mainly by the HDB and built from the 1960s. Among the prominent examples of swimming pools are the former Bedok Swimming Complex (demolished) and Ang Mo Kio Swimming Complex. Sculptural skylights jut out of the flat roofs of both buildings, forming interesting roofscapes that could be appreciated from the surrounding high-rise HDB flats. Another type of low-rise sculptural object within housing estates is the playground. Any discussion of playgrounds today has to include the now-iconic dragon playground designed by Khor Ean Ghee in 1979. But that too was part of a series — released together with the dove playground and based on the further development of earlier designs from the early 1970s.
Community Centres: Unlike swimming pools and playgrounds, community centres are not strictly spaces of recreation. If recreation takes place in these centres, it is to foster stronger community bonding. Regarded as a critical part of the "important nerve system of the body politic of Singapore" by former Prime Minister Lee Kuan Yew, the People's Action Party government of Singapore actively planned, built, managed and upgraded the network of community centres from 1959 till today. While the earlier community centres were based on rudimentary standard types, the later ones became increasingly sophisticated. Both the HDB architects and architects in private practice were enlisted to design them from the 1970s.
This rather cursory overview of everyday modernism only hints at the range, depth and broader social relevance of a significant number of modernist built environment that we are surrounded by and our lives are enacted in.
My co-authors and I hope that Everyday Modernism will stimulate further interest in the quotidian form of modernism that very much defined Singapore's way of life in the post-independence period.
This feature first appeared in Issue 117: August-October 2020 of d+a. It is part of a series where we spotlight the conservation of Singapore's modern built heritage.
Captions:
Dr. Chang Jiat Hwee & Justin Zhuang