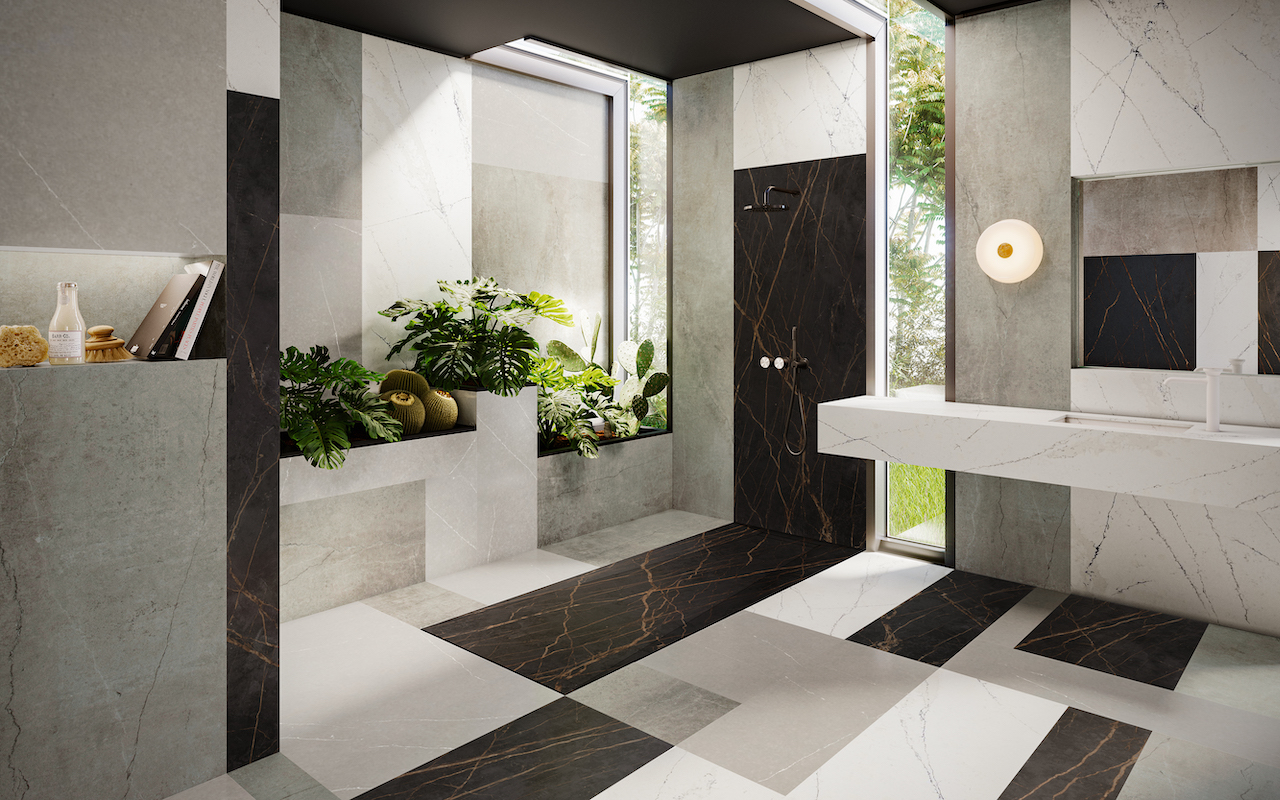 Colin Seah, Design Director and founder of Singapore-based studio Ministry of Design (MOD), was recently invited to dream up the future bathroom for Bathelier – a portfolio of bathroom solutions by a group of design experts from around the globe, conceptualised under Cosentino's new bathroom-focused platform, C·Bath. The bathroom-focused concept showcases the brand's capabilities in bathroom spaces using its state-of-the-art, sustainably manufactured surfaces, as well as its custom bathroom fittings. For Bathelier's first collection, Seah created two distinctive visions: The Collage and The Cave. He shares his views on bathrooms trends, designs and technology.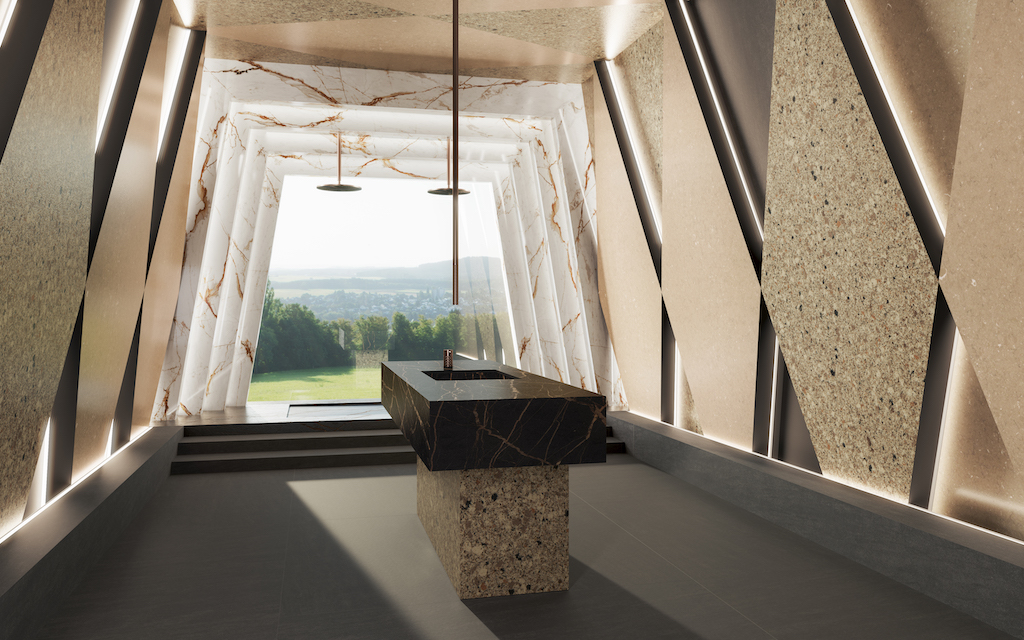 Seah was inspired to explore a space reminiscent of a cave, where bathing rituals come to life in a dramatic bathroom with a view, articulated with three Dekton® colours: Bromo, Laurent and Awake, Silestone® Coral Clay and Sienna Ridge, Simplicity washbasin and Rainfloor shower tray.
What do you think the future bathroom should/will look like?
I think the bathroom will continue to be an even more critical space in the future home experience as we spend more time at home and [with] changes in our lifestyles like remote working and so on. Just like how the living room plays many roles – relaxation, entertainment, health and wellness, social, meditative – the bathroom space will also need to play a multitude of roles. Its current main role is for cleansing and ablutions, but moving ahead, it will also begin to play the role of a place of health and wellness as well as relaxation and entertainment. This may be achieved through smart technologies, lighting systems, and AR interfaces.
What is the market demand like, and what should customers be aware of – from functionality to efficiency of the bathroom designs?
Functionality is king. The design of a space like the bathroom is, first and foremost, driven by the flow of activity. A bathroom can't just look beautiful but not work well. A great bathroom experience is not skin deep; it needs good bones and an efficient system to handle the many practical activities it supports. Customers should really consider how they use a bathroom very carefully – night time versus morning use, relaxing weekends versus rushed weekdays. They should consider all their bathroom rituals and quirks. Aesthetics should be the last thing they consider. It should be the final dressing after we've arrived at a well-shaped form.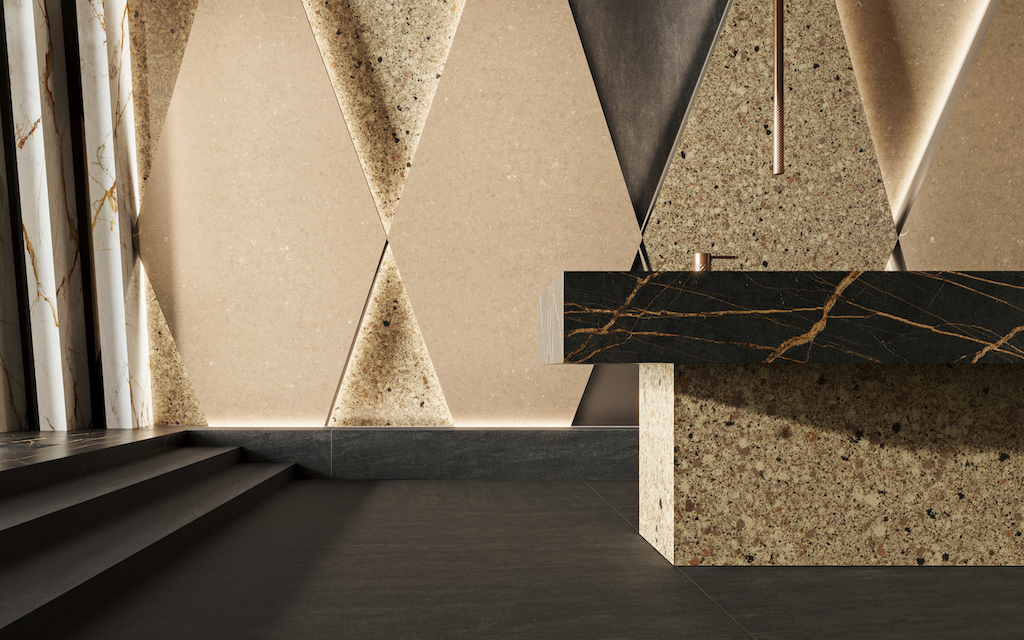 Wellness, comfort and personalised spaces are important, but what if space is limited?
Space is a luxury not everyone in Singapore always gets to enjoy. However, I think that space aside, other key elements to create amazing bathroom experiences that encourage wellness and comfort are textures, lighting, and greenery.
These elements can alter an experience dramatically, transforming a bland space into something that is either tranquil or dramatic, and relaxing or exciting. Consider the two types of lighting, for instance, one that's more practical and task-based while the other that's dimmable and more mood-based, and have them on separate switches. Homeowners can also tap into their unique backgrounds and experiences by injecting objects/artefacts subtly into their bathrooms, combining utilitarian elements with an unexpected personal touch.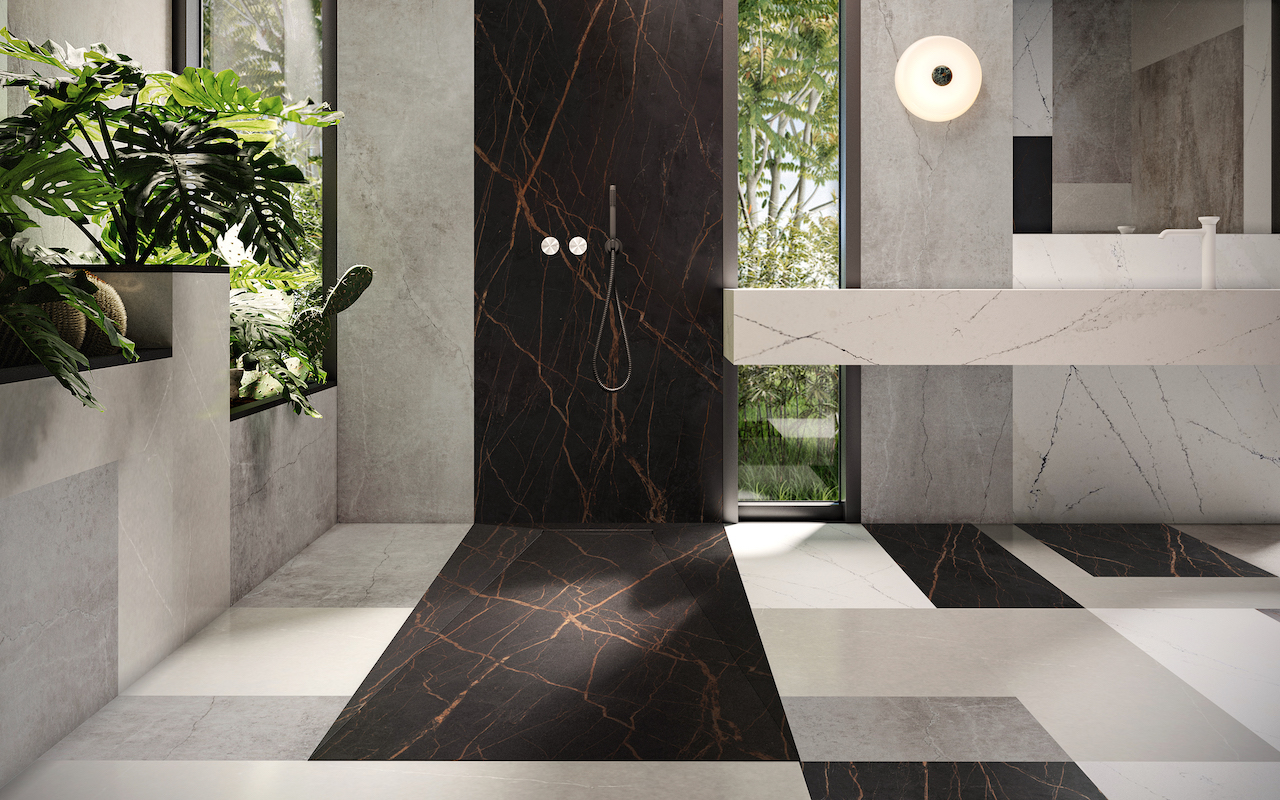 The Collage balances contrasting colours to create a unique moment of holistic harmony with Dekton® Soke and Laurent, Silestone® Eternal Serena and Ethereal Noctis, as well as Simplicity washbasin and Rainfloor shower tray.
Tell us more about state-of-the-art and sustainably manufactured surfaces that one should consider?
For the customer, a state-of-the-art surface should be pleasing to the eye but also sensual to the touch with amazing tactility. It should be totally stain-resistant and require minimal upkeep. These traits allow for greater long-term sustainability because they demand fewer changes and offer greater ease of maintenance. Behind the scenes, the material should also be manufactured with the most sustainable and waste/pollution-free methods possible.
What about custom bathroom fittings and bathroom technology? What should we expect in 2024?
We should anticipate more integrated bathroom elements such as sinks in vanity tops, shower trays in floors, lighting [embeded] into surfaces and looking further afield, maybe even integrated technologically enabled items [fused with] common bathroom elements.