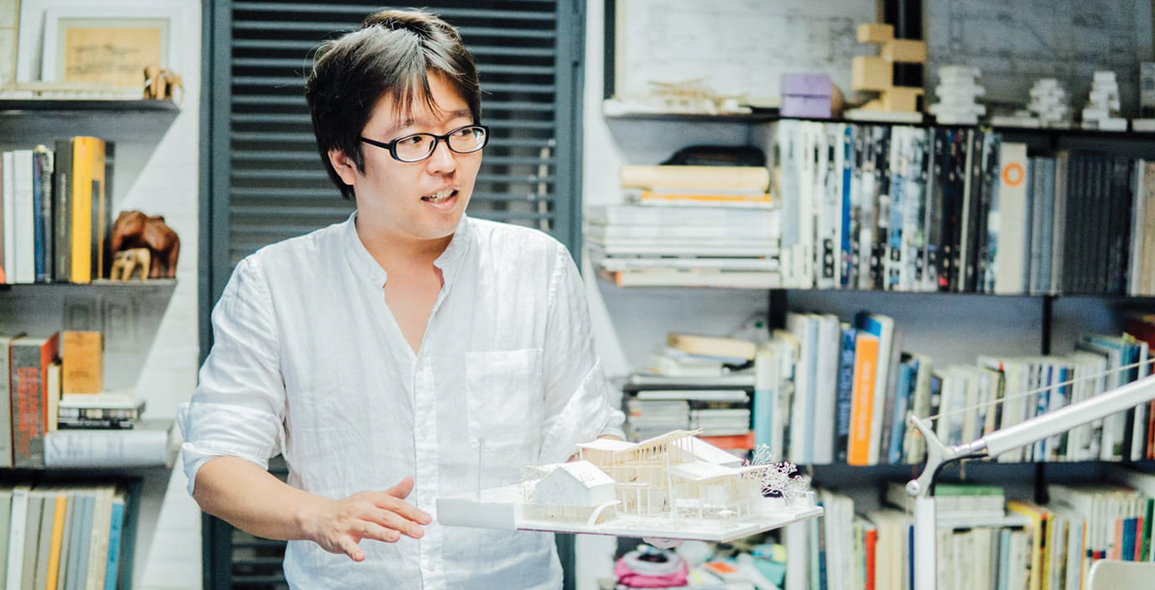 One would think that after a four-year stint in Osaka, and Tadao Ando's luminary practice, Tokyo-born and trained Shunri Nishizawa might return to his native metropolitan environs to ply his trade.
On the contrary, he packed his bags and sought out, quite literally, the greener pastures of a developing Vietnam.
"I was interested in the possibility of an Asian livelihood, philosophy and architecture, and to deepen that understanding meant to practice abroad," Nishizawa recollects.
A potential collaboration with Vo Trong Nghia, a close friend and fellow Tokyo University alumnus, offered precisely that overseas exposure. The rest is history.
Fast forward 10 years, and now helming NishizawaArchitects in Ho Chi Minh City, the Japanese architect boasts an impressive portfolio, predominantly housing with select pieces of commercial and industrial work.
The buildings are of a contemporary style; qualities of structural minimalism and daylight are prevalent, a nod to Ando's influence.
Yet, Nishizawa's designs bear his distinctive trademark. The Binh Thanh and Thong houses, with their permutations of permeable shading devices, are defined by voluminous spaces courtesy of staggered concrete planes.
"Big openings and high ceilings are natural when we think about space in the tropics," he remarks.
Two mainstays of tropical architecture, shallow pools and an abundance of foliage, complement his structured forms.
And while that green-fingered sensitivity is part-passion (he had seen himself a gardener earlier on), it is also part-learned, stemming from weekend excursions to Kyoto's famous temples and gardens only 30 minutes away from Osaka.
He explains, "For our ancestors, both buildings and gardens mediate between humans and nature. And sometimes, they even blend into each other."
There is more to his firm's work than just concrete and planting. "We don't have any specific materials that we stick to. We always try to find the essences of a site, not merely creating or attaching to it our own language," he emphasizes.
He cites the Ben Thanh restaurant, a pizza place which has Japanese twists on Italian fare that are enhanced by a rugged yet refined interior; terrazzo flooring, steel fencing, tempered jalousie windows and red bricks are all sourced from the original colonial building and its surroundings.
This approach of materials by locale is conveyed in a poetic and salient house in Chau Doc, a culturally diverse border town of rice fields and shanty houses lining the Hau Giang River.
Constructed entirely from locally-sourced timber and corrugate, the linked domicile is defined by a cadence of wooden structures, supporting roofs designed to cascade light into a multi-tiered and airy modern interior.
On street front and back end, large corrugated panels pivot and hinge to control light and wind, simultaneously buffering the house during harsh monsoons.
There is also the sensitivity towards the community, mostly of low income, and shaping their perceptions of what good building can be.
"Although we felt here a beautiful balance of nature and human intelligence, the locals on the other hand could only dream of a mega-city lifestyle. Some were even ashamed of their homes being a symbol of poverty," says Nishizawa.
"Through a thorough study of context, we tried to interpret and insert a contemporary architecture (in a way) the locals could appreciate."
Thinking back to that initial impetus to leave his homeland, Nishizawa muses, "Overall, I feel practicing here has helped me gain a relative understanding of architecture, and life in general, in Vietnam, Japan and Asia."
His practice remains one of constant study, underscored by a recent collaboration with the University of Shiga Prefecture into the research of local housing in the Mekong Delta, which he says "offers us a lot of hints towards understanding Asian architecture".
It is a dedication – this continued search to find possibilities of how buildings, human life and nature can achieve equilibrium – that can only be commended.
This story first appeared in the December/January 2018/9 issue of d+a.