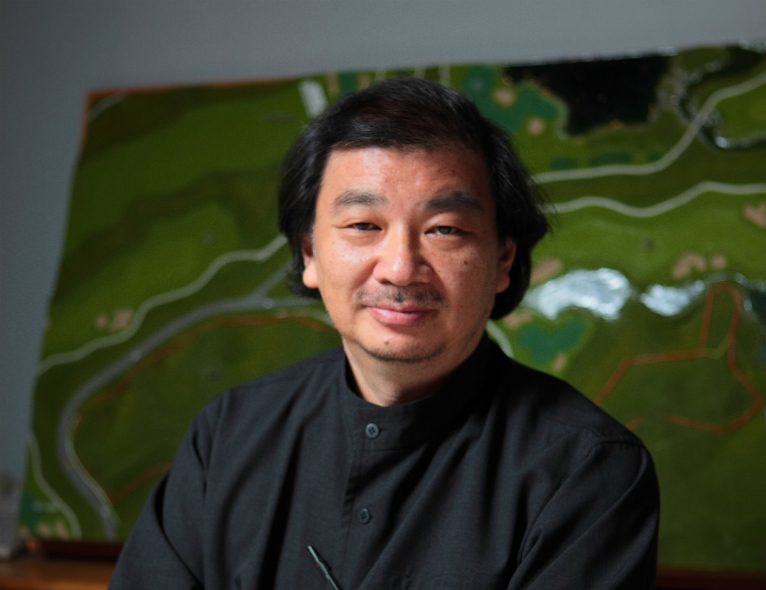 Speaking to Shigeru Ban is not for faint-hearted. His minders form a protective circle around him and when you finally meet him, his demeanour is serious, almost bordering on stern.
Nonetheless, it is easy to understand why. The Japanese architect and Pritzker Prize laureate is best known for his humanitarian work, where he plays an important part of disaster relief work.
Ban pioneered the idea of using paper and cardboard to design high-quality, low-cost shelters for victims of natural disasters around the world.
An example is a simple partition system using paper tubes and cloth that accords occupants privacy at the evacuation centres.
"Without privacy, many women don't want to move into evacuation centres. They end up sleeping in the car and some of them have been known to die from deep vein thrombosis," he shared, in an interview with d+a last Friday in Singapore.
Among the recent disaster relief efforts he has been involved in is the earthquake that hit Hokkaido, Japan in September, and when prefectures in western Japan were faced with severe floods that rendered thousands homeless in July this year.
Transcending Borders
No thanks to climate change, natural disasters are now a dime a dozen around the world, keeping Ban busy.
He revealed that he sometimes turns up at disaster zones without being asked, and other times, he is invited to go and help.
The former he does by teaming up with architecture students from the local universities, who work alongside the students he teaches at Keio University, "It is part of the education for my students, and helps them establish new relationships globally."
That he uses paper tubes as the basic material is no coincidence – they are readily everywhere, even in Kigali, the capital of Rwanda, where he was called to help, "We place the order, the material is delivered, and the students coordinate the construction."
This is something Ban has been doing since 1995, when he first set up the disaster relief organisation Voluntary Architects' Network, a decade after he founded his eponymous practice.
"I was tired of working for privileged people," he later revealed, during the TOTO Asia Oceania's CSR event, which he had been invited to speak at following the chat with d+a.
Obviously, doing what he does ranks high on the feel-good scale, "I am always happy to provide a good living space to people. Whether I'm being paid, or do it by myself, the satisfaction is no different. As an architect, my role is to give people good living conditions."
Ban rightfully points out that natural disasters are in fact manmade, "Earthquakes don't kill people; the collapse of buildings kill people. That's our responsibility."
For-Profit Work
Outside of disaster relief efforts, Ban still finds the time to work on commercial projects, although he says he does not do many.
"Commercial developers commission buildings to make money, which is very temporary. I am not interested in designing building to make money. I only work with developers for a good reason."
One is the recently-completed Shonai Hotel Suiden Terrasse in Tsuruoka City in the Yamagata Prefecture, Japan.
Ban revealed it is part of a bigger project that is helping to revitalise remote cities and towns, which is meaningful for him.
Clearly, his definition of the role of an architect in society is unconventional. In fact, he feels that it needs to change, depending on the times we live in.
"Before, nobody recognised architects that have worked in disaster areas. After I started, and because of climate change and the increase in natural disasters, we started to be noticed. Even young students start recognising their social role."
He is understandably pessimistic on the future, "Commercial developers are just building cities to make money. It's not a positive moment for the world right now."
This is why he is currently working on an urban planning project – a first for him – to plan a city in Japan on a 47-hectare plot. Unique to it is a disaster relief zone that he has included so that if something happens, there is a fallback plan.
"In the past, there was no disaster prevention as a part of an urban planning design, but I'd like to design this city with this new aspect," said Ban.
Naturally, he hopes the zone will not be activated, "This year there were quite a few earthquakes and floods in Japan, so I was quite busy. I hope next year it won't be as busy."
TOTO is available at W. Atelier in Singapore.
Photos:
Shigeru Ban Architects