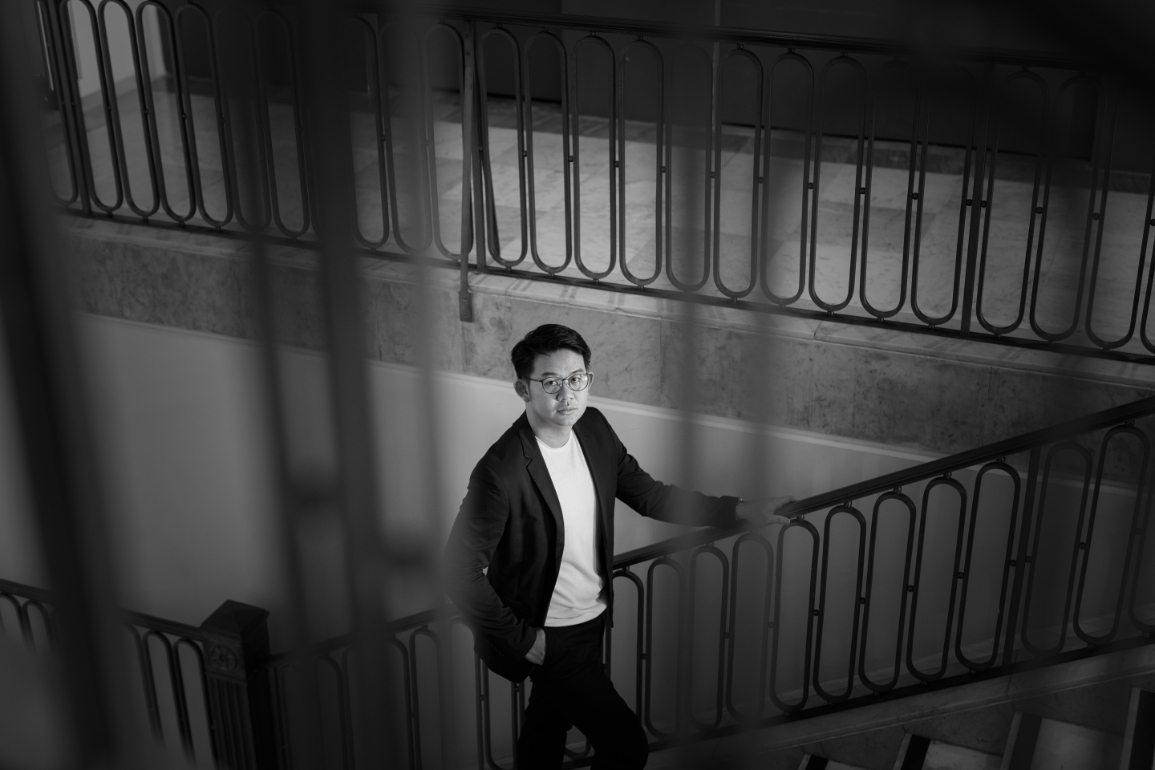 Rudy Taslim started his firm Genesis Architects in 2014, wanting to create beautiful spaces for local communities. Working across diverse scales and geographies, he believes this has enriched the multi-disciplinary firm's approach to designing for different communities where he had to adapt to a range of cultures and contexts.
He is forthcoming on some of his experiences working overseas, for instance reinventing how design is documented for builders and leveraging on a community solution when building schools in the Democratic Republic of the Congo.
On one lesson learnt, Taslim says, "In regions like Africa, you often have to strip everything to its raw, purest form…I learnt that…less can be more."
What is it about the practice of architecture that drives you?
Since I was young, I've always been intrigued by the ability to create and curate beautiful spaces. With every completed project, I witness the transformative power of design: whether it is a simple renovation of a derelict interior space, or a brand-new community school building. The way in which well-designed spaces can positively impact lives brings a great sense of satisfaction to me.
From master planning to architecture, interiors and community development, you have worked across a wide range of scales.
Architecture and design is becoming compartmentalised with the increasing fields of specialisation. But I see it as fluid, and I've always been interested in a cross-pollination of ideas. This became one of the guiding directions when I started the firm.
What are the benefits and challenges of working across different scales and geographies?
We become nimbler, and the team gets to hone different skills and grow professionally. The most important thing is we acquire a versatile thought paradigm. Architects think in a certain way, and engineers in another. So, when we deal with projects of different types and complexities, we acquire interchangeable lenses to investigate a project. More often than not, this helps us produce unusual and innovative work.
It is a double-edged sword as we are constantly forced to think out of the box. For example, we can be dealing with how a sea plane would land on the Maldives today, and tomorrow, we are confronted with pedagogical options for the design of a school for the visually impaired. It is important to know a bit of everything. We can rely on specialists, but our understanding of many things allows us to serve our clients better. It is a challenge that can also be seen as an opportunity.
You have worked on many projects overseas. How did this come about?
It started when I went to Africa in 2013 and experienced what the locals go through day to day. That was when I decided I wanted to use my skills to make a positive contribution to their built environment. The journey hasn't been easy, but it has been most fulfilling. It also landed other opportunities to work on commercial projects elsewhere in the world.
Do you approach overseas projects differently?
One of the things we are conscious about is being adaptable. What works in Singapore may not elsewhere. Understanding culture and context is absolutely paramount in cross-cultural practice. Sometimes we have to be very sensitive to what is acceptable, and even possible, with the available materials and technologies.
In the Democratic Republic of the Congo, we worked with builders who were illiterate and overcame this by re-inventing the way we document design. Instead of technical drawings, we issued a set of infographics (like what you would get buying a flat pack from IKEA) so they could understand how to assemble the different parts of the building.
How else have you worked with the community?
Building relationships is the first order of the day. With trust and rapport, we are able to get past the cultural barriers and focus on designing something meaningful for the community. One of the best ways to ensure longevity and relevance of our buildings is through community involvement and ownership.
In a prototype school we designed in the Congo, we were faced with the unavailability of bricks and high cost of delivering them. We discovered the region has lots of volcanic rocks and hence, conceptualised building facades that are made of gabion walls built by the community. The men would fashion cages out of metal rods, and they would be filled with stones gathered by the women and children. Thus, we solved a design problem using a community solution.
What are the challenges of working overseas?
Singapore is a well-structured and efficient society with high standards. It is something that we take for granted. In some countries that I work in, we face a lot of disruptions brought about by inefficiency, corruption, political instability, and even bouts of natural disasters and community diseases.
But in Singapore, we sometimes complicate the way we do things. When we operate in regions like Africa, you often have to strip everything to its raw, purest form, whether it is your intentions or in the execution. One thing I learnt from working overseas is that less can be more.
How is the practice of architecture evolving?
In Singapore, the Board of Architects is making it possible for architects to be registered in ASEAN and Asia Pacific, so the doors are opening for cross-cultural and global practices.
Another trend is the increasing use of technology in our built environment. With augmented reality and virtual reality, our clients can have an immersive experience of the space before it is built.
Technologies such as BIM (Building Information Modelling) are also increasing our productivity, accuracy and experience. These reinforce the fact that learning is a lifelong journey for an architect.
This article is contributed by the Urban Redevelopment Authority, as published in Skyline (Issue 13), its urban magazine.
Genesis Architects' works were exhibited at the Urban Redevelopment Authority's (URA) AUDE Space in February 2020. Launched in 2019 at The URA Centre at 45 Maxwell Road, AUDE Space is a dedicated platform that seeks to inspire good architecture and design in Singapore as part of URA's Architecture & Urban Design Excellence (AUDE) programme. Click here for more information about the AUDE Space.
Photography:
Genesis Architects