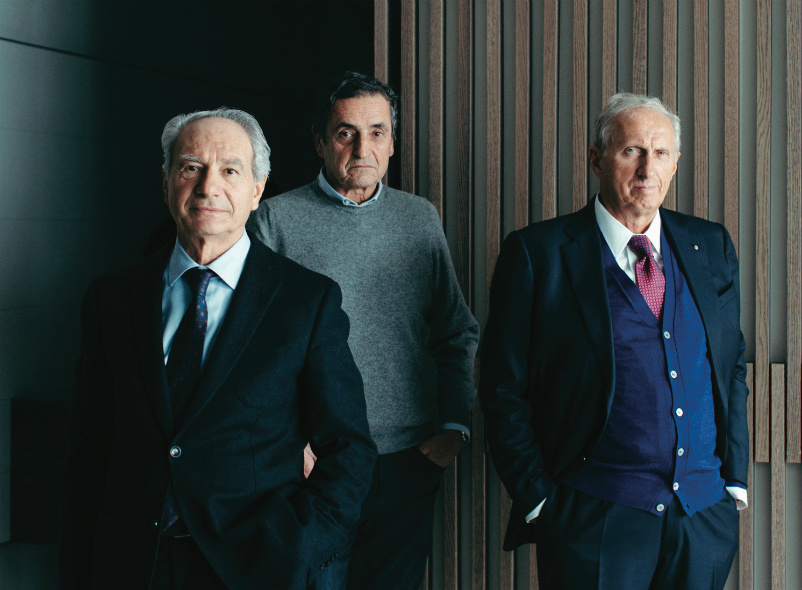 The founders of Poliform – Alberto Spinelli, Aldo Spinelli and Giovanni Anzani (from left to right) – have just been given the 25th Compasso d'Oro career award by the Italian Association for Industrial Design (ADI). It honours the Italian brand's contribution to the areas of design, research, production and distribution.
Founded in 1970 by the trio, Poliform has since evolved from its roots as an artisanal furniture business into an international label that embodies the "Made in Italy" ethos. An important driving force is new production technologies and innovation.
In Singapore, Poliform has been retailed at Space Furniture for the past 17 years. Its wardrobe and kitchen systems can be found in luxury condominium projects such as The Orchard Residences, Corals at Keppel Bay and Gramercy Park, just to name a few.
d+a caught up with Anzani, a cousin of the Spinellis, to find out how they feel about winning this prestigious award.
How do you feel about Poliform receiving the ADI Compasso d'Oro Award?
We are honored to have received such an important award. The Compasso d'Oro is an award that goes not to an individual but to an entire company.
Why do you think Poliform is deserving of the award?
In almost 50 years, Poliform has become the ambassador of Italian quality and design across the globe, with 80 single brand stores and exports to 85 different countries. The Compasso d'Oro award goes to the entire staff, comprising 750 people altogether, but also to the new generations to whom we are trying to convey the values of our predecessors: true passion, hard work, and endless enthusiasm.
Which technology and innovation created by Poliform will you say you are proudest of and why?
Innovation has always been part of our productive approach. With the constant objective of satisfying the needs of end users, we have always focused a stylistic and technological research in highly tangible projects aimed at guaranteeing the best possible quality. Stylistic research is ongoing and always aimed at providing absolute freedom to integrate its various products. For us, the quest for innovation is a test bench in which planning and design solutions are studied, before being translated into a quality that is often invisible in serial products.
The modular systems, for instance, are the result of constant technological and typological research. They are products that are able to change freely and improve, by adopting new solutions, without forgoing their tried and tested reliability. Poliform's operative units are designed to guarantee outstanding finished product quality. They are a work method that preserves the care and attention of true wood experts, fusing it with the ongoing technological innovation of our production lines.
Poliform's sales organisation also fully exploits the opportunities of electronic technologies. This has made it possible to create a true network that allows us to guarantee the end-client first-rate service.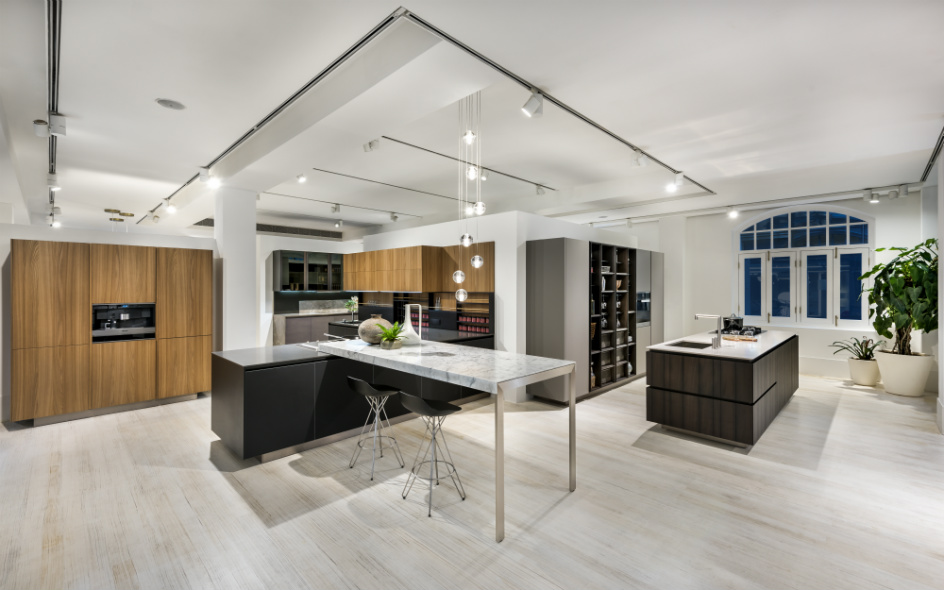 Poliform Kitchen Gallery on L1 of The Villa at Space Furniture
What is the secret to maintaining a good relationship with your business partners, the Spinelli cousins?
From the onset, we split up the tasks between us, with each one a point of reference for his respective sector. The family is an added bonus, which is very important, as it helps us make choices for the medium and long term, liaise continuously and make decisions quickly. We talk a lot, we share everything, every decision is three-way and no-one prevaricates.
On the contrary, there are more of us now, with our eight youngsters, who are specialised and well-trained. We play different and diverse roles within the company: Poliform's decision-making structure is based on unanimous decisions in which the management provides technical support. In-house governance is founded around the concept that the company continues to be driven by three people, one representing each of the founder families.
How do you settle differences?
Each of us brings specific personal experiences and aptitudes. Our aim is to make sure that we'll maintain our family-run dimension into the future, making it the expression of individuals whose tie with the company is never separate from their own lives, passions and aspirations.
How did you evolve Poliform from an artisan furniture business into an international brand?
Poliform is one of the leading companies in today's international furniture world. The fruit of a resoundingly successful entrepreneurial adventure, our company has made the ongoing commitment to quality its mission, renewing its products to always interpret the highest expression of the most contemporary lifestyles and trends.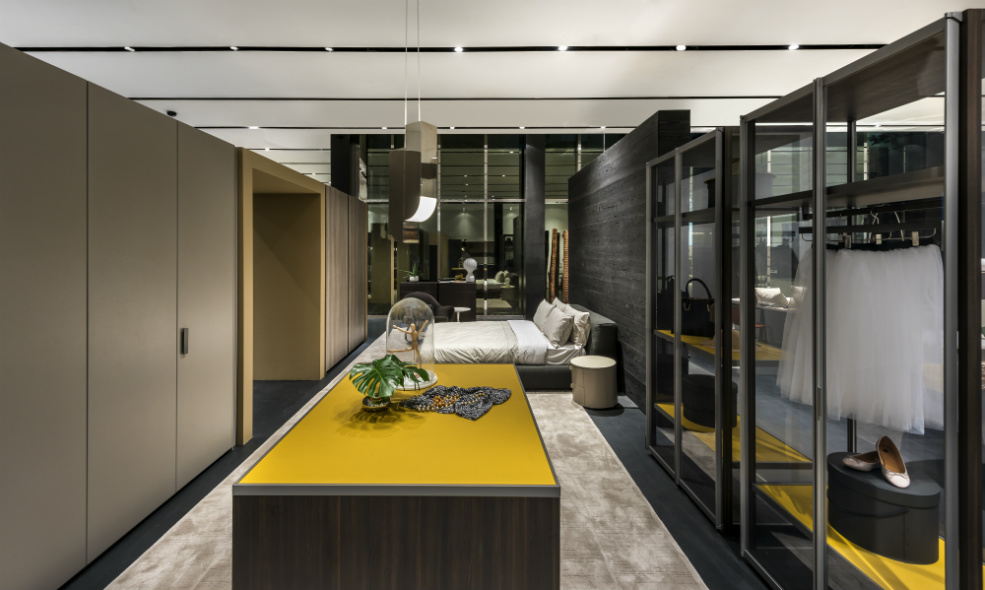 Poliform Wardrobe Gallery on L4 of Glass Block at Space Furniture
How does Poliform embody the ethos of "Made In Italy"?
All Poliform products are made in Italy, to guarantee the stringent and precise control of all productive phases. Components and raw materials are selected and purchased from the very best European and international suppliers. What makes each and every Poliform product an ambassador of Italian style are above all its boundless creativity, the productive expertise it inherited from the tradition of the world's finest furniture producing cluster and specific, constantly upgraded technological know-how. All of these qualities are fundamental for a company that is constantly in contact with the demands of an international clientele.
This is a major award for Poliform. What next for the brand?
The latest adventure we have recently embarked upon is to build a factory for our padded products, where the highly specialised workers, with their clever hands, will work side-by-side with the most sophisticated technologies. All strictly made in Brianza.