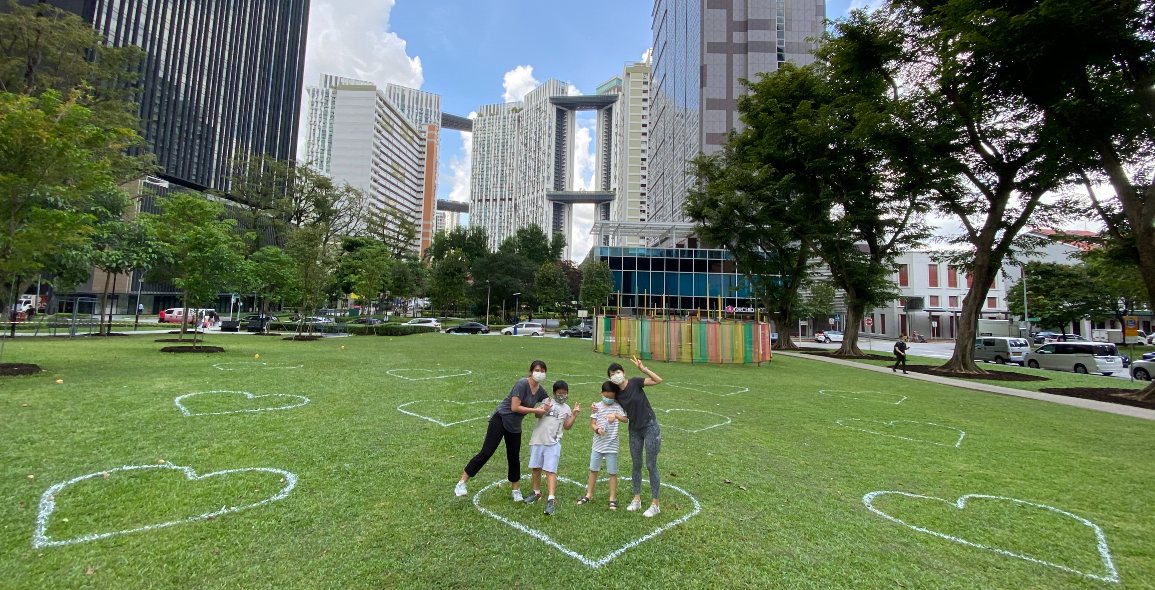 Editor's note: Placemaking has become an increasingly common term in the design vernacular. Its relevance has been further heightened by the COVID-19 pandemic, where it is regarded as a means to strengthen community bonds. This is the first in a series of stories that examines its different facets.
Positioned as the gateway to the Central Business District, the precinct of Tanjong Pagar is a delightful blend of old and new.
Skyscrapers (including the tallest in Singapore) fringe conservation shophouses occupied by innovative start-ups, eclectic boutiques, traditional crafts and chic eateries.
In between are housing – both public and private – hotels and hostels alongside pockets of community spaces.
Chua Siew Boon, Sales Director of Heng Fatt Property and Lin Yanling, Senior Place Manager, Urban Design, Central of the Urban Redevelopment Authority (URA) are residents of Tanjong Pagar.
We find out from them how they have promoted placemaking within their backyard.
What are your fondest memories of Tanjong Pagar?
Chua Siew Boon: Tanjong Pagar is the place where I grew up, set up my family, raise my children, work, and where my parents and siblings are staying. I have many fond memories of Tanjong Pagar during the different phases of my life. One of them was when I was young, I practised tai chi with my neighbours on the Level 3 deck of my HDB block. In my primary school days, I had swimming lessons at Yan Kit Swimming Pool, and we were "forced" by the coach to leap from the jump board, which was almost 10 feet high! Now, the swimming pool is gone, but it has been converted into Yan Kit Playfield, where I believe it will continue to become part of many children's childhood memories.
Lin Yanling: Tanjong Pagar was where I held my wedding, where I found my dream job in the URA as a placemaker, where I stay now and also where my children go to school. I have many memories of this area but it is the ability to make a positive change to the precinct that has left deep impressions in me and my children. Some of my fondest memories are related to projects that I worked with through the Discover Tanjong Pagar (DTP) pilot Business Improvement District, such as turning a piece of vacant state land into the Discover Tanjong Pagar Community Green. We transformed the space into a place with activities that included decorating the movable chairs, litter-picking at the park, cleaning the chairs, tree-planting, etc. Seeing people using the Community Green for their daily activities makes me happy.
What are some placemaking activities you've volunteered to help with in the precinct?
Chua: I was involved in organising the District Race, which was part of the Mid-Autumn Festival Celebration in 2019, at the Urban Park of Guoco Tower. It aimed to let participants discover more sides of Tanjong Pagar. Along with other DTP members, my two sons and I decorated chairs placed on our DTP Community Green for the public to sit on and enjoy the space.
Lin: I support DTP in their placemaking efforts in Tanjong Pagar, so most of my works are related to their projects. But I like to teach my children about the importance of good public spaces when I can (yes, I hope they will become placemakers one day, to work in districts to connect the neighbourhood and build happy places), so we have volunteered to clean up the DTP Community Green, sanitised the moveable chairs and drew safe-distancing hearts (with Siew Boon and her family!). My children also participated in DTP's Tree-Planting Day on 19 December 2020. These are all invaluable lessons that help them appreciate their neighbourhood more.
Since the COVID-19 pandemic, placemaking has taken on an added layer of importance. Why do you think so?
Chua: The main objective of placemaking is to attract the public to visit places and sometimes, through curated events, encourage them to hang around and mingle longer. Since the pandemic started, outdoor, naturally ventilated spaces have become a popular place for gathering. This is a good chance for placemakers to create interesting events at these spaces to encourage everyone to interact, albeit at a safe distance.
Lin: To add on, placemaking is also about bringing the community together to create stronger neighbourhoods. During the circuit breaker, DTP stakeholders came together to do a joint F&B delivery promotion to encourage people to support the businesses in Tanjong Pagar and save jobs during the challenging times. The DTP stakeholders, residents and hawkers in the precinct also participated in the National Anthem moment on 9 August to pay tribute to the frontline workers, especially those who continue to keep Tanjong Pagar going during the pandemic. It was touching to see them forming a human heart on the DTP Community Green and singing the National Anthem with gusto. The idea of forming a human heart came from Siew Boon!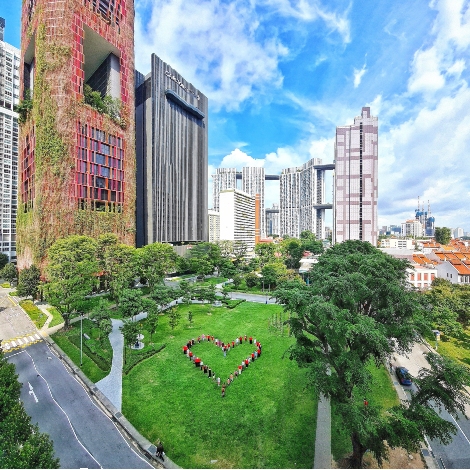 The human heart on the DTP Community Green during NDP 2020
How has the pandemic impacted DTP's plans?
Chua: With safe distancing in place, and the number for group gatherings capped, our events have to be put on hold. However, this has driven us to think out of the box, and plan for smaller group activities.
Lin: Some of the plans that DTP had earlier were put on hold but we quickly came together to support local businesses through the joint F&B delivery promotion. When the time was right, we also organised the Tree-Planting Day in December 2020 to grow 100 new trees in the precinct.
What is your vision for how Tanjong Pagar can evolve to become?
Chua: I have always envisioned Tanjong Pagar to be a rich blend of new and old buildings and interesting public spaces, where the communities from all walks of life will gather and interact. It will be a vibrant place not only on weekdays but also the weekends, where visitors will specially come to explore Tanjong Pagar with their families and friends.
Lin: My vision for Tanjong Pagar is for it to be a very well-connected neighbourhood, where we can get our daily needs by walking or cycling. I would say we are already a 15-minute neighbourhood to a certain extent. Over time, I hope more people in the area will go car-lite. This will create a safer, cleaner and more pleasant environment for the community. We also have a lot of public spaces that serve as good community spaces such as the Duxton Plain Park (it is also a green connector) and the Yan Kit Playfield that Siew Boon talked about. I hope more people will use them for their activities, meet their neighbours and turn these areas into happy places.
As Tanjong Pagar continues to grow and evolve, I hope people will continue to support the traditional businesses here. They have been operating in Tanjong Pagar for a long time and are what makes the precinct special. I hope more people will appreciate and patronise them, so that they may continue to stay in operation in spite of the pandemic.
What is an off-the-beaten track place in Tanjong Pagar that you personally like to frequent?
Chua: Yan Kit Playfield. It's such a great place for exercise, relaxation and play. It always brings back beautiful childhood memories.
Lin: The Everton Park area. I believe in supporting small local businesses that will create close-knitted and resilient neighbourhoods. There are many local shops in that area that serve authentic and traditional food and goods. These shops are often managed by the owners themselves and they are very proud of what they have/serve and will often chat with you. Over time, we become friends and their shops became community spaces. Their existence brings new life to the old residential area and connects the neighbourhood. There is a good mix of old and new there.