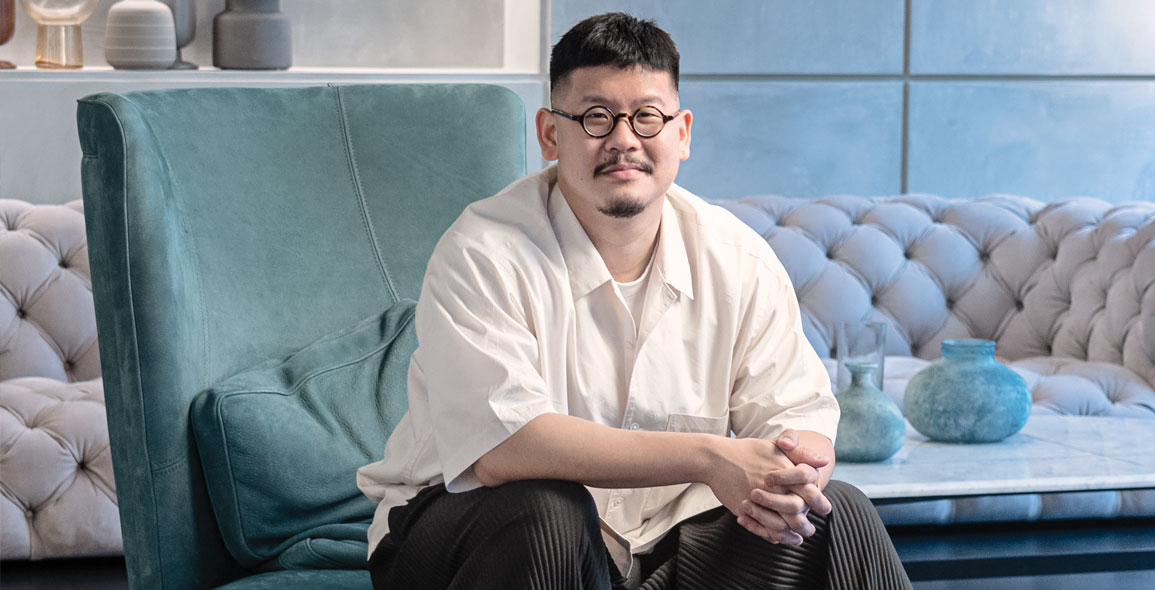 What inspires you?
I draw my inspiration from observing the current state of the world, from pop culture to economic shifts, the contemporary art scene, fashion etc. I strongly believe any expression of architecture is a direct derivative of its time. For example, as a practice, we love to inject irony into our projects. This could be through the unexpected application of colours and materials, not unlike how present-day contemporary artists like Kaws and Takashi Murakami approach their work. I also love to look back at architecture movements like the Bauhaus, De Stijl and International Style. To me, the modernity established during the 1930s is still very relevant to the way we design today.
You focus on using architecture as a medium to weave art, contemporary culture, branding and digital media. Please explain how.
I will illustrate this through one of our earlier projects, Cactuss Lifestyle Store, located in Chengdu, China. It was first a branding project – the client wanted to create a new, fashion-inspired brand. After the direction and principles were established, we were appointed as the interior architects for their new store. Through understanding the site-specific market behaviours of shoppers in Chengdu, we convinced the client to design a multi-experience space. The final product ended up being a fashion boutique, art gallery, café, bar and place-maker all rolled into one. That study and exploration gave us the opportunity to bring all aspects of culture, branding and artistic expression into a singular space.
You believe that architecture is now more than just space-making but in fact can be place-makers and products for public consumption. How so?
We cannot deny how the rise of social media has made architecture, design and spatial experience very accessible. In the past, I used to believe that an architect's role was purely to craft beautiful spaces – but that's not how I feel now. Think the Parkroyal Collection Pickering, a hotel that is well-designed and appreciated by many architects. However, without social media, it would not have been this accessible and stand for so many values (e.g. tropicality, sustainable architecture, biophilia, a five-star hotel etc.). The architecture itself has transcended beyond just a good-looking building – it is now a Singapore icon, an aspiration for both hoteliers and hotel patrons, a symbol of a green building, the mark of good hospitality experience and more.
How has the digital disruption affected the way you practise architecture?
I like to believe that I am still very analogue in the way I work and that the digital disruption has not affected my own way of practising architecture. I still love to sketch with a pen in my notebook and go to the site to review mock-ups. However, I do admit that the way I perceive architecture has changed. With social media, imagery representing architecture and to tell or suggest stories have become more important. The why and how is almost as important as the final product. And thus, every time we document our built works, I find myself creating storylines for them – as a means to communicate our thinking and engage our audience.
Why do you enjoy purchasing pieces from Space Furniture?
It has a good range of top-notch, well-designed furniture brands to select from, which speaks of the strong curation by the team. For years, I have viewed it as the top of the luxury furniture retailer in Singapore. I also love the space (no pun intended) that they are residing in, especially the charm of having their flagship store sited in the middle of the arts and civic district of Singapore. Finally, a good brand is about its "soul" – the people behind it. I have had many memorable interactions and conversations with the staff at Space, which makes the purchase process very enjoyable.
My favourite labels at Space are Kartell and Baxter. Practising architecture can be quite serious, so if we have to propose furniture for our clients, I tend to prefer something playful and more tongue-in-cheek. I also love how the use of lights can absolutely transform a space throughout the day and because of that, I tend to gravitate towards fittings by Moooi and Flos.
This story is produced in collaboration with Space Furniture. It first appeared in Issue 122: Dec 2021.