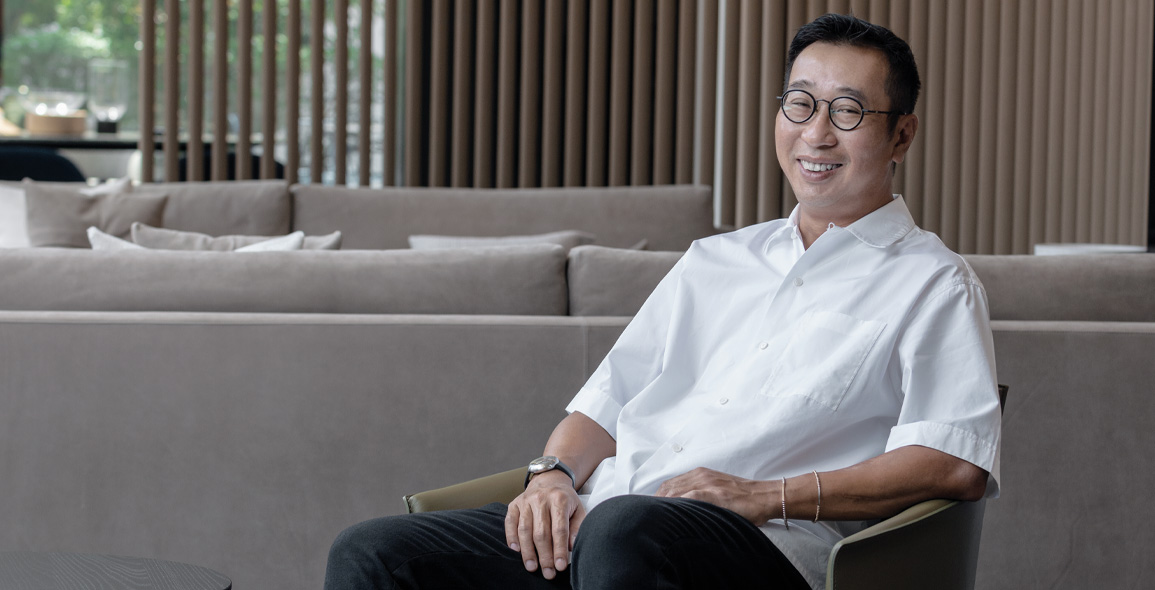 What is your design philosophy?
I believe that design should be thoughtful, intelligent and honest. It should always serve a purpose, be it functional or emotional, and evoke an emotional reaction. If a design only generates a feeling of indifference, then I would consider it a failure. I always approach design by first studying the setting and context of the project, and ensuring that the design engages the user and satisfy the user's needs.
Where do you draw inspiration from to create your designs?
Inspiration can arise from a book, an artwork, a piece of furniture, someone I met, a fictional character in a film or intense discussions with my team and collaborators. Last year, we completed a conservation-status black-and-white bungalow, which was largely inspired by an ink painting from the client's impressive art collection. The painting depicts a traditional Chinese house with white walls and black roof lines. There is a lone pine tree sitting in front of a lake, its reflection silvery grey on the water. The simple and minimalistic lines of the painting, with its sparse use of colour, inspired us to create a house with a mood that is almost a reflection of the painting – we used silvery grey terrazzo flooring and expansive white walls with thin, black-steel trimmings as accents.
How does your design style differ from other designers?
While we do not have a fixed style, a Fahrenheit identity exists in our body of work. This is our attention to detail, and penchant for creating homes that are warm, calming and timeless. I think this is due to our belief that our work should show thoughtfulness and authenticity. Many of our clients were referred to us by other clients. Most of them have experienced and enjoyed the spaces that we have created. But the bulk of the work we do are for repeat clients. Their belief in our approach and style, allowing us to accompany them through the different phases of their lives, gives me a great sense of pride and joy. For example, we have worked on eight different homes for the same client in the past 14 years.
How do you think interior design as a practice is being impacted by COVID-19?
As a designer, we have to think of how we might live, socialise, consume and work in the future. I think more people will consider having multi-generation homes where they can live in close proximity to their family. In the office, we need to create workspaces that allow people to physically distance and feel comfortable, without sacrificing the synergies and flow of ideas that open-plan offices and breakout areas have brought to the workplace. Design has to help alleviate the anxieties that users have when interacting in the built environment. It has to consider not only the aesthetics of spaces, but also the users' physical and mental wellbeing. Careful layout planning that minimises close proximity encounters between people in public settings can help to lower the physical risk and provide assurances. The use of more gentle, tranquil and soothing colour and material palettes can offer a sense of comfort to people.
Why do you enjoy purchasing pieces from Space Furniture?
Space Furniture has an excellent collection of brands that showcases the best of modern Italian/European design. The quality of their products is also always assured. The selection is wide and the style is very much in line with our studio's. I've always enjoyed visiting the store as the furniture pieces are well curated and it is a space for inspiration and even education. I am a fan of Poliform for its timeless design and excellent quality. It is also a big plus that the collection is very complete and we never have issues finding pieces that can help complete a project in a consistent style. For instance, we recently paired the Kay lounger with the Mondrian sofa in the living area of a showflat. The clean lines and rich textured finishes of the pieces complemented the space perfectly.
This story is produced in collaboration with Space Furniture. It first appeared in Issue 118: November 2020.
Yeo sits on the Stanford Lounge Armchair from Poliform.
Photography:
Chino Sardea