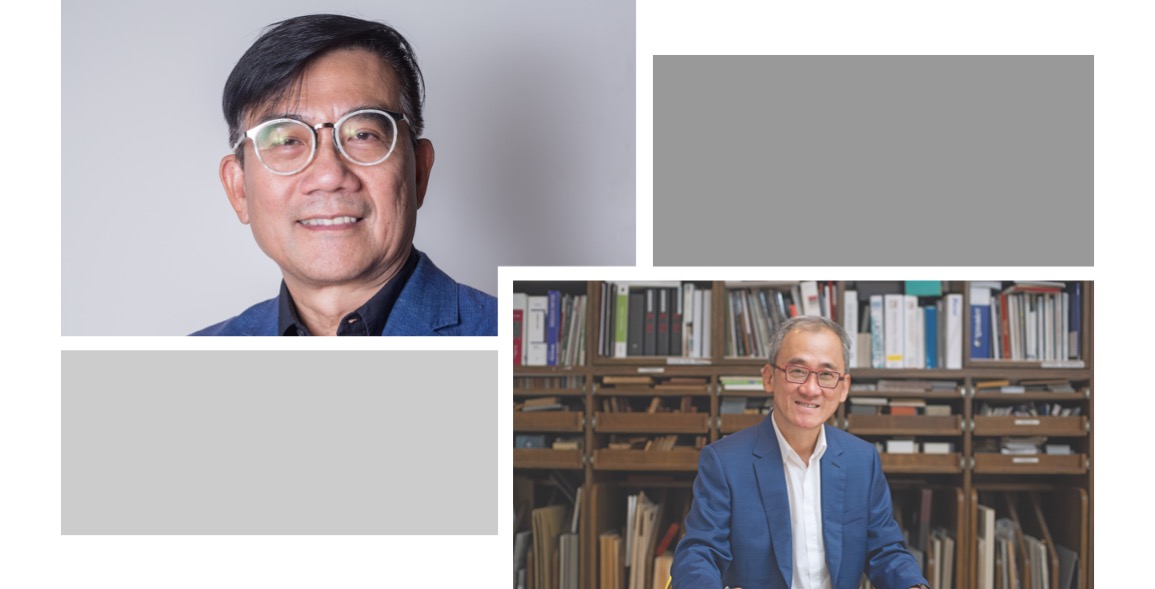 The President*s Design Award 2020 (P*DA 2020) jury session took place earlier this month, from 1 to 7 December in a hybrid physical and virtual format, to select this year's best-in-class award recipients.
Two new faces joined the Architecture Panel jury, Professor Ho Puay Peng and Tan Kok Hiang.
We checked in with them after the session to find out how they played a part in the jury session and if the pandemic has impacted the way they assess the award nominees.
* * *
Professor Ho Puay Peng, Head of Department of Architecture, School of Design and Environment, National University of Singapore (NUS)
"The P*DA is a very prestigious award and I was very honoured to be invited to join the Architecture Panel jury. Having accumulated experience in the UK, Hong Kong and Singapore as a practitioner and academic, I could provide these perspectives to the discussion.
For instance, I evaluated the projects based on their contributions to architectural form– how they fit into its development internationally and what their impact and contributions are. I could also articulate if a project made a contribution to the development of Singapore's architecture scene, since I have a good understanding of our history.
The entries this year were of very good quality. We saw many that broke new ground and some had positive impacts on the community. The latter is increasingly an important criteria as it is a marker of distinction. Tropicality was explored in a conscious way and some of them analysed the link to society architecturally and from an urban standpoint. It is heartening to see that we have matured on our path to create a style of architecture to call our own and not follow the Western fashion. Covid-19 was subconsciously on our minds too, as we deliberated on the winners. This was closely tied to the discussion on sustainability, where we focused on whether the projects had ventilation, openness and indoor-outdoor experiences.
I have been in my present position at NUS for three years; before that, I lived in Hong Kong for 25 years. Since taking on this role, one of my major contributions has been changing the culture of the degree programmes to champion design excellence. This means focusing on research as a basis for design, rather than being fanciful. It is about subtly bringing in elements of design – such as form and tropicality – and putting them together holistically for the enjoyment of everyone."
* * *
Tan Kok Hiang, Founding Director, Forum Architects
Why did you agree to join the jury of the Architecture Panel for P*DA 2020?
I always enjoy understanding what the luminaries of the Singapore architectural community are up to. This is the opportunity to see front and centre the thinking behind their works and have a sharing session with Singapore's top talents. Peer jury members often provide thought provoking, differing, but nonetheless edifying views. It is also a chance for me to influence what is regarded as talent and good design.
What unique perspectives do you think you offered the jury panel?
The mix of jury members is important. This year, we had amazing discourse, debates and disagreements, but all within an amenable and positive air of exchange. I don't think any of us offered any unique perspective but as a whole, I think the unanimity of some of the thinking suggests a useful cogency for the current session as well as for future juries.
What attributes were you personally looking out for in the winner-selection process?
Simplicity of idea and sophistication in execution. A project that makes the coming together of the complex requirements look simple, and executed with thoughtful attention to context, detail, materials and technology.
How do you think Covid-19 has coloured your lenses as you assessed the entries during the Jury Session?
I think Covid-19 did this on a subliminal level. Architecture is about how space and people relate. In the past, for example, crowds, mixing and interaction between people were always regarded positively. Even the notion of comfortable distances between people has changed, and that in turn affects our social behaviour. Today, you seek flexibility in building design to manage interaction.
How do you feel you've created a better world through your own architecture work?
I think I am just a cog in the wheel of the architectural world. I see my role as helping to generate momentum to move this wheel along in a positive direction, whether through contribution via education and healthcare projects, or through discourse and influencing students of architecture.
Top image:
(L-R) Ho Puay Peng & Tan Kok Hiang