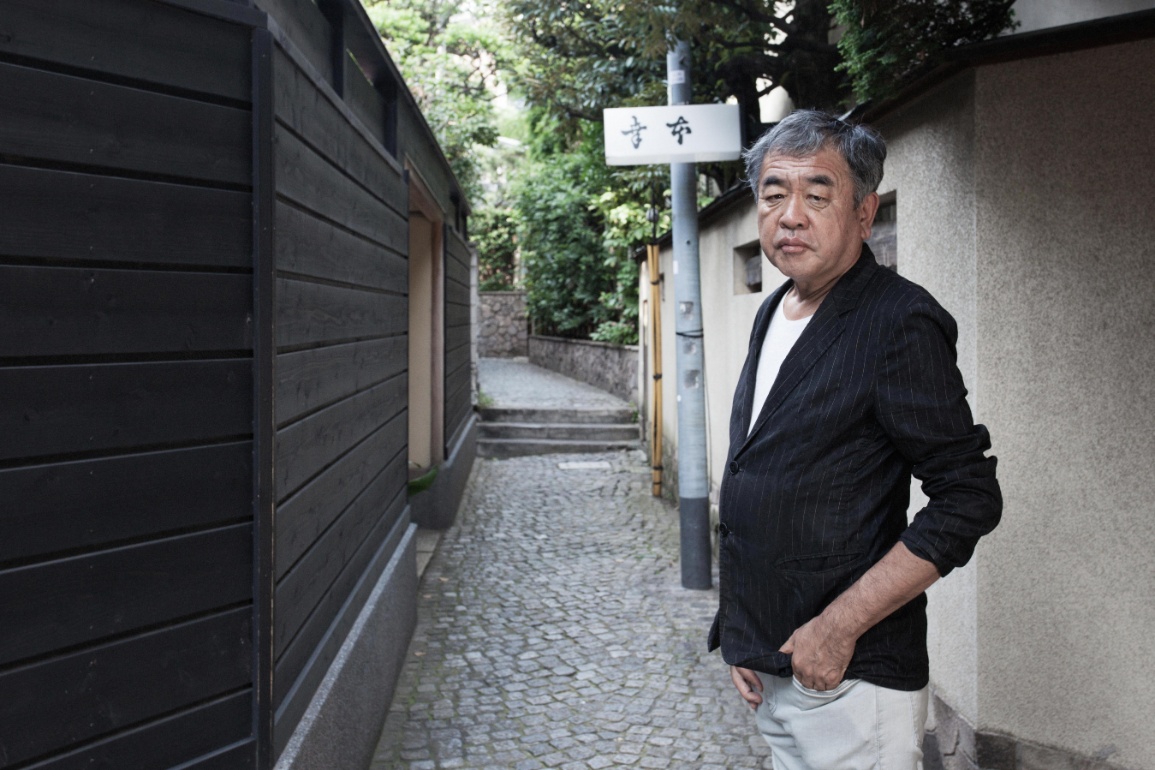 The late Japanese architect Kenzo Tange looms large in the career of architect Kengo Kuma. He was inspired to pursue architecture after his father brought the then-10-year-old to visit the Yoyogi National Gymnasium, designed by Tange for the 1964 Summer Olympics in Tokyo.
Over half a century on, the now 65-year-old Kuma was part of a design team which recently completed a new national stadium that will be the centrepiece of Tokyo, when the city is scheduled to host the games for a second time in 2021.
In March 2020, Kuma found himself following in the footsteps of Tange again — this time, into Singapore. His practice, Kengo Kuma & Associates, in collaboration with local firm K2LD Architects, won the international competition for the architectural design of the future Founders' Memorial.
It seeks to commemorate the values and ideals exemplified by the city-state's late Founding Prime Minister Lee Kuan Yew, its first generation of leaders and other key individuals who contributed to Singapore's early nation-building years.
"Tange was my 'teacher'"
In 1970, PM Lee invited Tange to Singapore to review its urban renewal plans. Since then, Tange and his firm have contributed to its modernisation by designing buildings such as One Raffles Place (formerly OUB Centre) and the Singapore Indoor Stadium, as well as proposing ideas for the development of Marina Bay.
"Tange was my 'teacher' and I love his buildings very much. I respect his work in Singapore," says Kuma. He graduated in architecture from the University of Tokyo where Tange taught, and has also been a professor in his alma mater since 2009.
But while recognising the path trail blazed by Tange, Kuma is also acutely aware of how the times have changed.
"Kenzo Tange did contribute to Singapore's urban landscape in the 20th century, but I want to shape Singapore's landscape in the 21st century. We belong to different worlds, different conditions. Our challenges are more complex."
The ongoing climate crisis requires architects today to rethink the modernist paradigm championed by the likes of Tange, adds Kuma.
Since founding his practice in 1990, Kuma has sought to build what he has theorised as "small architecture" or "defeated architecture".
Such buildings are "friendly" to the environment, often by using as much local materials as possible and being sensitive to the site.
Unifying landscape and monument
Kuma's proposal for the Founders' Memorial is informed by a similar restraint. A series of organic-form green slopes will rise from the current 32-hectare Bay East Garden, which is reclaimed land.
These forms will be interwoven with the surrounding topography and connected by meandering pathways that lead people through the building to culminate in a visitor centre that is seemingly carved out of the land.
Offering views of Marina Bay and the city skyline, the building, consisting of an amphitheatre and galleries, will likely be constructed with earth-coloured, glass-reinforced fibre concrete and covered by a green roof of tropical landscape.
"When I visited the site for the Memorial, my first idea was to unify the landscape and monument, because the landscape is beautiful, set against a stunning bay," says Kuma.
It is this unification of landscape and building that makes the design stand out, creating a "new kind of monument".
The Chairman of the Memorial's committee, Lee Tzu Yang, shared in the press release that the "winning design is sensitive and functional, and embodies the spirit and values of Singapore's founding team of leaders. It is a unique design, incorporating landscape and architecture that brings visitors on a journey of discovery".
For the project, Kuma read up about the achievements of Singapore's founding fathers and was impressed by how Lee Kuan Yew, in particular, was not just a politician but a kind of urban designer who overcame Singapore's lack of land and natural resources.
"He and the founding leaders were both idealistic and realistic…thus the memorial we designed reflects both," he says. "PM Lee's philosophy was about [developing Singapore into a] Garden City, and he thought a city of a future should be totally integrated with the environment."
Although the memorial reflects the spirit and values of the city-state's founders, it is also designed to allow each new generation of Singaporeans to forge their own paths.
As a "living memorial", where "everybody can come and enjoy the building", there will be multiple pathways to explore as well as spaces for contemplation filled with natural light and surrounded by beautiful views, creating Instagrammable moments too.
In harmony with nature
While Kuma's goal for bringing architecture and the environment closer is forward-looking, it is actually rooted in the past.
Before his Tokyo-based practice grew global, he was forced to find work in rural Japan during the 1990s when the country's economy stagnated. The experience of working with local craftsmen and materials helped him rediscover the values of traditional Japanese architecture.
Over the next two decades, he experimented with these ideas beginning in the small mountain town of Yusuhara, where he used the region's cedar wood to build a series of fascinating structures, ranging from a hotel to the Yusuhara Wooden Bridge Museum.
The last, completed in 2010, adds a new gallery to an earlier hotel with a bathhouse that he designed. The extension protrudes from a hillside, and is mostly supported by a tree-like central pillar made from a traditional Japanese technique of stacking pieces of laminated wooden planks at perpendicular angles.
The overall result is striking but also a statement on how tradition can bridge modern architecture and the environment.
He has since successfully exported such an approach outside of Japan. The recently completed V&A Museum Dundee in Scotland takes inspiration from the area's cliffs on Orkney Islands.
Using contemporary parametric design methods, Kuma and his team stacked long slabs of precast concrete at different angles to create what looks like monolithic caves along the waterfront site. Such nature-inspired architecture is what he thinks Japan can contribute to the world.
"Harmony with the environment is the basis of Japanese buildings and gardens," says Kuma. "Now people are very interested in environmental issues and global warming is a major challenge.
"The Japanese philosophy and tradition can be a strong tool to address this issue. Our ideas are very much based on traditional Japanese philosophy, but still can be adapted everywhere in the world."
The Founders' Memorial is his first major opportunity in Singapore to test out these ideas. His impressions of the city are that it is "exciting" and constantly "changing", and he is keen for his project to showcase a "new direction in Asian architecture".
We were miles away from one another, speaking over a video-conference call in April as the world was battling to contain the COVID-19 pandemic. But Kuma was confident this would soon be over and he can start working on the memorial that is scheduled to be completed in 2027.
"After the virus is gone, I want to visit Singapore often and communicate directly with (the people)," he says. "I want to make one strong team with you."
About the Competition and Founders' Memorial: Envisioned as an integrated gallery and gardens experience at Bay East in the Marina Bay area, the Founders' Memorial aims to commemorate how independent Singapore came to be, and inspire Singaporeans to commit themselves to building the nation's future, together. The international architectural design competition for the Founders' Memorial was launched in January 2019, attracting 193 submissions from local and foreign firms. Kengo Kuma & Associates and K2LD Architects' design submission was selected from five shortlisted designs. They will be commissioned to develop the design of the Founders' Memorial with the National Heritage Board and Gardens by the Bay. The public will continue to be consulted in the development of the detailed building design and the programming concepts over the next few years. Click here for more information about the Memorial.
This article is contributed by the Urban Redevelopment Authority, as published in Skyline (Issue 13), its urban magazine.
Images:
Kengo Kuma & Associates, K2LD Architects, Ministry of National Development, National Heritage Board, Sergo Lopez, Ross Fraser McLean, Hufton Crow, Takumi Ota, KawasumiKobayashi Kenji Photograph Office