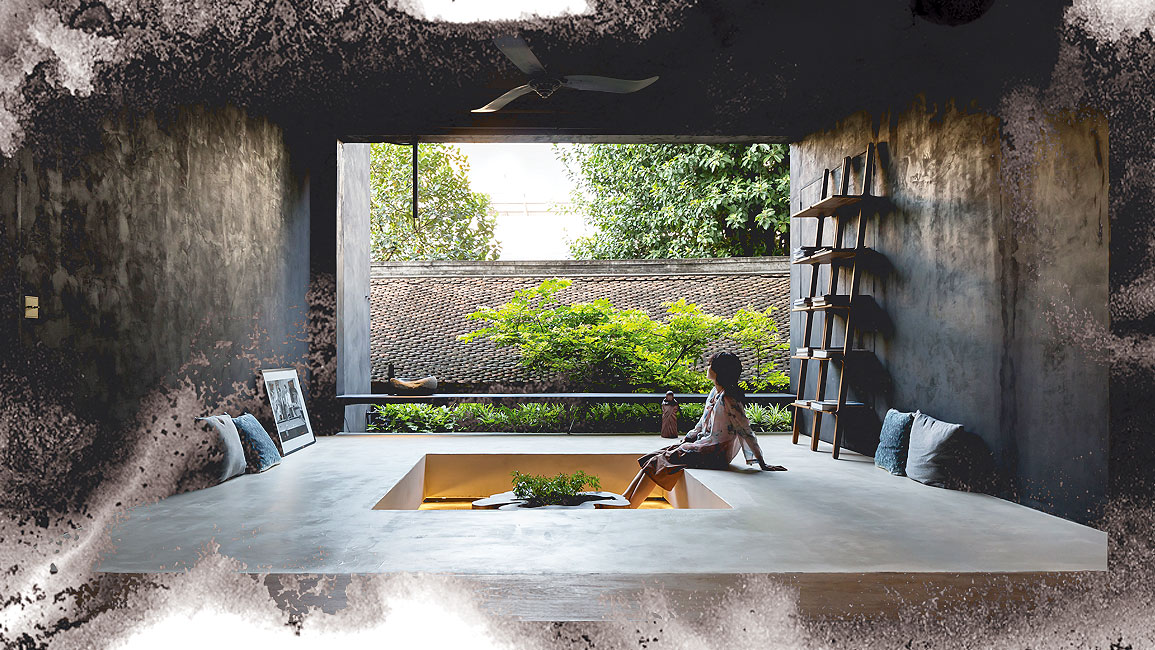 Deep in the heart of Hanoi's old town is a 120m2 space for contemplation and relaxation. Made up of different rooms modelled like cocoons with wooden panels, it is easy to mistake it for a home.
In fact, S+ SEBENO, as it is named, is the showroom of switch and smart systems manufacturer JUNG.
The design takes its cues from the different elements that have come together to make what the Vietnamese capital is today: an amalgamation of Southeast Asian, Chinese and French elements blended through 1,000 years.
Every wooden panel is movable, revealing rooms composed of different materials. There is a star fruit tree planted in one, symbolising Asian culture; a mirror in another amplifies the sense of depth infinitely.
Interspersed within them are JUNG's switches. Materials such as wood, rattan and leather from pieces by Vietnamese furniture manufacturer 282 Design blend with JUNG's toggle switch LS 1912 in classic brass, a homage to the firm's founding year, to become a popular attraction. The visible surfaces meant to be touched have a clear-cut and open shape – unobtrusively confident.
The LS 990 in Les Couleurs® Le Corbusier adds a strong effect, a prologue to JUNG's story of the exclusive switches, sockets and building technology systems available in 63 colours worldwide.
Plug & Light makes light control as modular and flexible as never before, its magnetic docking facilitates allowing for the change of different lighting tops and moods.
Less visible is the KNX solutions, the intelligent building system that is centrally controllable to offer maximum comfort and safety, and integrates discreetly into the overall concept.
The rooms are separated by gravel or stone paths. Take one and you might come across a space with an expansive clay platform, which seems to hover above the ground.
A square hollow in the middle represents Yin and Yang, while its out-facing side offers a view of a nearby temple. Light grey, natural illumination and cool air evoke a sensation of freshness.
That S+ is a special ambassador of JUNG's is obvious enough. Its subtle approach tends towards illustrating the materiality and aesthetics of the products and their diversity, than hard-selling.
This is something the Vietnamese architects will appreciate and hopefully leads to a prolonged relationship that will last another 1,000 years.
This story is brought to you by JUNG. It first appeared in Issue 113: December/January 2019/20 of d+a.