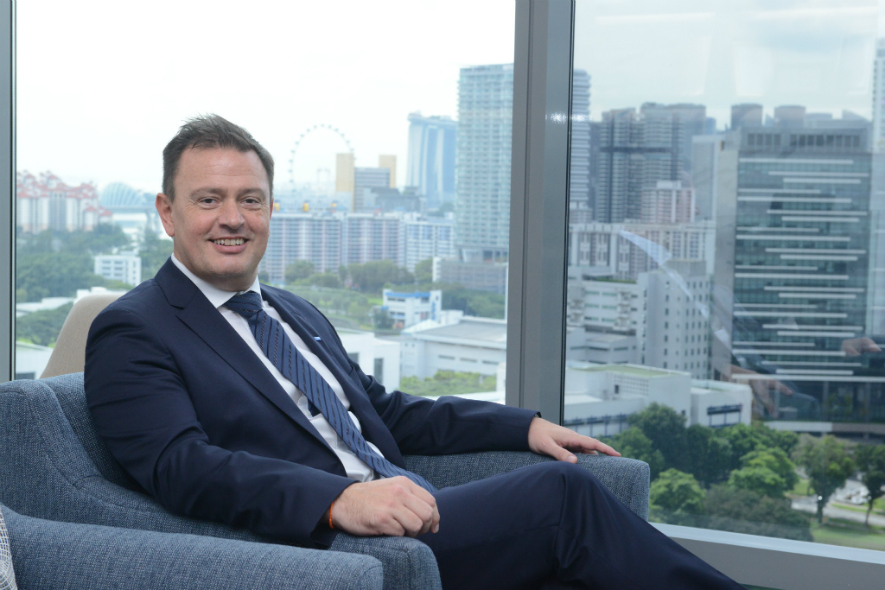 Elevator and escalator company KONE recently received the Singapore Green Building Product (SGBP) certificates for the three products of KONE 3000 S MiniSpace, KONE 3000 S MonoSpace elevators and KONE TransitMaster. This makes it the first company to receive such top ratings in both categories of vertical transportation.
Because of the certification, the solutions are recommended for buildings applying for the Green Mark certification, which is the leading green building rating system for the Southeast Asia region. The Singapore Green Building Council (SGBC) awards the SGBP certificates.
According to Jerome Audais, Managing Director of KONE Singapore, sustainable development has been one of its key priorities and it has been introducing various innovations that have brought down the energy consumption down by a considerable amount.
d+a goes on a ride with Audais to find out more.
How is the recent certification from the SGBC relevant to architects looking for elevators and escalators to install in their projects?
Each day, billions of elevator journeys occur all over the world, each accounting for two to 10 percent of a building's energy consumption. To keep pace with urbanisation and environmental concerns, architects are incorporating designs for smarter elevator solutions that are safe and sustainable to transport occupants seamlessly across multiple floors and timings.
KONE has multiple people flow solutions that are being adopted to make elevators more energy efficient; our energy methods include regenerative and green hoisting systems that save up between 35 and 70 percent in energy savings, eco-efficient lighting and standby solutions. In an industry where energy efficiency and environmental awareness is of utmost importance to our clients, we are proud of our latest certifications.
The top ratings from the SGBC formally certify the trust in the quality in KONE's solutions. The certificates bear testimony to our efforts to promote energy efficiency and the use of materials that are circular, high-quality, long-lasting and healthy.
Can you quantify how these products make buildings more green?
KONE develops and uses innovative and eco-efficient technologies that drastically reduce the energy consumption of elevators and escalators. In addition to this, it is reducing the harmful environmental impacts during the entire lifecycle of its solutions. It focuses on the use of healthy and long-lasting materials and on close collaboration with suppliers to provide material transparency and traceability.
By modernising an elevator, you can achieve energy savings of up to 70 percent. Our modernisation solutions range from retrofitting LED lights to an entirely new elevator with energy-regeneration technology. Our current machine-room-less volume elevator, KONE MonoSpace 500, is up to 90 percent more energy efficient than our elevators from the 1990s.
Many building projects in Singapore have been making conscious efforts to minimise their adverse environmental impacts and carbon footprints. One such project in Singapore is the Marina Bay Sands Hotel. The 55-story towers are inclined in the lower sections, which presented a challenge when it came to the elevator shafts. Additionally, the roof architecture prevented the use of standard elevator machine rooms. We solved the problem by using machine room-less elevators powered by the energy-efficient KONE EcoDisc hoisting machine.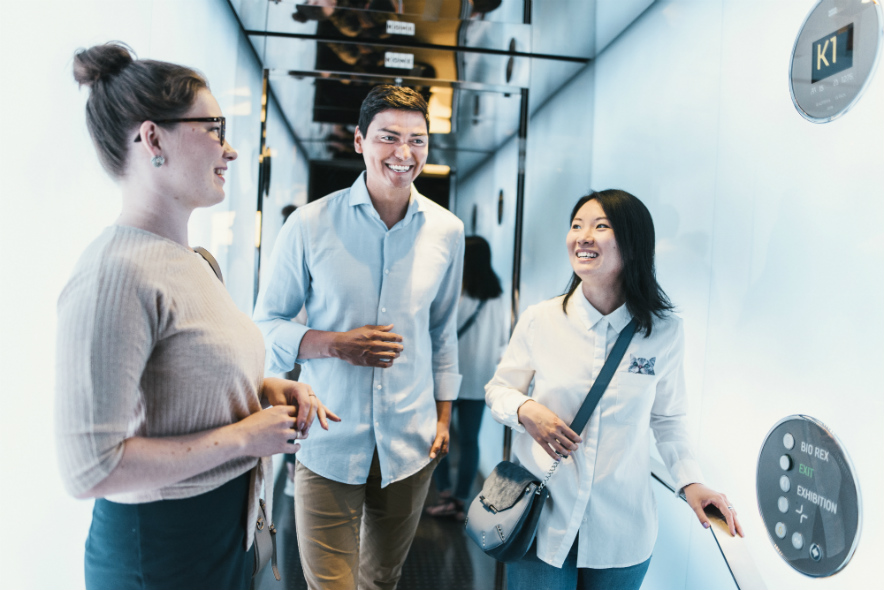 How does KONE's technology-first approach help solve the construction industry's biggest pain points?
The construction industry is at the crossroads; digital technologies are disrupting the industry, providing new opportunities to address the challenges of poor profitability/productivity, project performance, skilled labour shortages, and sustainability concerns. Construction companies must take steps now to join the digital future and stay ahead of the competition or risk being left behind.
KONE has increased investments in new technologies and has broadened its digital capabilities. Our digital people flow solutions connects people – customers, users and employees – to equipment and data, which transforms the people flow experience in buildings and cities. Our digital platform uses state-of-the-art technologies and is open to third-party solutions.
By using open application programming interfaces (APIs), KONE's approach makes it easy to manage different devices and integrate them with new and existing systems. We can now create integrated and tailored solutions for our customers and personalised experiences for equipment users in a safe, secure and flexible manner. We have built our digital platform to anticipate these changes.
From now on, our services will be even better tailored to customer needs. Our solutions will be connected to the environments in which they function, enabling a truly personalised people flow experience. Elevators, escalators, building doors, and maintenance and modernisation services can now be connected and upgraded, which means they can be integrated with the digital platform.
How does KONE stand out from its competitors on the sustainability front?
At KONE, we seek to drive alignment between our operating and business models. We create value by providing customers with escalator and elevator solutions that leverage the latest proprietary KONE technologies and innovative designs. Being at the forefront of escalator and elevator technology has enabled us to grow our installed base of escalators and elevators to over 1,000,000 units, globally.
On research and development, KONE has been able to consistently grow over the years by leading the technology innovation race through successful investments in research and development. We have over 3,000 technology patents to our name, with 1,000 professionals stationed at eight R&D centres across the world.
KONE was recently ranked as one of the world's most innovative companies for 2018, by Forbes. We were ranked 59th, making us the seventh most innovative company in Europe. We were also the only elevator and escalator company featured on the list. KONE is recognised as a top climate change performer with an A- score in CDP 2017.
KONE was confirmed as a constituent of the FTSE4Good Index in July and December 2016. We ranked 28th in the 2015 list of Global 100 Most Sustainable Corporations in the World, released by a Toronto-based media and investment advisory company Corporate Knights.
We are not one to shy away from innovations to complement our technology. KONE uses the IBM Watson IoT platform and its cognitive capabilities in many different ways. Incorporating artificial intelligence helps predict elevator or escalator conditions, thereby helping customers manage their equipment over its life cycle. By leveraging artificial intelligence into our services, we help predict and suggest resolutions to potential problems long before they manifest.
This means less downtime, fewer faults and detailed information for maintenance crews on the performance and usage of equipment. For passengers who use elevators and escalators, it means less waiting time, fewer delays, and the potential for new, personalised service experiences.
The focus on the development of new and sustainable technologies has enabled KONE to continuously introduce products that are more reliable, safer and more energy efficient than our competitors, thereby increasing our competitiveness in the market.