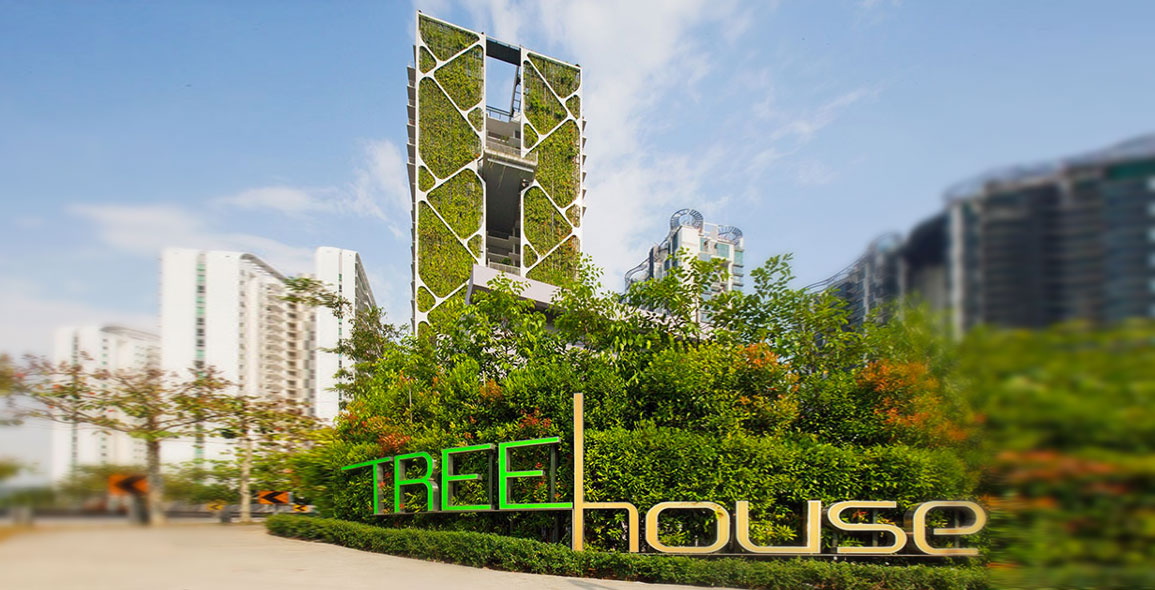 Vertical greenery systems (VGS) have been one of the widely-accepted design strategies in greening the built environment of Singapore.
Several research studies have emphasised the economic (e.g. higher property values), social (e.g. health and well-being) and environmental (e.g. better microclimate) benefits of VGS.
However, only a few researchers have focused on the issues and their maintainability challenges, specifically in high-rise building facades located in a tropical setting.
A research study conducted by the NUS Maintainability of Building Lab on the "Maintainability of Green Facades" has highlighted the major VGS defects that mostly occurred in the 60 case studies accessible for field observation works.
Out of these, 12 were used as instrumental case studies for further investigation and references.
The research study is the first comprehensive assessment to determine the green maintainability potential and performance of high-rise VGS in tropical conditions.
It aims to promote the value of integrating the maintainability of high-rise VGS facades in tropical conditions during its design inception.
Designing with maintainability in mind is crucial in delivering efficient and sustainable buildings.
Challenges Identified
Based on the study, there are 10 identified VGS issues.
1. Climatic conditions: heavy rainfall and strong winds can damage VGS foliage and fallen leaves and even cause withering
2. Design considerations: provision of inappropriate plant species and unavailability of natural elements
3. Structural stability and material durability: structural corrosion and bursting of felt
4. Construction and installation methods: fixtures improperly secured
5. Water and irrigation systems: water wastage/leakage and poor irrigation
6. Drainage systems: water dripping on floor/wall and water stagnation/water seepage
7. Maintenance cost
8. Maintenance considerations: lack of/insufficient maintenance access and safety issues during cleaning and repairs
9. Environmental considerations: presence of algae and mould, dirt accumulation
10. Lack of coordination among involved professionals
The top five VGS defects found in the case studies are:
1. Plant suitability issues: fallen leaves, withering plants and dirt accumulation
2. Safety issues: safety issues during cleaning and repairs
3. Maintenance issues: lack/insufficient maintenance access, algae/biological growth
4. Drainage issues: water stagnation/ponding
5. Irrigation issues: poor/faulty irrigation and water dripping, unavailability of natural elements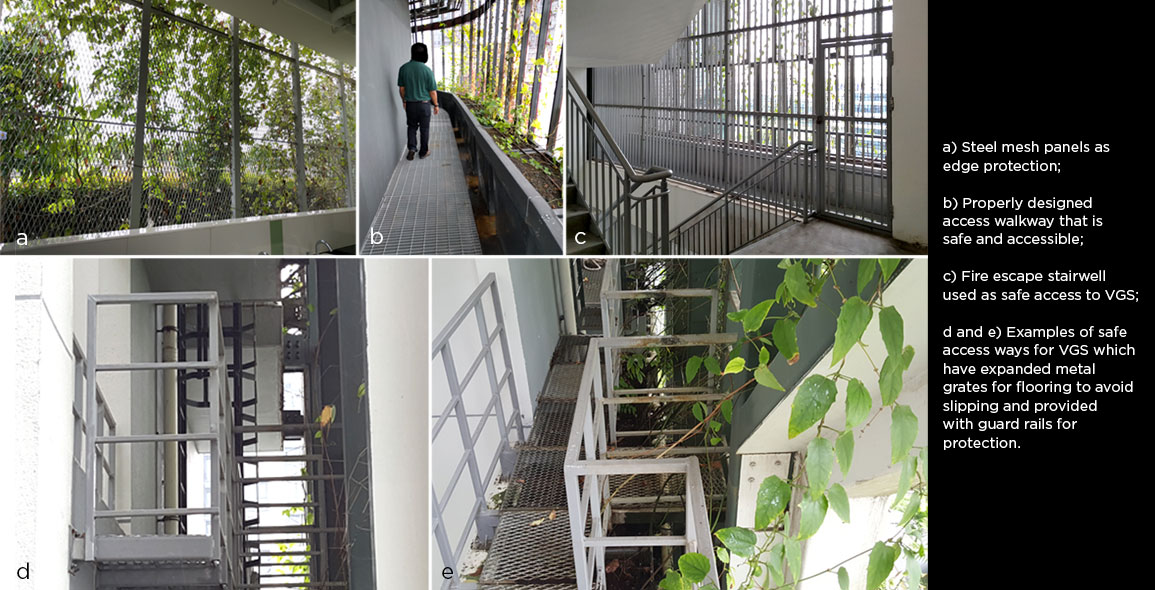 Good Practice for VGS Maintenance Access (Source: Conejos et al., 2019)
Based on best practices and lessons learnt from the study, here are the ABCs of designing high-rise VGS in the tropics.
These take into consideration the design for maintainability strategies to reduce the cost and frequency of maintenance, plant replacement and design inconsistency.
Most importantly, it maximises the VGS performance.
A
Adopt a passive approach towards accessibility right from the design stage. Maintenance access should be free from obstacles and barriers, wide and not restrict the transporting of bulky maintenance equipment like wheelbarrows.
Aesthetics of the VGS and their perimeter should be ensured by frequent and proper maintenance regimes. The plant maintenance can be done fortnightly to check their condition, minimising the application of insecticide, clearing dead leaves and checking out for issues. The plants should be irrigated twice daily in the morning and afternoon.
Algae and mould growth not only affects the aesthetics of the VGS but can cause slip hazards, especially occurring on floorings and guard rails. Algae growth is prevalent on the substrate panels, on water stains below planter boxes and in areas of water ponding. Thus, waterproofing of the VGS perimeter walls and frequent checks for water ponding and water leakage must be done.
B
Backing for the VGS should be fireproof and conforms with the SCDF Fire Code 2013 (i.e. fire-proof aluminum composite backing). Fire safety should be considered at the design stage as an essential requirement for the safety of VGS implementation.
Bird nesting can be prevented through a simple VGS design of high-tensile steel cables, using plant vines and ensuring that the wire trellises grid is narrow in width, so there is no space for birds to roost in the vines.
Bugs and pathogens can be prevented using inorganic growth media instead of organic soil.
Use thin and lightweight panels (less than 25 kg/m2) to provide ease in handling, installation and maintenance; as well as to accommodate more than plant species, instead of the continuous frame, which can accommodate limited number of plants.
Biodiversity should be an essential element in the design of the VGS to promote the health of the urban ecosystem.
C
Choose the right plant species that are suitable to Singapore's climate, such as the Thunbergia Ggrandiflora which is a popular choice in climber systems, as it is able to grow fast and reach its mature stage in about six months. Another one is the Bauhinia Kockiana plant species which is native to Singapore.
Coordination and teamwork during the design stage among landscape architects, designers and structural/M&E engineers are deemed necessary to reduce design inconsistencies.
Choke issues on gutters due to falling leaves from the VGS may lead to stagnant water and mosquito breeding. Thus, frequent maintenance and clearing of debris is essential in keeping the VGS and its surrounding clean and free from pest infestation.
D
Durability of materials, structural stability and good workmanship is the prerequisite for a safe and effective VGS installation and implementation.
Drainage management and waterproofing must be ensured to prevent water ponding, which is a serious issue that could negatively affect building tenants and overall public health. A best practice example for drainage measures and prevention of algae growth is by having drainage holes built into the base of the trays to prevent water ponding within each tray. This negates the possibility of mosquito breeding and algae growth.
Design for Maintainability must be considered right at the outset, so that the lack of drainage and improper drainage systems due to the flat gradient of access walkway surfaces or lack of screed at a gradient can be prevented. VGS installation should not be designed near, at or over the pool deck, which will require frequent cleaning of the pool to preserve water quality. This will also hinder maintenance access during VGS cleaning and replacement.
Unsafe access to VGS as it is barred by Jacuzzi and constant Jacuzzi cleaning to maintain water quality (Source: Conejos et al., 2019)
Dead zones which are essentially full of dead plant matter can possibly catch fire during dry spells and are potential major fire hazards if not well taken care of and left to dry. This can be prevented if there is sufficient sunlight exposure, planters with sufficient soil and proper irrigation regimes to facilitate even VGS plant coverage.
Defects should not be left for long periods of time, to prevent irreversible damage and additional spending is required on the replacement of components or a total overhaul. The increased frequency of VGS maintenance cycles will prevent the occurrences of some defects (e.g. excessive algae growth, leaky irrigation), which have surfaced during the VGS completion.
Dr. Sheila Conejos is a Senior Lecturer and Deputy Head of Program in the School of Science and Technology at the Singapore University of Social Sciences. Sheila is a forensic architect, urban planner, heritage manager and sustainable development specialist. She has extensive research and industry experience, is a co-author of the book Design for Maintainability: Benchmarks for Quality Buildings (World Scientific Publishing Ltd., 2018) and has published in several international referred journals related to building and urban sustainability.
***
References
Sheila Conejos, Michael Yit Lin Chew and Fikril Hakim Bin Azril (2019). Green maintainability assessment of high-rise vertical greenery systems, Facilities, Vol. 37 No. 13/14, 2019, pp. 1008-1047.
Michael Yit Lin Chew, Sheila Conejos and Fikril Hakim Bin Azril (2018). Design-for-Maintainability (DfM) of High-Rise Vertical Greenery Facades, Building Research and Information, Vol. 47 No. 4, pp. 453-467.
Michael Yit Lin Chew and Sheila Conejos (2016). Developing a Green Maintainability Framework for Green Walls in Singapore, Structural Survey, Vol. 34 No. 4/5, pp.379-406.
By:
Sheila Maria Arcuino Conejos
Cover image:
City Developments Limited