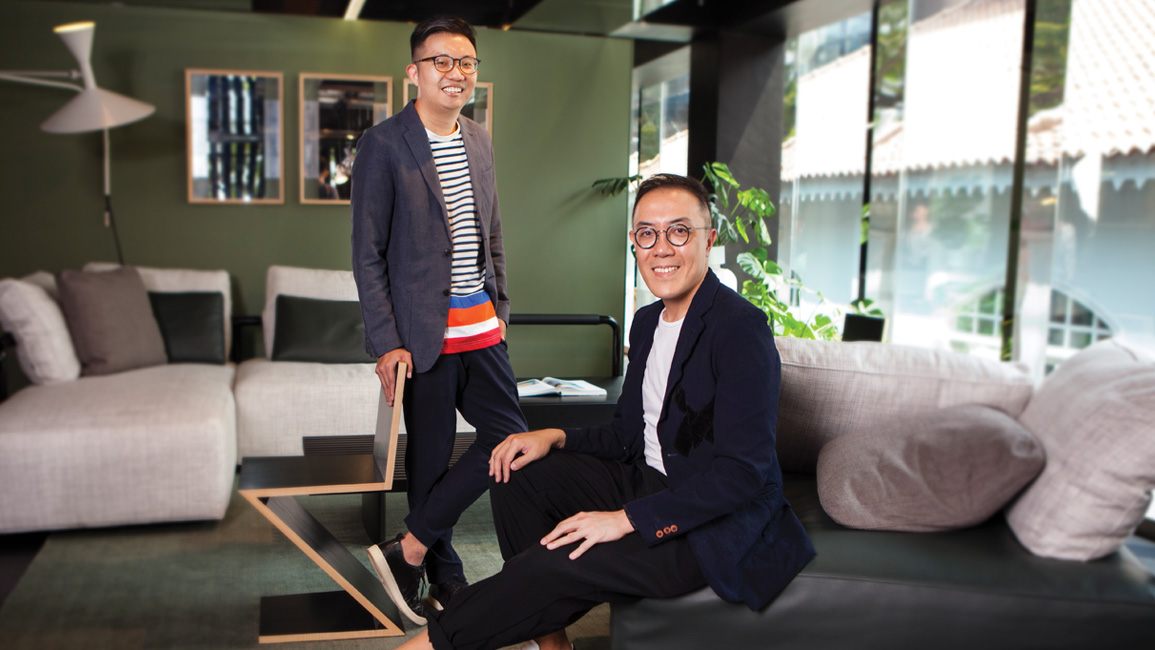 Why did you decide to become designers?
Leong Hon Kit (Kit): I liked the idea of creating things that other people can use and enjoy.
Si Jian Xin (JX): I was fascinated by the narrative and craft behind different spatial experiences.
What is the most interesting project you have worked on to date?
The most interesting project is always the next project. We get to build on what we have learnt from previous projects, and layer on ideas and concepts in new contexts, which produces unexpected results sometimes.
If I had to mention a completed project, it would be the Honestbee office. It allowed us to push the idea of office design from a functional exercise of planning workspaces and meeting rooms, to treating it as urban design with a social aspect. We took the approach to design the whole space with a flow and layout that is like an old European town. The office was designed as a series of volumes and spaces with a central "plaza" connected through non-orthogonal circulation spaces. There are many nooks and interstitial spaces where people can work at, have a break or hide, outside of their work station. The whole intention was to allow the user to be empowered to use the space in the way they want, to increase the chance for people to encounter each other, and allow for comfortable work environments that are more akin to sitting in a cafe or at home.
What is your design philosophy?
We believe in the power of good design to influence and create change. Our process is rooted in the idea of collaboration and human centredness. By looking beyond the confines of architecture, interiors and landscape, we create experiences that delight and touch the soul.
Where do you draw your inspiration from?
Our designs usually arrive out of our interest in certain materials and textures in relation to the project, and how we can activate the social components of a certain brief, especially for commercial projects.
For example, when we were designing the restaurant Tanuki Raw, we wanted to play on the idea or "raw" and use materials that had a natural finish. We came across rounded-corner bricks (commonly used in outdoor planters in the 1980s and 90s) at an old school, and decided to incorporate them into the entrance wall. It has become one of the major design features.
Why did you decide to branch out and set up your own practice?
Wynk began in 2012, when we had the chance to design a house from scratch. We thought it was a good opportunity to try to do something on our own, and we went in with a mentality of "if not now, then when?". The company evolved over the years to focus on commercial and residential interior design.
What is the top challenge you face right now and how do you overcome it?
We are always afraid of being too safe when doing a project. It is easy to give clients something they expect us to produce, and to give a very direct interpretation of a project brief. We constantly remind ourselves to push some boundaries for every project, even if just a small one, to keep the momentum of evolving going.
Which designers and architects inspire you?
Kit: I'm currently interested in the works of Shiro Kuromata, who has a radical simplicity towards the design and application of materials that is ethereal and delightful at the same time.
JX: Olafur Eliasson. I like how his artworks communicate ideas and evoke emotions by being sensorial, immersive experiences. Carlo Scarpa also had a big influence on me when I was younger. He didn't have many built works, but his sensitivity towards context, detailing and material made me realise the importance of good design.
What projects are you busy with right now?
We are currently working on some residential, retail and hospitality projects in Singapore and Malaysia. In particular, we are busy with a restaurant in central Kuala Lumpur and the public areas of a co-living space project in the Bangsar South district.
What is it about Space Furniture that compels you to purchase repeatedly from them?
They carry very good brands like Cassina, which we love. Cassina produces a lot of the classics, often in interesting finishes. Every time we visit Space, there will be a piece in unexpected colours. An example is the LC7 Swivel Chair. We are used to seeing it in leather but one time we saw it in a yellow fabric.
We like the way Space does the visual merchandising, which helps us imagine very easily how the products can be used. Also, the staff are very helpful. We've purchased the Emeco chairs from them to use in Tanuki Raw, and a few glass coffee-tables from Fiam for the Honestbee office, just to name a few.
This story is produced in collaboration with Space Furniture.