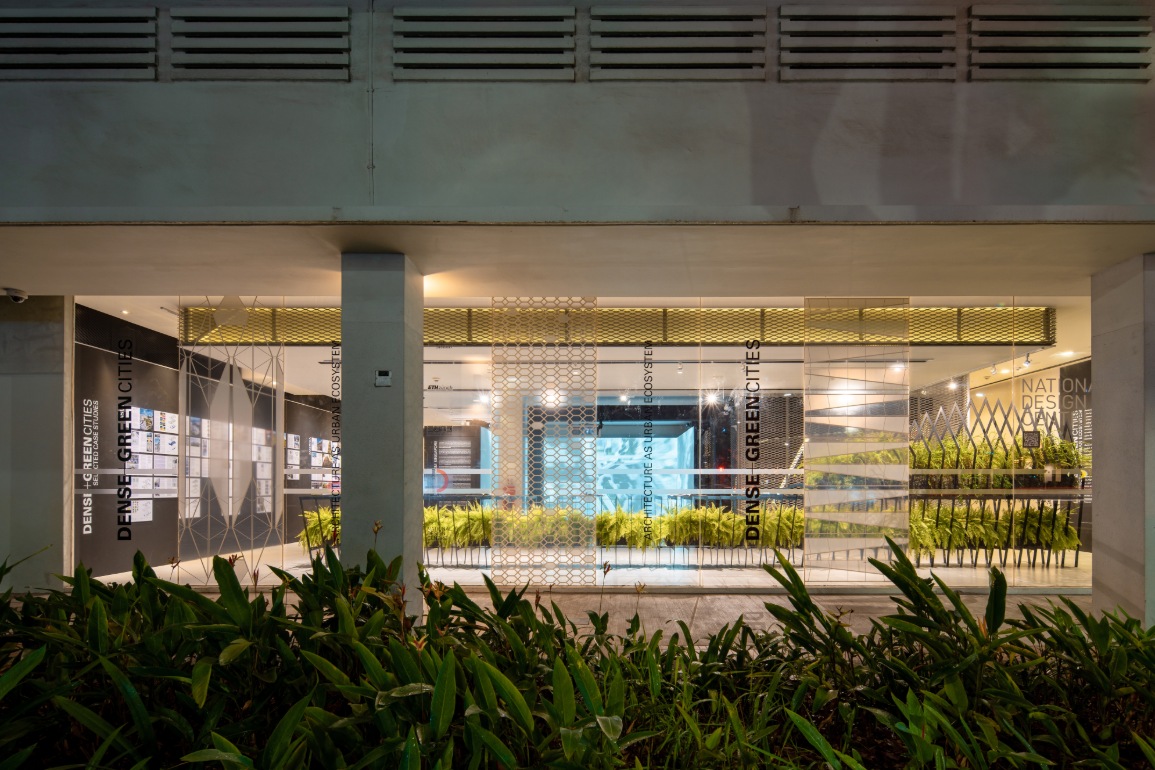 A recent exhibition at the National Design Centre, Dense+Green Cities, explored the interaction between buildings and the city as ecological systems through the questions of concept, planning, design, technology and experience.
Also presented in a book1, it discusses the dimensions of "green building" through international expert essays, analysed through benchmark case studies, and presented with analytical drawings and drone videography – in an effort to understand and evaluate some of the most innovative Dense and Green cities of recent years in Asia, the Americas and Europe.
Dense+Green Cities is based on an ongoing research project that was launched at the Singapore-ETH Centre Future Cities Laboratory (FCL) in 2015.
FCL was established by ETH Zurich and the National Research Foundation Singapore in collaboration with key academic partners, including the Singapore University of Technology and Design in 2010 to study sustainable future cities through science, by design, and in place.
FCL develops new integrated planning paradigms, research methodologies, and implementation processes to support higher population densities, higher standards of environmental sustainability, and enhanced liveability.
In this context, the Dense and Green research explores innovative building projects and developments in high-density urban contexts through case studies and a systematic study of their urban planning and design, architectural, environmental, social, and economic aspects with a focus on Singapore.
Singapore's Green Agenda
A number of fortuitous and strategic conditions has made Singapore a leader in Dense and Green buildings for the tropics.
Projects like WOHA's School of the Arts (completed in 2010) and PARKROYAL on Pickering (completed in 2013) have led the way in design with visionary leadership.
Asia, in general, and Singapore, in particular, have great potential for the further exploration of Dense and Green as well as liveability principles.
The breath-taking scale of many of the new developments in Singapore captures the attention of politicians and developers and the imagination of its citizens.
As a small island state with limited land and natural resources and a current population of approximately 5.6 million, Singapore's developmental approach has been guided by green agendas even before the term became a buzzword.
The late Lee Kuan Yew, Prime Minister of Singapore from 1959 to 1990, wanted to transform the City into a "Garden City" already in the 1960s. It was a revolutionary concept at that time because no one else talked about "going green" or climate change2.
Singapore has since recognised the importance and benefits of a green environment.
Even as the city state embarked rapidly on industrialisation and urbanisation programs to provide jobs and housing for its people, the natural environment was high on the Government's agenda.
Since the 1960s, the city state's vision has evolved from Garden City to City in a Garden3. This concept is seen to strengthen its brand as a distinctive, liveable city.
The new vision also embodies ideas of conserving and nurturing biodiversity in the urban context, an area where Singapore has contributed scientifically through, for example, the Singapore Index on Cities' Biodiversity4.
As its population continues to grow and with limited land available, developing a compact city with extensive greenery and highly liveable environments will continue to be an important strategy.
Benefits of A Green Ecosystem
Singapore currently pursues three key strategies to realise its City in a Garden vision: using pervasive greenery from the ground to the facade and rooftops of buildings, infusing biodiversity into urban landscapes, and fostering community involvement as active participation.
Ownership and pride among the community are seen as factors that will sustain the City in a Garden vision5.
Since the early 2000s, Singapore has pursued a number of research studies and small demonstrations that explore the integration of greenery in buildings.
These projects led to a number of policies and initiatives such as GFA Exemption for Communal Sky Terraces, GFA Exemption for Communal Planter Boxes, Skyrise Greenery Incentive Scheme, Landscape for Urban Spaces and High-Rises (LUSH), as well as the Landscape Excellence Assessment Framework (LEAF).
These have been instrumental for the subsequent experimentation with Dense and Green buildings.
Many property developments in Singapore employ marketing phrases such as "near a park," "rooftop greenery," or "vertical greenery." The quantifiable benefit of such features is land value appreciation.
At the same time, Dense and Green buildings can also be seen as having a potential alleviating effect on land use competition, as they are able to layer horizontal city functions vertically, thereby optimising land use in Singapore.
Also, Singapore increasingly recognises the unquantifiable benefits of living within or near natural areas with rich biodiversity that can result in improved physical and mental health, and mitigate some of the negative effects associated with high-density urban environments6.
Further, pockets of green spaces can also function as part of a larger urban ecosystem. For example, Dense and Green buildings can perform as high-quality habitats for flora and fauna.
The combination of buildings with green spaces such as green corridors, parks, nature areas, and nature reserves can form an interconnected matrix that becomes part of a larger ecosystem.
Dense and Green buildings can mitigate the negative effects of high-density areas and improve urban environments by synthesising the architectural, environmental, social, and economic aspects of living.
Singapore offers a wealth of case studies for Dense and Green buildings research. The information at hand and knowledge gleaned from these can enable similar ideas to be applied to other cities.
This helps to improve urban environments there as well, steering the Dense and Green agenda from its current status, to an integrated and tacit element of planning and design in that density and liveability are not seen as contradictory, but rather as mutually dependent and synergistic.
Dr. Thomas Schroepfer is Full Professor and Founding Associate Head of Pillar of Architecture and Sustainable Design at the Singapore University of Technology and Design (SUTD) and the Principal Investigator of Dense and Green at the Singapore-ETH Centre Future Cities Laboratory.
References
1. Schröpfer, Thomas. Dense+Green Cities: Architecture as Urban Ecosystem. Basel: Birkhäuser, 2020.
2. Ng Lang, "Interview: Ng Lang, CEO, Urban Redevelopment Authority (URA)," Architecture and Urbanism, Special Edition May 2012: 50.
3. The vision for Singapore might evolve to 'City in Nature' in the coming years. See, for example, Khoo Teng Chye, "Building a City in Nature," in Thomas Schröpfer and Sacha Menz (eds.), Dense and Green Building Typologies: Research, Policy and Practice Perspectives (Singapore: Springer, 2019), 13-19.
4. "Singapore Index on Cities' Biodiversity," National Parks Board Singapore, accessed May 20, 2019, https://www.nparks.gov.sg/biodiversity/urban-biodiversity/ the-singapore-index-on-cities-biodiversity.
5. Poon Hong Yuen, "Interview: Poon Hong Yuen, CEO, National Parks Board (NParks)," Architecture and Urbanism, Special Edition May 2012: 106.
6. Tan Puay Yok, "What does Vertical Green Mean," Architecture and Urbanism, Special Edition May 2012: 138-141.
By:
Dr. Thomas Schroepfer
Photography:
Koh Sze Kiat, Oddinary Studios