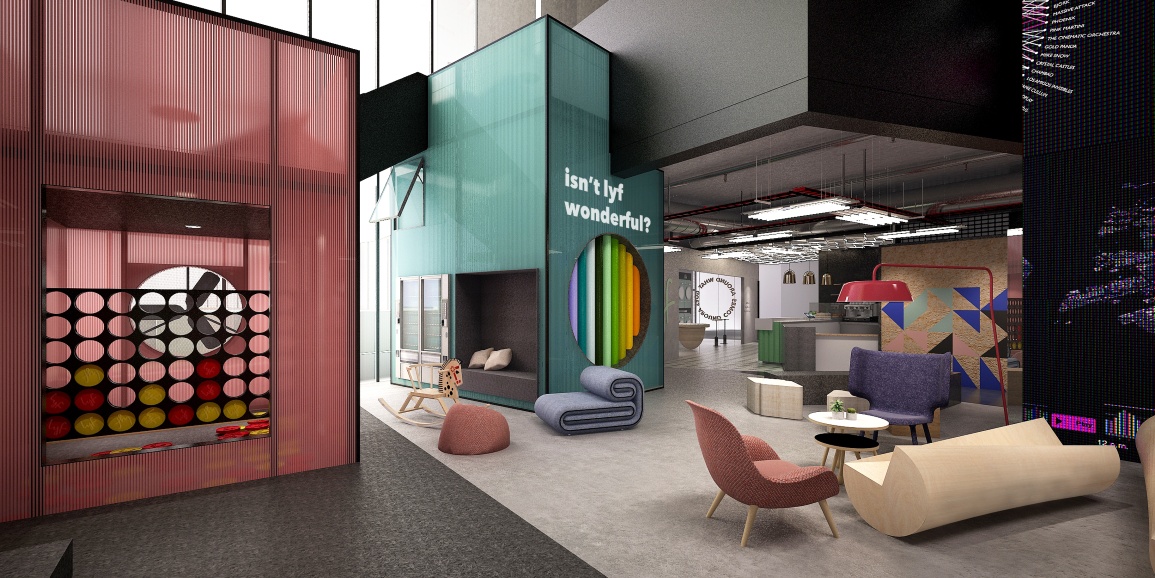 How do you design a serviced residence brand for millennials? When faced with this question, The Ascott Limited decided to approach the Singapore Management University (SMU) to set up a prototype space within its campus.
Four months later, in February 2017, lyf@SMU was launched, styled as a 3,000m2 experimental lab. There were coworking areas, coliving spaces, thematic rooms, recreational zones and a feedback wall to collect students' inputs. Events were also organised around lyf's brand value of authenticity.
Employing technology developed by SMU, the project was able to track the usage patterns within lyf@SMU. More than 1,250 unique students visited it daily for at least three hours each time, even on weekends (about 950 students used the space on Saturdays and Sundays).
Key Takeaways
CHOICE OF FURNITURE: In the public areas, pieces should be modular and made from hardy materials that are light and easy to move around to accommodate different types of space usage e.g. networking events, talks, group discussions.
CATER FOR EVENTS: From movie nights to industry talks and book launches, lyf@SMU hosted close to 200 events with almost 80 partners over the past 2.5 years. This is an integral part of the lyf experience and the spaces must have the supporting facilities such as multiple movable presentation screens, portable speakers and microphones. To this end, lyf Funan Singapore will also have weekly social programmes that guests will be able to attend.
MUSIC MATTERS: Whether it is the Billboard 100 or acoustic pop, filling the airwaves with the right tunes is an important part of the hospitality experience, adding to the ambience and setting the tone for the property.
BUNK BED CONFIGURATION: A double-decker or L-shaped? After trying out both options at lyf@SMU, the latter got the vote for being more inviting and less dorm-like. These are now in the Up & Down category of apartments.
FITNESS NUANCES: Resistance training is preferred over cardiovascular workouts. Consequently, lyf's social gym Burn is kitted out with TRX equipment, kettle bells, and Surge Storm, water-filled, adjustable weight tubes.
Real lyf Example
These key takeaways are now integrated into the lyf brand book, and have been applied in its first property launched, lyf Funan Singapore. With 412 rooms in 279 apartments, it is the largest coliving product in Southeast Asia.
Colourful, fun and with Instagram-able moments at every turn, lyf Funan Singapore offers a dynamic live-work- play experience with a plethora of collaborative spaces.
The shape of an arrow is formed by lighting up a group of letters in an installation where the word "connect" repeats itself over nine rows, guiding guests to the lobby to socialise.
Up the flight of central stairs is the mantra "I'm on a diet", printed five times, to encourage walking up than taking the elevator.
A human-sized hamster wheel is available to run in by the gym; the apartment portals are covered by images of different types of doors commonly found throughout Singapore, for that local touch; the list goes on.
It has been a three-year process from experiment to execution, but judging by how things have turned out, this lyf journey is about to become even more exciting.
This story is brought to you by The Ascott Limited. It first appeared in d+a's Annual 2020.