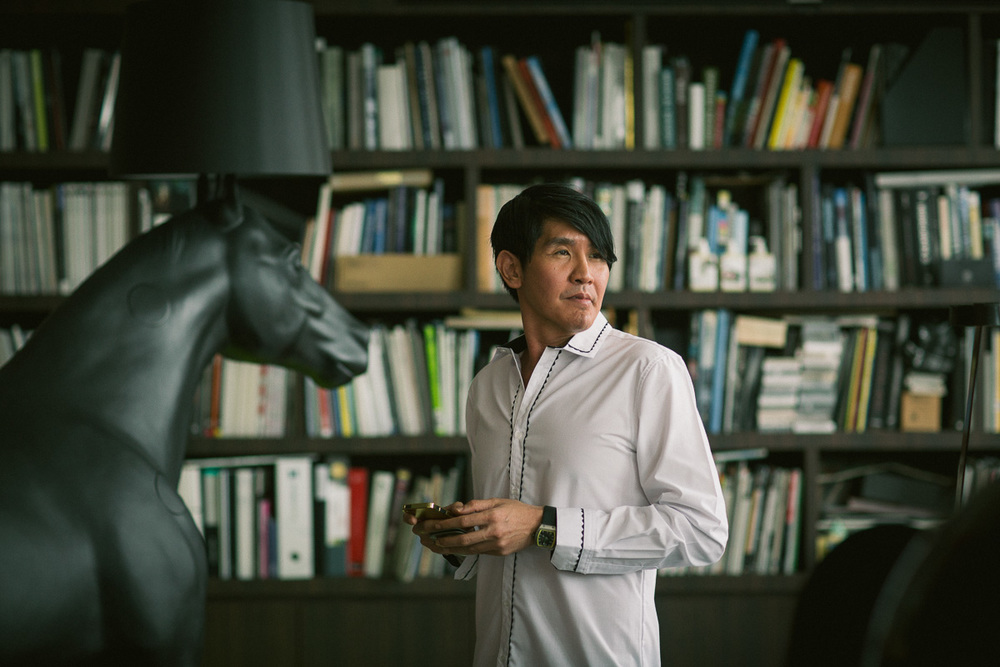 How would you advise a client to minimally renovate their existing home to accommodate work from home (WFH) arrangements?
We should see the spaces in our home as a container for a myriad of activities to happen. This myriad of activities is known as a hybridisation of spaces, where they can take on any programme or function at any time of the day, be it for working or resting. The whole purpose of this is so that there is no need for an extensive amount of renovation to be done, as one can work anywhere within the home, without any restrictions.
For those who live in smaller apartments, how would you advise them to make their homes multi-functional so they can WFH too?
For those who live in smaller apartments, they should start by thinking of the furniture that can fit into their home. Find those that can be opened or closed for a different use, or that can be transformed to cater to different needs, or that can be concealed easily when not in use. Find furniture that is operable like having a sofa that has an attached coffee table at the side, which can function as a study top or a personal dining top — or even having a study desk attached to the back of the sofa.
How can we make our home office look and feel luxurious without being over the top?
It is all about spatial quality. Luxury comes in different forms; it could be material luxury, i.e. material pieces, prized artworks, limited edition artefacts or even rare items that are hard to collect. However, to me, luxury does not have to carry the above items. Instead, luxury can be seen in the home's spatial quality. For instance, this can be high volume spaces or natural light flowing within. Spatial quality is already a luxurious form of living.
A home is like our inner sanctuary. It is all about the single item that is meaningful to you and carrying it into the interior space, that eventually this becomes an artwork that only speaks to you. This is considered as another form of luxurious living as this direct relationship between the object and you is priceless, and only you can understand the true value of it.
Lastly, lighting plays an important role in interior design. It is all about the direct and indirect lighting that guides to create a mood of sensuality to the space, through the effects of dimming or allowing more light to filter through the space. We are able to create a sense of luxurious mood through the use of lighting control. It could be allowing more light by opening the windows or even using blinds or curtains to achieve such sensuality within the space.
For someone who is designing their home from scratch, what are some must-haves that you will recommend to them that a home office should include?
A home office should include not only bookshelves but display cabinets to house artefacts or memorable items that relate to the character of the owner of the space. These items could be things he or she likes, travel items or even books that relate to one's interest – art, fashion, cars for example.
Additionally, the functionality of the work table should have an appropriate consideration of electrical points, WI-FI connectivity and even background music. These are the essentials that complete the overall functionally of an office space so that one can work in their home office without having to leave the table at all.
What is your secret to designing spaces that are flexible and multi-functional?
Spaces are very tight in Singapore. When designing spaces to be flexible and multi-functional, one needs to think of how spaces can transform and have that dual or multiple functionalities. One possibility is using furniture that allows the flexibility of programmes to change within the space. An example is the sofa by Molteni & C, designed by Vincent Van Duysen, made of pieces to be shaped and modelled in different configurations that can subsequently be modified.
It could also be a sofa that has a study desk behind it, making one feel like they are in different rooms at different parts of the day, even though they are at exactly the same space. In the day, it is an office, but in the night, it becomes a place to rest. And while you can have your favourite spot to work from home, it is important to think of how it may be necessary to work at different parts of the house. We might be working in our home office one day, the dining room another, and even at the balcony or on the kitchen top on other occasions.
How have you adjusted your designs for Midtown Bay in light of the pandemic?
Guoco Midtown is a new social heart in the central business district. Midtown Bay, which is the residential part of Guoco Midtown by GuocoLand, was a very interesting project for me. It was like being part of building a new city. I have a feeling that in future, people will start to identify the area as Singapore's new 'Midtown'. When people ask a resident, "Where do you live?", the answer will be "I live in Midtown".
In terms of design, this project features smaller units as well as double-level duplex units, creating an experience like living in Manhattan in New York. There was not a lot at Midtown Bay that needed to change as it was conceptualised with the flexibility to adapt to the fluidity between live-work-play in the city. The beauty of the space within Midtown Bay is that it is so functional – one could arrange a dining space at the balcony and free up more space in the living area for entertaining friends or set up a home office.
For example, the one-bedroom units can accommodate a dining table that seats six people, quite a feat that is not found in many other projects. Other features of Midtown Bay that makes living in a post-pandemic world much more comfortable include the high ceilings and million-dollar views.
The rare duplexes are also built for the future, where one could set up a home office on the lower floor and keep the upper level as his or her own personal private space, perfect for resting. This separation of work and rest areas at home is also very important for those who work from home for a prolonged period of time.
How have you personally been impacted by COVID-19, if at all?
Covid-19 has meant that people stay at home for long periods. It has made a lot of people, including myself, rethink what living at home is all about, and as a result, become more conscious about our own quality of space. Where we live is important. I thought about the first Unité d'Habitation by Le Corbusier in Marseille, France, and his quote that a house is a machine for living in and how he applied it to a community. It also made me think of Guoco Midtown, as living in a mega-development, which is indeed like living in a city with everything you need within reach.
Aside from multi-functional spaces, how else do you think the interior design of homes will change because of the pandemic?
When we think of how the interior design of any home will be, we need to think of not just individual users. Rather, we need to start looking at the home as a place where the whole family, including grandparents and children, live together. The interior design needs to be flexible and support people living together by creating spaces that support communal living.
"The Future Has Arrived Much Sooner"
Midtown Bay is part of Guoco Midtown by GuocoLand. Dora Chng, General Manager (Residential) of GuocoLand, weighs in on how the Covid-19 pandemic has impacted the upcoming mega-development.
"When we were conceptualising Guoco Midtown in 2018, long before the coronavirus outbreak, we were anticipating the needs of people in the future by studying emerging trends such as work from home (WFH), e-commerce, health and safety, and mental wellness issues. While many of these trends are not new, the pandemic has accelerated them so that part of that future has arrived much sooner.
As a developer, we have to take a long-term view, and that means looking beyond the pandemic. As such, our buildings are designed and built to be future-ready and adaptable for its occupants. While there will be all kinds of shocks going forward, our developments can weather them as they are developed based on the principles of sustainability and liveability – in how people live and work, how we build a community and create an environment that is safe and promotes wellness.
It is on the premise of sustainability and liveability that Guoco Midtown was conceived with a vision of how people will work, live and play in the future. Many of these original ideas for Guoco Midtown are still relevant in the new normal. This relevance means that the design of Guoco Midtown had little need for adjustments in the face of the current pandemic. If a development has been well-designed to be liveable and sustainable in the long term, the need to react and make significant changes is minimised. Redesigning based on knee jerk reactions may cause a need to make more changes in the future again.
There are no significant changes to Guoco Midtown's premium Grade A office tower and office spaces. What we've done was to incorporate flexibility for the office tenants of Guoco Midtown through our 'core and flex' strategy. This gives tenants the flexibility to have both long-term dedicated office space (core) and shorter-term dedicated office (flex) for special project teams and situations requiring shorter-term offices.
The new normal for offices will see a shift towards an activity-based working model as a hybrid of office and home-based working continues, in line with safe distancing measures. As such, the office space plays a critical role to encourage collaboration and innovation among staff as the longer people WFH full-time, the more they will appreciate a conducive office environment.
In terms of communal spaces, Guoco Midtown's Network Hub is the social and business heart of the mega-development. The design remains as a five-storey building with 80,000ft2 of space including members-only lounges, meeting rooms that are virtual-technology ready, private dining rooms with kitchens and travellers' lounges for busy executives to freshen up when they arrive from the airport. The Network Hub also complements residents of Midtown Bay's WFH needs by providing meeting rooms and office spaces which they can book.
One thing that we have adjusted at the Network Hub is the capacity of our MICE (meeting, incentives, conference and exhibition) facilities. Instead of town-hall rooms for large groups of people, we will offer spaces that can host a hybrid of physical and virtual attendees – that is, the spaces can still accommodate a good number of people but would also be fitted out to allow more people to join in the meetings or town-halls virtually.
As for communal open spaces, Guoco Midtown had planned for over 20 concept and thematic gardens and lush private and public spaces, which was another reason why we did not need to make changes to our development after Covid-19. Adding greenery in a thoughtful way has always been one of GuocoLand's trademarks. Long before Covid-19, we observed trends in people's lifestyles and realised that modern lives are very hectic, and the home should be a place where time slows down, and people can recharge physically and mentally.
As such, we saw a trend in the area of biophilia in urban environments where humans enjoy being in nature and benefit from being surrounded by greenery in a city. For Guoco Midtown, we decided to take the incorporating of green spaces within a development to a whole new level. Instead of having just one central garden, our design spreads out over 3.8ha of gardens and green spaces throughout the development, allowing occupants to enjoy the immersive greenery regardless of whether they are living, working or recreating at Guoco Midtown. Several of the gardens at Guoco Midtown are accessible to the public, including a therapeutic garden right in the heart of the CBD.
Another aspect of the foliage is to help promote mental wellness and facilitate socialisation for office workers. The office tower will have its own dedicated gardens on levels 7 and 30, a 40m lap pool and a 100m jogging track around a bamboo grove for workers to destress.
Lastly, building health and safety standards will increase, and features such as HVAC (heating, ventilation, and air-conditioning) systems that come with the capabilities to disinfect the air through ultraviolet germicidal irradiation (UVGI), as well as contactless surfaces and lifts will become more widely adopted in new commercial developments."