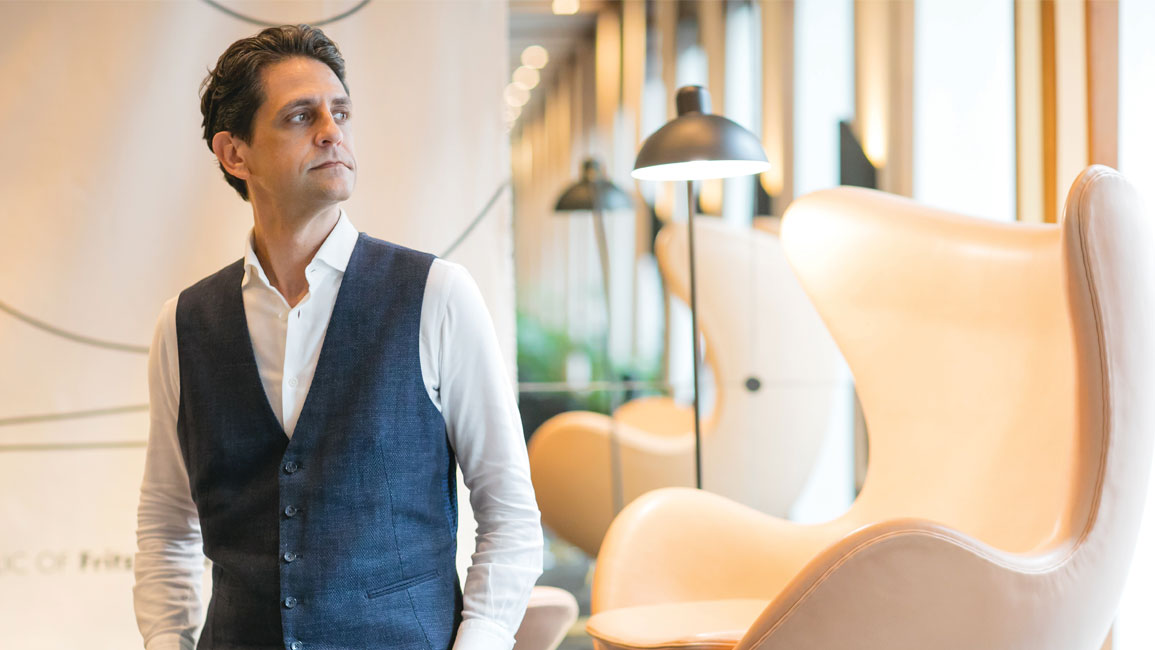 The Egg, Swan and Drop chairs by Arne Jacobsen have a wonderful timelessness to them – which is why the discovery that they turn 60 this year is surprising.
Naturally, celebrations are in order and the chief party planner in Asia is Dario Reicherl, CEO of the region for Republic of Fritz Hansen, the Danish company which collaborated with Jacobsen to make the chairs in 1958.
Although it was only March when d+a caught up with Reicherl, he had already organised three events in the same month.
"We celebrated by doing pop-ups in Tokyo, Bangkok and Singapore to give something back to the communities," says the German-Italian, who shuttles between Singapore and Tokyo where his offices are.
Tying up with Design Hotels and working with local artists, he saw to it that installations featuring Jacobsen's chairs would be on display for a week each in Trunk Hotel in Tokyo, The Sukhothai in Bangkok, and The Warehouse Hotel in Singapore.
For instance, in Thailand, local designer Vasu Virajsilp of Vaslab Architecture came up with the concept of In The Stream of History.
He installed a curvaceous 16m-long platform, inspired by the flow of a river, upon which the chairs were displayed – a subtle reference to their elevated, iconic status. The pyramid-shaped legs are inspired by the temples of Thailand.
"The hotel is not very Scandinavian but more classic Thai. By working with a very contemporary Thai artist, we wanted to mix the three elements."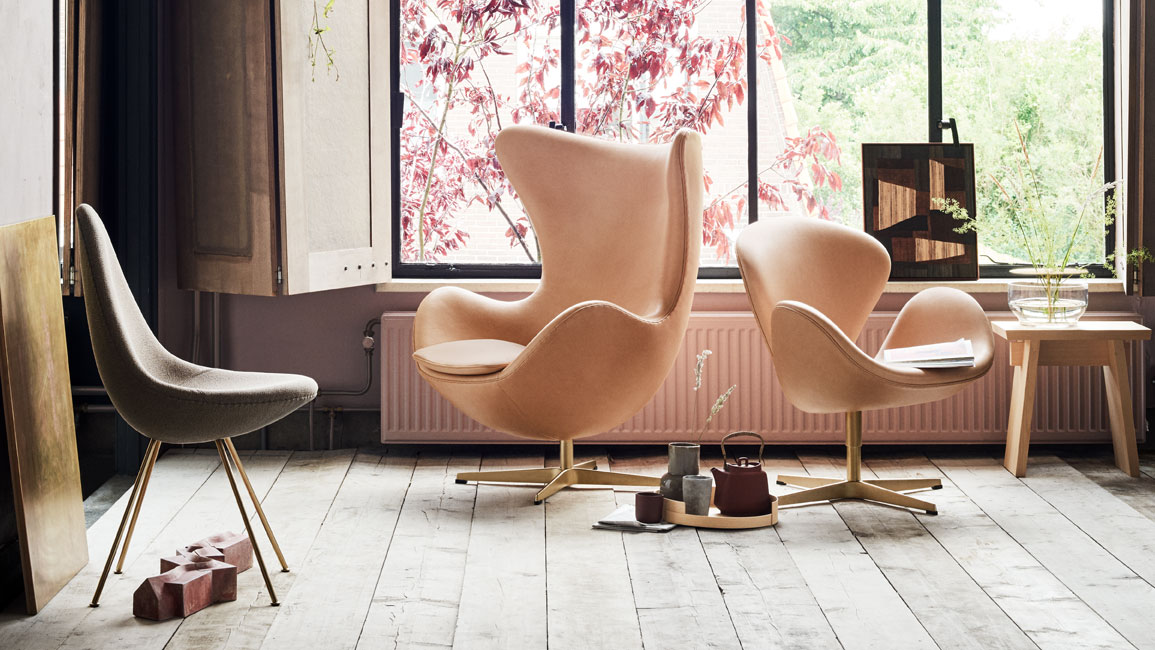 The anniversary editions of the Egg, Swan and Drop chairs by Arne Jacobsen
In Singapore, The Warehouse Hotel played host to the anniversary editions of the three chairs, where they sat inside a life-sized gilded bird cage. The latter references the unique bird-singing corner of the Tiong Bahru neighbourhood.
Created in partnership with W. Atelier, which retails products from Republic of Fritz Hansen in Singapore, it hopes to recreate the "convivial beauty and warm fellowship of this facet of [the country's] past".
Obviously, Fritz Hansen also released special editions that are available for sale. The Egg and Swan come in a butter-soft leather, while the Drop is upholstered in a long-lasting and structured Sera wool fabric in brown-grey. All the chairs are finished with a 23-karat gold-coated base.
It is worth pointing out that this is just the start of the celebrations, and Reicherl has others in the pipeline held in countries like Korea and China, which he is not yet ready to disclose.
"The furniture industry is so boring," he complains, when asked why he went through such lengths. "I think everybody keeps doing the same thing. I felt we need to do something different."
In keeping with the same spirit, the 43-year-old came up with the idea of presenting Fritz Hansen in a new, home-like setting, where the public and classic furniture aficionados can enjoy the collections as a way of life.
To this end, in July last year, the world's first House of Fritz Hansen opened in Bangkok along No. 14, 1 Soi Somkid.
"It took us eight months to find it because we had a very specific set of criteria, such as it has to be a landed property, represents local culture and is peaceful," says Reicherl. In fact, the House was formerly an abode, built in the 1950s, for an old, noble Thai family.
Apart from displaying furniture, the backyard is occupied by two Thai artisans, a tailor and jeweller, who each have a space to run their craftsmanship business.
Five months later, Reicherl was in Jakarta inaugurating the next House there. And he does not intend to stop, with the intention of establishing as many as 10 by the end of this year.
"We are looking at opening Houses in Xi'an, Taipei and Korea next. It is important that they all embody the spirit of Fritz Hansen, which is art, design, architecture, education and charity."
That he does these projects in his own unique way, different from how Fritz Hansen manages its brand in other regions of the world, is something his superiors are fine with.
After all, the results speak for themselves. Since assuming this position five years ago, Reicherl has helped the business in Asia grow eight times.
In Korea alone, he improved the bottom-line by 800 percent in his first year, due to a change in the business model.
So how does he come up with all these interesting ideas?
"I meditate a lot and work very little. I consider working in the classic way a huge waste of time. My skill is more philosophical and spiritual and once I understood this, I became very successful.
"The ideas come when I'm meditating, not when I'm spending time thinking about it. They are absolutely random. I believe in the power of when you don't think and focus on yourself, you are yourself and you reach amazing things."
Contradictory as they sound, this attitude seems to have worked for Reicherl. Whatever he comes up with next, one can almost be sure it is going to be a winner.
This story first appeared in the June/July 2018 issue of d+a. To read the rest of the issue, purchase and download a digital copy from Magzter.