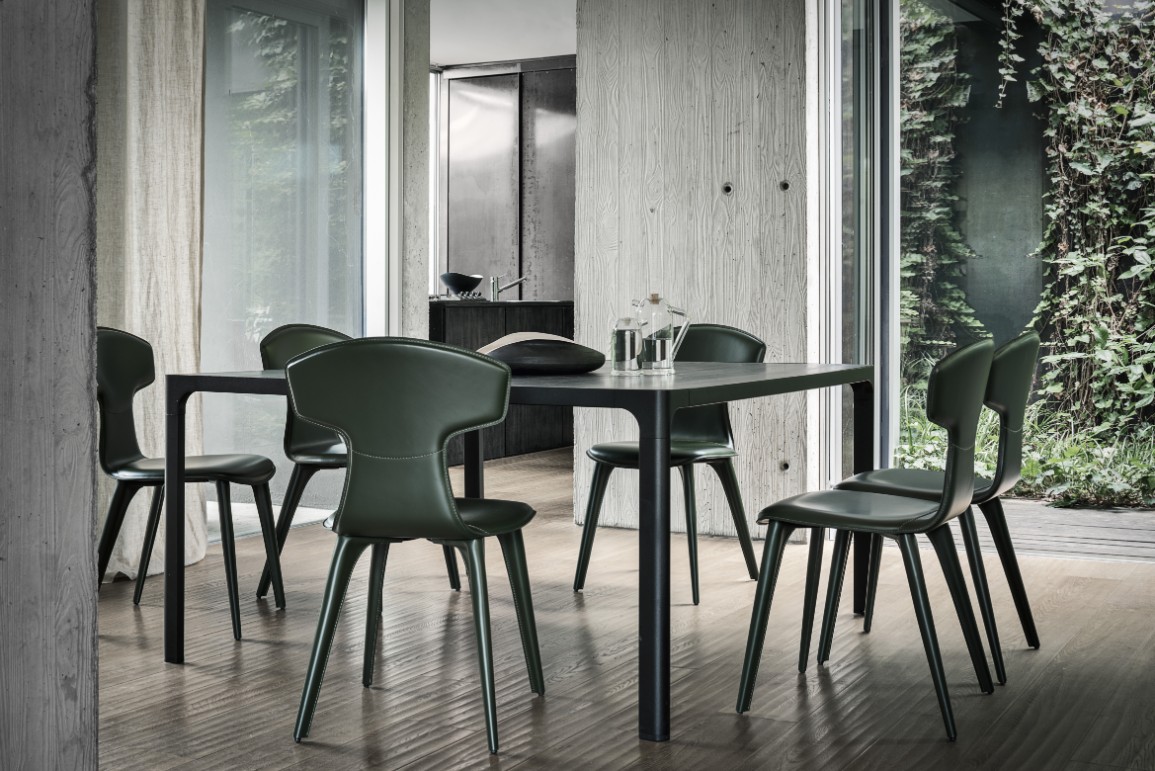 Franco di Fonzo is feeling emotional.
The CEO of Italian leather furniture manufacture Frag has just witnessed the unveiling of eight Ele chairs each dressed up in different ways by architectural and interior design practices.
They were handpicked for their ability to push boundaries and therefore be able to present the piece artistically and pay homage to Frag's experience in furniture leatherworking.
The project, AR_T, is done in collaboration with its local distributor P5 Studio to illustrate what heritage, leather and craftsmanship mean to each practice.
There is a chair wrapped in leather to look like it has been dipped in chocolate by right angle studio, there is another that wears a dress woven from scrap leather by Studio iF of Formwerkz Architects.
"This is the first time we have an event like this, showing an interpretation that is completely different from what the original designer of the Ele had in his mind," says di Fonzo.
"It means there could be growth everywhere, every time, of every item we have. This is the first experiment that we had, and we'll do it again."
His declaration represents a bold leap into the future for Frag.
Italian furniture manufactures like his are typically very protective over their designs and seldom allow for interference of any sort with their products.
Available in Singapore since 2018, Frag decided this year to make a bigger push into the market through staging an event.
When it came to planning it though, di Fonzo's son Michele and daughter Federica, who are also working in the business, proposed to their father the concept of AR_T, which was a departure from their standard product presentation.
"I accepted everything from them because they come from the same company, so they know how I think," he says, elaborating that the idea of giving the event an artistic spin greatly appealed to him.
"We have a history and a future. The history is what we do. The future is my son and my daughter."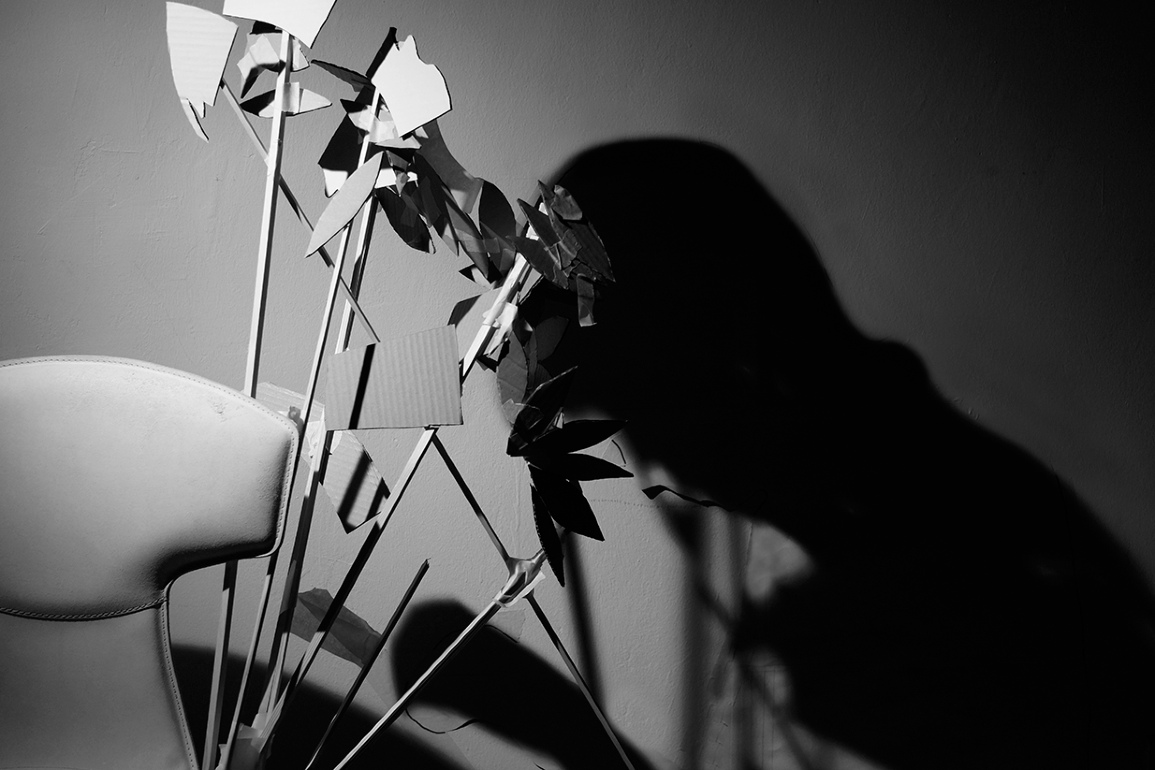 Architology's piece arranges leather vines to cast a shadow on the wall shaped like a craftsman at work
Established in 1921, Frag was set up by di Fonzo's grandfather in the Friuli-Venezia Giulia region of Italy.
Although it started life as a tannery, the business later evolved to leather furniture manufacturing, encompassing a range of products including chairs, sofas and tables.
The company typically sources its leather from Germany, France and Switzerland. More recently, they have been getting it from Russia too, as "the quality has been improving".
It classifies the leather into seven categories, with aniline from France or Switzerland as the highest tier.
These it uses to make its catalogue of more than 150 products in any colour imaginable, including the Ele chair, which coincidentally is designed by Michele and was inspired by the sinuous shape of a woman.
"Frag is a traditional company because leather is a traditional material. But as you can see through AR_T, there is the possibility of giving a taste of the future. That is very, very important," he explains.
"We are looking for a direction that will be more easy, friendly and proactive in the future, that are made by young people."
Through AR_T, he is hoping to explore the limit of that idea. Already, P5 has staged it outside of its showroom at Saturday Indesign earlier this month.
Di Fonzo is considering replicating the project in other parts of the world.
"We would like to show to other people that there are possibilities from one starting idea to many other ideas, and to explain that to our company, creativity is really very important."
Most Thought-Provoking: Umbra by Architology
Lights, shadows, and Architology's spin on featuring the AR_T piece as a matter in the third dimension by linking Frag's ethos and theirs leaves much to the imagination and illusion of space creation. Appreciated individually, Umbra is reminiscent of an art piece from the finest museums.

Most Quirky: The Jacket Chair by Produce X Superstructure
The AR_T piece makes a unique seating experience. The surrounding shell (the jacket) makes a cosy "nest" for the user deciding how to use or not to use the chair. A Rocketeer of a chair, the whimsical design is a balance between the uncanny and welcoming.

Most Crafty: Frag-ments by Studio iF of Formwerkz Architects
Frag-ments has arts and craft written all over it. Depicting a dress made from scrap leather, creating the AR_T piece with repetitive motifs that fit elegantly as a "dress" requires patience, dedication, accurate measurements, and a keen eye for detail; a la refined tailoring.

Most Refined: #17 by Studio Wills + Architects
If you're sourcing for sophistication, trust in old. #17's sleek and stylish knitted outfit was hand-sewed entirely by a 74-year-old knitter. Old is gold. A crochet hook was used to interlock pure cotton yarn to make a single crochet stitch, one at a time (very laborious) to form the "outfit". We're also unsure if the idea of knitting one of four legs was due to time constraint or intended nonchalance but less is more worked.

Most Abstract: The Impossible Chair by Super Fat Designs
The web and weave around the AR_T piece make a skeletal fixture around the waistline of the Ele Chair challenging the idea of the idealized human form. However, The Impossible Chair's base unit reflective elements invite and questions interpretations and imagination when admiring the design. Shot off centre to highlight the architectural elements, the piece fits perfectly in an advertisement on Vogue Italia…or possibly even an oversized chair relative to us.

Most Playful: Barbaro by Atelier Ikebuchi
The furry little gunslinger almost looks like a centaur out from the Wild West. Barbaro's furry outfit with the leathered top has Clint Eastwood's character in The Good, The Bad and The Ugly written all over it. Hats off to the flintlock slung at the back which just oozes ruggedness, mischief and…playfulness.

Most Rebellious: Chop Chop Chair by Parenthesis Studio
What do you do when you're collaborating with an Italian furnishing label with 100 years of leather experience? You rip the leather out, hang it on a rack and chop on it till the cows come home…literally. The art and message behind the Chop Chop chair is witty, full of conviction, and extremely bold in paying homage to Frag's legacy. Rebel with a Cause (or cost?).

Most Audacious: Elemental by Right Angle Studio
We're glad the chair didn't become a table but boy it takes some guts and audacity to wrap the chair up as a form of viscous matter rendering it unusable. Jokes aside, Elemental hits the nail by honouring Frag's expertise in craftsmanship by depicting its own emergence from the very depths of Frag's DNA and passion – leather.