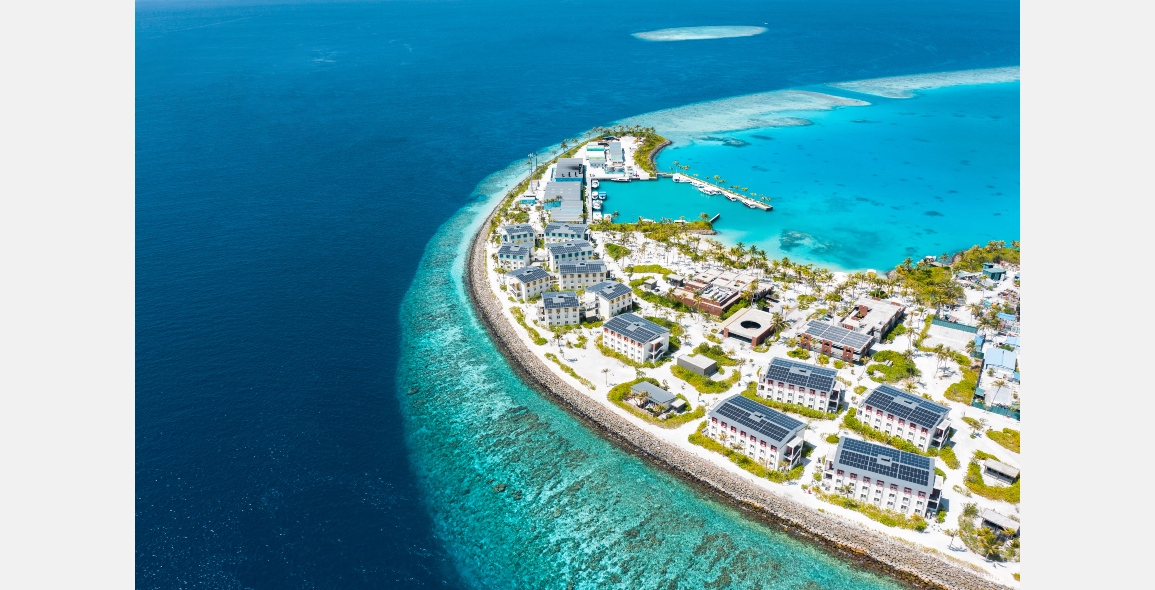 Many architects are well-versed in designing luxury resorts for their client's guests to fork out thousands to "escape from reality" and "indulge" in a "sensorial experience" to help them "rest and rejuvenate".
When it comes to the living quarters for the staff supporting said luxury resorts though, the conditions are typically basic – sometimes even depressing – and in short, the polar opposite of their work environment.
This is why the Fari Campus project by URBNarc is such a gust of fresh air.
Located on one of the islands as part of an archipelago known as Fari in the sun-speckled Maldives, it is where the staff that work in three nearby resorts call home.
Kudos to developer Pontiac Land Group for its consideration in not only providing for them, but also hiring an architect to conceptualise the Campus.
"I normally work on hotels and high-end projects, so was a bit taken aback with this request to design what I initially perceived to be back-of-the-house facilities," says Gaurang Khemka, the Founder and Design Director of URBNarc.
"However, upon further deliberation, I realised this was an opportunity to craft a staff campus, a new typology for hospitality staff and a potential paradigm shift in how staff housing is perceived."
Building A Community
In master planning the Campus, Khemka decided that he would not only focus on its physical design, but also the programming; he recognised that both required re-evaluation to depart from existing norms.
The end result would be about building a community, with a range of facilities centred around courtyard-style, clustered housing.
The following are the list of programming ideas he proposed and later, implemented:
- A town square where informal market places could be held and potentially staff from adjacent hotels could visit on certain days of the month to create a vibrant community
- Dining facilities with greenery and overlooking the sea
- A mosque
- Athletic facilities
- A private beach for the staff to enjoy on their rest days
- A host of staff amenities ranging from gym, library, entertainment zones, salon, grocery store and clinic
- Comprehensive staff training facilities to encourage continuous growth
Here, Khemka shares how exactly he went about doing this.
A Matrix Approach
"Organising these facilities, along with the staff housing and back-of-house mechanical and engineering requirements for the resort islands to create a sense of place while working with operational constraints, posed its own challenge.
The housing clusters had to cater to three different hotel operators, plus different staff gender, nationalities and employment roles.
The team and I thus established a matrix for this variety of staff and crafted a series of building clusters punctuated by differently coloured windows for each cluster, allowing for easy wayfinding and a sense of identity.
These clusters are then organised around a hierarchy of courtyards and open spaces to enable a multitude of uses at different times of the day.
Small courts between the residential blocks provide a venue for intimate experiences, such as reading a book, a private phone call or just seeking a moment of solitude.
Medium-sized courtyards allow for a gathering of like-minded individuals who may seek to engage in a community activity, such as planting their own vegetable/herb gardens or create handicraft.
These small and mid-sized open spaces then link to a set of central amenities organised around a large plaza.
This plaza is designed to be the heart of the development and it is hoped that as the Campus matures, the staff will host pop-up markets, events and also invite hotel guests and staff from adjacent hotels to create a truly integrated community.
Guests could visit to maybe watch a football match and buy art and craft made by the staff and their families in this town square.
The planning and design of the buildings has been crafted to cater to this possibility of engagement and I hope that the operations will morph to cater to this vision that I believe will help increase the length of stay for the guests and create a sense of well-being for the staff.
A Sense Of Scale And Place
The amenity buildings surrounding the plaza are the main architectural feature of the Campus.
The library, training centre, staff dining, entertainment rooms, clinic, mosque and administrative facilities are all housed around this plaza.
All the amenity buildings are elegantly executed with just three basic building materials: brick, concrete, and stone.
A key priority was to ensure the building aged well with the Maldivian weather, while delivering a timeless appeal that blends seamlessly with the environment.
These buildings have been crafted as a series of 3.6m squares that are then consolidated into a larger square of 10.8m with a clever structural play of losing corner columns.
These square volumes vary in height and are punctuated with sky lights and courtyards lending a sense of scale and place.
The centrepiece of the amenities is the mosque, where we extrapolated traditional tenets of mosque design and added a contemporary spin.
A forecourt with a radial brick-patterned floor and a circular cut-out frames the sky prior to entering the prayer hall, where a simple yet thoughtfully crafted Qibla wall further frames the overall space.
The prayer wall is crafted purely from exposed bricks with varying patterns that create a play with light and shadow and help mark the hours in a day.
We have also provided a contemporary minaret that acts a marker and helps geo-locate the mosque within the island.
The back-of-house buildings that service this island, as well as the three resorts, have large footprints and volumetric requirements.
We broke down the large volumes by using a combined technique of shaping roofs and a simple and cost-effective trompe lóeil technique of painting windows, doors and humans on wall facades to create an illusion of these buildings as being part of an traditional Maldivian settlement.
With the support of our client, consultant, contractor and each and every labourer who worked on this project, we have endeavoured to craft a true community for the unsung heroes of the hospitality industry.
It is my hope that this will form the basis for future such hospitality developments."