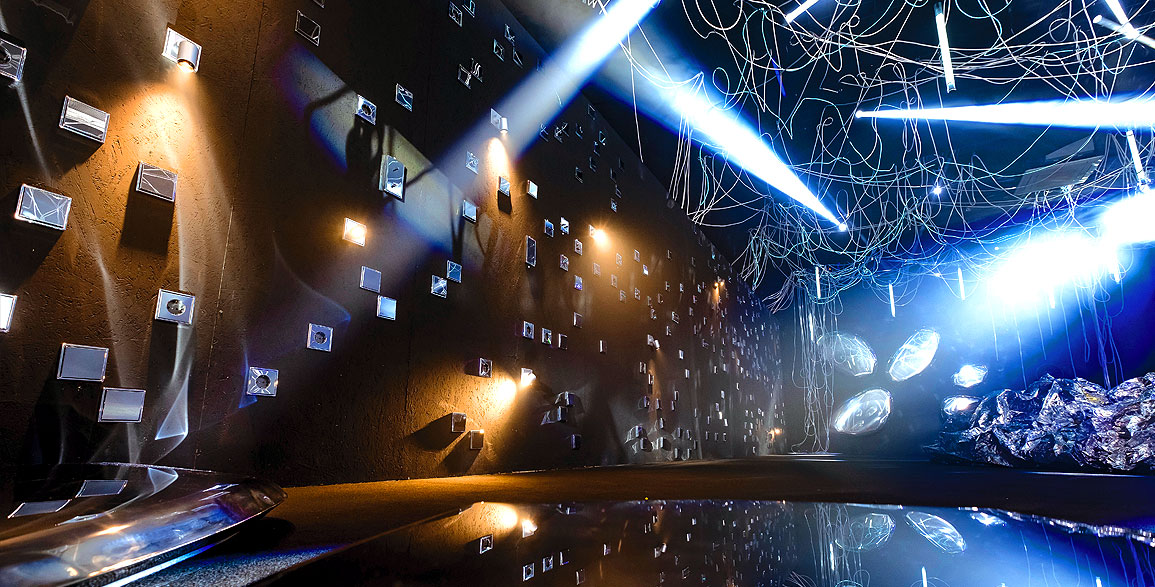 Chrome is the new black. This was the key message of JUNG at the recent Milan Design Week. But rather than deliver it in a conventional way, the switches and systems company collaborated with German design studio raumkontor Düsseldorf and process designers Oskar Zieta to stage an installation in a ballet school on Via Palermo, in the heart of the Brera design district.
Entering the building, visitors descended into a darkened room lined with the LS 1912, LS 990 and Plug & Light collections on one wall. But they weren't just decorative. Each switch activated sound, light and movement from whale song to expressions of ecstasy.
Wires dangled down from the ceiling and three-dimensional sculptures with chrome surfaces vied for attention. A second room displayed the LS 990 range in Les Coleurs Le Corbusier and LS Cube, using elements of play to tell the story of its architectural power.
"This exhibition, Chromatic, shows that there is also another side: unfiltered perception, the power of images and sounds, deep emotion, an experience involving all senses," says Prof. Jens Wendland, the lead architect of raumkontor.
Remarking on the choice of the theme, Prof. Wendland points to how chrome colours are today pushing to the fore in furniture, fashion and product design, elbowing aside the darker coloured metals that used to be the dominant shade.
"The elements from good design emerge from a constantly shifting deployment of a limited repertoire of forms and materials. Through new configurations, subtle nuances and other shifts in accentuation, something familiar becomes something absolutely new," he says.
Referencing the philosophy behind the exhibition, Prof. Wendland explains how he wanted to show how a technical product like a switch is more than a mechanical means to an end. Instead, it can "offer a multitude of options: clarity and multi-optionality, playful and artistic aspects".
That the Milan Design Week was the setting to deliver these messages was no coincidence. The theme for this year is "Design your life", and it is a philosophy that expands on the idea of approaching life, politics and even society like a designer.
"It is about developing curiosity, the ability to think differently, a passion for experimentation, the will to cooperate and the knowledge that everything is a process."
Prof. Wendland expresses his love for the Brera design district and how it was an important starting point, "Here, it's not about a conventional product show: it's about attitudes, style, individuality. It's a place for the mystical, the surreal. Drama and opulence are allowed, minimalism can be even more minimal than minimal: this is the place where pure passion is staged."
Giving her stamp of approval of Chromatic is Dijane Slavic, International Communications, Architects, JUNG, "In order to emphasise the essential importance of the use of JUNG products in architecture, the company placed itself in the trustworthy hands of raumkontor with regard to the conception of the installation.
"Through it, JUNG demonstrates a creative, haptic approach to its own products and seeks an interactive exchange with its visitors. raumkontor gives JUNG a view from the outside and shows with Chromatic, the emotional potential of JUNG technology," she explains.
This story is produced in collaboration with JUNG. It first appeared in Issue 110: June/July of d+a.
Photography:
Andreas Körner