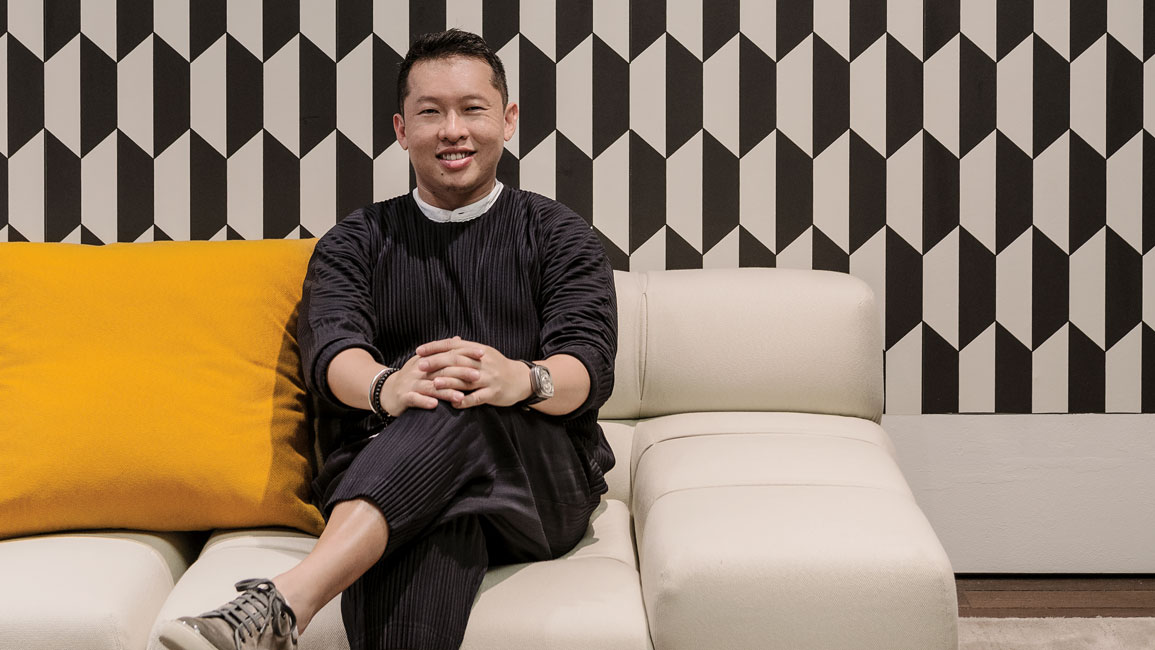 Why did you decide to become a designer?
For as long as I can remember, I have been interested in the arts. I appreciate colours, forms and lines. I loved to draw as a kid, even though I wasn't very good at it. This was probably nurtured by the fact that my parents were always bringing me to the National Museum and National Library. While I wanted to be a vet, the cost of the degree programme was too high, so I opted to pursue my studies in my next true love: Architecture.
What is your design philosophy?
My designs are guided by the words of Leonardo da Vinci: "Simplicity is the ultimate sophistication".
What is your design style?
Contemporary, easy and warm. An architecturally-trained interior designer views spaces differently. We advocate for clean lines and a simple form because they are versatile. I like my projects to be multifunctional. This means a living room that can sit anything from five to 10 people, just by making the right decisions when it comes to furniture selection. I sell the idea of transformation and metamorphosis to my clients all the time.
Where do you draw inspiration from to create your designs?
I love nature and so I draw a lot of inspiration from it. Like how a mirror is like water – it reflects and creates a window into another world. It helps bring light into a space and makes it brighter. Wallpaper provides textures that soften a space. Wood from a tree expressed through furniture and built-in carpentry creates warm spaces. I always tell my clients that with interior design, it is about keeping close to materials.
Why did you decide to branch out and set up your own practice?
I worked in several architecture firms over the years, including Ong&Ong and MINKKE Architects, which helped me strengthen my practice of architecture and interior design. In 2014, I felt that I had learnt enough from what I call "the masters" and that it was time for me to set up my own studio and make a name for myself. I wanted the freedom to travel, be inspired and create.
Tell us more about these "masters".
These are the senior architects I worked with, who taught me everything about the profession. One of them is Teh Weng Kuang, who was my mentor for many years. He interviewed me for the job at Ong&Ong. I learnt from him the importance of listening to what people have to say, staying calm at all times and being patient. He taught me how to carry myself as a designer, and how to convince everyone to believe and trust in my decision-making. In fact, I always tell my juniors that it doesn't matter if you are an amazing designer. If you cannot sell or articulate your work, you're nothing.
Why call your design studio BLACKRICE?
In all my designs, black is a consistent element in the form of a detail such as a choice of colour on the leg of a chair. Black, to me, is sophistication. The word "rice" represents my Asian roots, which always influence my projects. Rice is also a homonym to "rise". The Chinese character appears as a die-cut on my name card, representing my versatility as a designer.
What is the most interesting project you have worked on to date?
It is a 1,500ft2, three-bedroom bachelorette pad in Evelyn Residence. The client loves art and has a huge collection of contemporary pieces and prints. I had to choose from it and decide where to place them in her apartment. As an avid traveller too, she inspired me to create spaces in her home, expressed using materials that reminded her of her trips, such as Moroccan-style tiles in the kitchen.
Why do you enjoy purchasing pieces from Space Furniture?
Firstly, because they have many different brands in one space. This variety makes it easy for me to mix and match the pieces if I want to. The brands are also well-curated – Poliform and B&B Italia are my personal favourites – with their products beautifully displayed. An example is this B&B Italia's Tufty-Time sofa, designed by Patricia Urquiola. With an expansive showroom, I am able to show my clients how to place furniture in different settings. Finally, the retail team is equipped with product knowledge and is able to make recommendations on the pieces which are aligned to the customer's needs. The after-sales service at Space is commendable too.
This story is produced in collaboration with Space Furniture. It first appeared in Issue 110: February/March 2019 of d+a.
Photography:
Chino Sardea