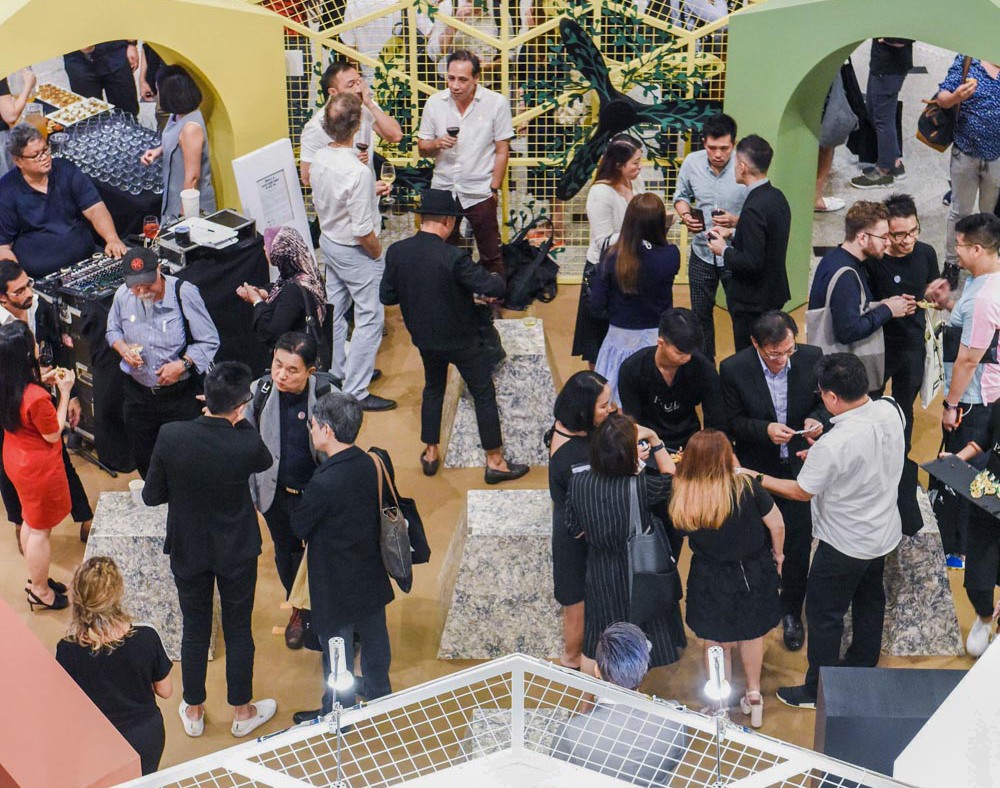 As the clichés goes, "When one door closes, another one opens".
On 10 October, Archifest 2018 came to its conclusion, but it also heralded the opening of d+a's inaugural event, Design Affair.
The joint function – a first of its kind – was hosted at Millenia Walk and welcomed guests, delegates and partners of Archifest, the Singapore Institute of Architects (SIA) and d+a.
Thank-you speeches were delivered by Festival Director Yann Follain, who is also Managing Director-Head of Design of WY-TO, and SIA President Seah Chee Huang.
Garden Pavilion
The launch of Design Affair was marked by the unveiling of an exhibition held at the Great Hall from 10 to 21 October.
Named the Garden Pavilion, the octagonal-shaped space was conceptualised by Dess Chew, Principal Designer of three-d conceptwerke.
Inside it, Chew worked with Commune to deconstruct a pair of Rover end tables, from its latest collection of the same name.
These were arranged in an abstract pattern and mounted on a panel, provoking questions about the ever-changing, multi-faceted face of Nature and the environment.
Two panels away was the display by Efenz, showcasing the Kith collection. Chew chose to give it a twist by displaying these specially-designed-for-Singapore fans on a vertical wall.
Their lightweight yet highly efficient forms were then wrapped with green-coloured paper cut in the shape of leaves, to evoke the idea of oversized flowers blooming in a concrete jungle.
Helping to further develop the idea of a garden was artist Siti, who is behind papercrafter KaraHop. Flowers, leaves and butterflies – the latter made from past issues of d+a – covered the exhibition space.
Siti says she garnered inspiration from the vibrant colours and eclectic art mediums in Tokyo, Japan, specifically an art backdrop at Yoyogi Village.
In the middle of the Pavilion were four stools from Cosentino for visitors to sit on and enjoy the installations.
Made from Silestone and fabricated by Stiles Hub, they took on a shape similar to the roof above the Great Hall.
Also contributing to the festivities on the evening of the launch was V-Zug, which served coffee from a machine it installed in the Pavilion. Guests went home with a tote bag each, sponsored by Franke.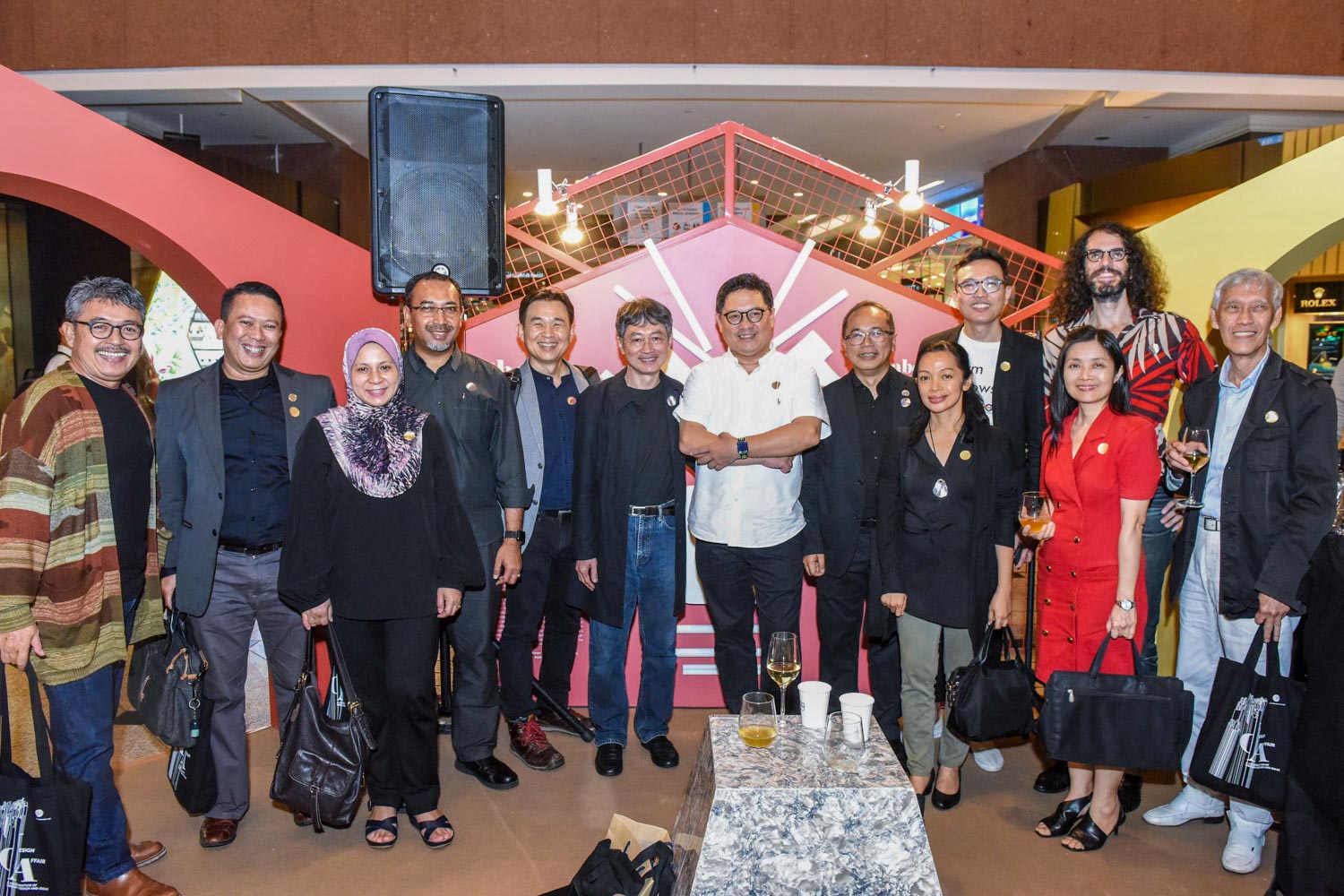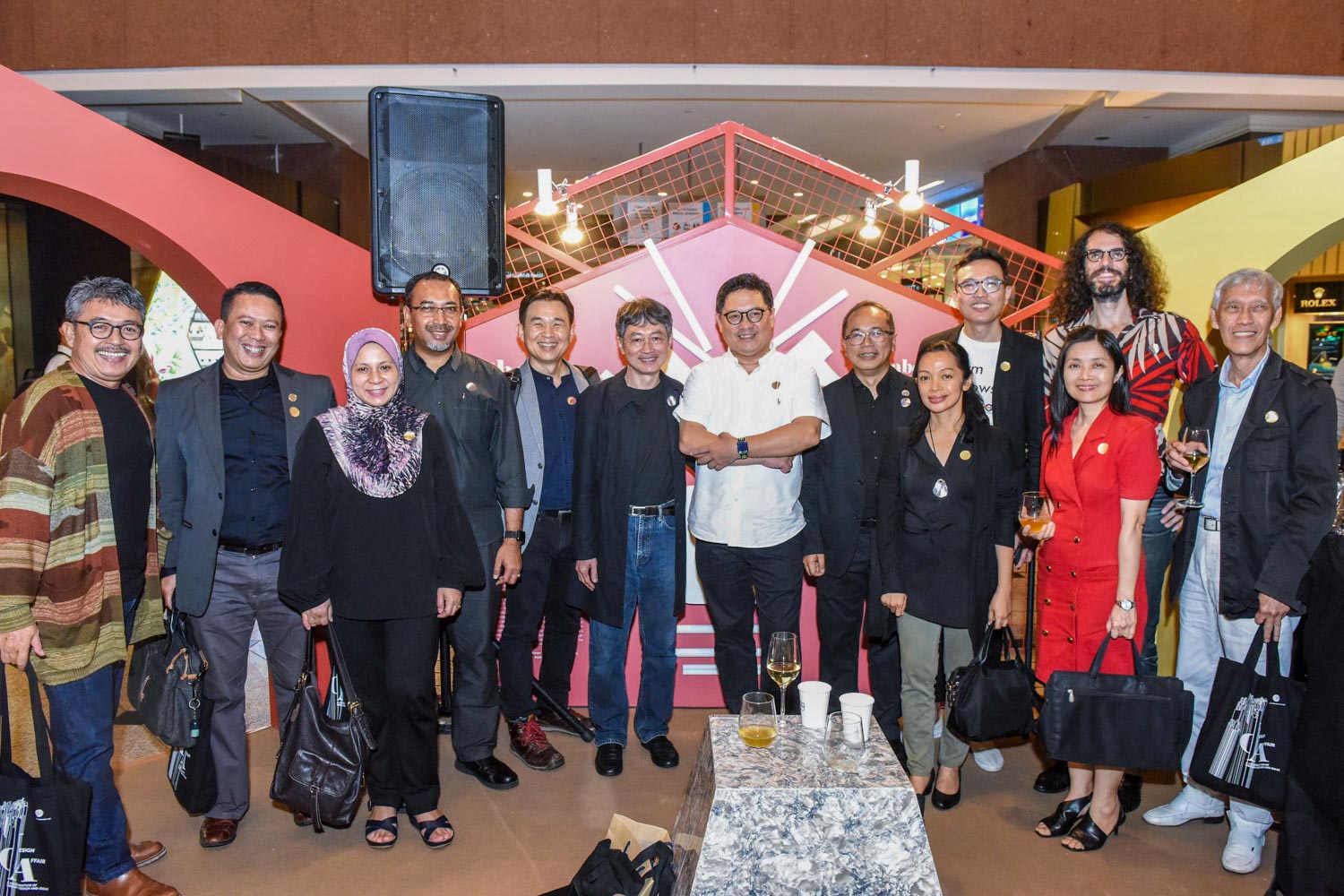 Forum Discussion
A second component of Design Affair was the Forum Discussion, held on 18 October at the beautifully-designed Commune Flagship Store in Millenia Walk.
Architects and industry partners gathered in the afternoon to listen to six panellists discuss the topic "Sustainability in Urbanisation: Fact or Fiction?".
This was a particularly pertinent issue to raise since earlier in the month, the Intergovernmental Panel on Climate Change had produced a report to say we must reduce the maximum amount of carbon pollution as quickly as possible.
If temperatures are allowed to rise by another 2 degrees Celsius, there will be no coral reefs left, flora and fauna will go extinct, and the Arctic will be devoid of ice in summer at least once every decade.
The Forum was moderated by Mark Wee, Executive Director of the DesignSingapore Council, who shared, "At first glance, sustainability in urbanisation seems to be a possibility and even an imperative. But is it? Are these two words an oxymoron? What have we done so far and are they truly helping?"
After a question-and-answer session, guests were treated to food and coffee sponsored by V-Zug.
The Swiss kitchen appliance brand brought along a pop-up kitchen and had chefs Russell Misso and Natalie Eng prepare savoury and sweet canapes respectively.
At the end of the event, guests left with a tote bag, again sponsored by Franke.
From all of us at d+a, thank you for contributing to making Design Affair a resounding success.
"Sustainability is concerned with the social, economic and environmental. These are often competing with each other. For example, is it sustainable to reclaim land for public spaces? Cities need to have a long-term plan, clear vision spatially, fiscally and in terms of time, an open mind to keep up with changes, effective governance systems (formally and informally), and authentic leaders to find right path in going the right direction."
Neil Walmsley, City and transport planning specialist, Arup

"While we are in a rush to house the huge growing population in the urban environment, what is going to be stressed is heritage. We could argue conservation is a sustainable venture because we are recycling the structure, reducing waste, and tackling the human aspect by addressing social/community needs. These we do by strengthening that sense of belonging, and heightening the sense of well-being, which is why we have this whole discussion about sustainability in the first place."
Chan Hui Min, Director, DP Architects

"The problem of sustainability is a multi-disciplinary problem. We are supporting its solution by offering a university education structured in a way that allows students and researchers to allow the boundaries for the communication and discussions to be dissolved…We have pillars, not departments, and these work towards the common goal of creating leaders, knowledge and an institution that tackle problems that are beyond one specific thing."
Felix Raspall, Assistant Professor, Singapore University of Technology and Design