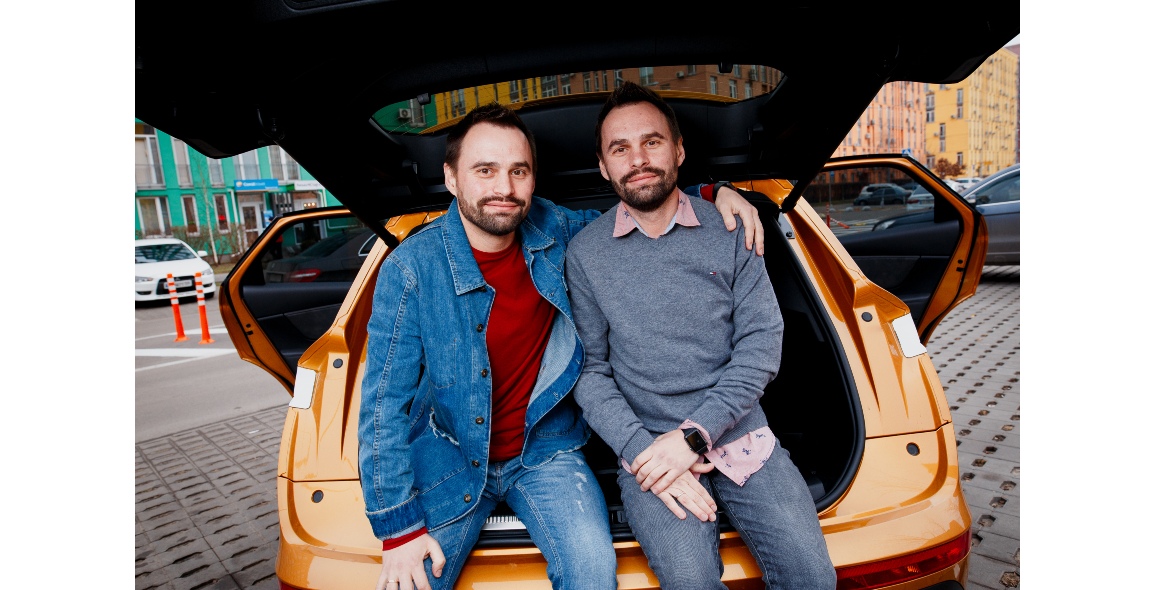 Editor's note: In 2019, we were contacted by Ukrainian firm YUDIN Design to publish its projects. We ran REBERBAR in Issue 112, a restaurant that shines like a sunny beacon on a street in the capital Kiev. Since the Russian invasion of the country on 24 February this year, twin brothers Oleksandr and Volodymyr Yudin running the studio have seen their income take a significant hit. We run this interview and appeal to our readers to collaborate with them if the opportunity arises.
Can you give us an update on how you are doing since the Russian invasion of Ukraine?
Before the war, we had several projects in our pipeline, such as bars, restaurants, an environmentally friendly shopping centre dedicated to families, as well as several supermarkets. After the Russian invasion, all contracts were frozen due to the uncertainty in investments in the sector in which we operate. We have recently received several inquiries regarding our services but people are still unsure about committing. Another important aspect of this situation is how such projects will be paid for, as prices have changed enormously right now. In fact, we estimate that the fee of an interior designer will be two or three times less than before.
How can the design community in Asia help Ukrainian designers?
The Asian design community could help us by inviting us to collaborate on their projects as we are ready to work and have many skills and experience. What we have understood during these three months is that despite having requests from abroad, people see more the risks than anything else. Outside of our country, many still do not know that Ukrainian male citizens cannot leave the nation, even temporarily, and when we point out that we can only work from Ukraine, this complicates our possibilities of collaboration.
Why did you both decide to become designers?
We became designers in a very natural way, that is by following the course of study chosen at the Faculty of Graphic Design in the National Academy of Visual Arts and Architecture (NAOMA). Our main inspiration has always been to design for people and we immediately dedicated ourselves to the design of places that welcome a multitude of them.
The Asian design community could help us by inviting us to collaborate on their projects as we are ready to work and have many skills and experience.
Why did you set up your own practice instead of working for others?
Being twins, it was natural for us to work together on our own, trying to create a small team from the beginning. Over the years, we have learned to separate our tasks and responsibilities, although it was not easy as we too have different visions, but the comparison has always led us to the best ideas and solutions in our work.
What is it like to work with your brother? How do you split the work?
Over the years, we have organised ourselves in order to enhance our best qualities by dividing up the tasks: Oleksandr is responsible for interior design and Volodymyr for the identity systems of each project. As twin brothers, we work in complete harmony and, although we sometimes have different ideas, we are always ready to confront each other and arrive at the best solution.
What is YUDIN Design's design philosophy?
For us, design must first and foremost be ergonomic, responding to the latest trends in technology and design, while still retaining a "domestic" nature with maximum comfort for the user. A recent project in which our philosophy is clear is the latest café of the TAKAVA chain, conceived by us in the Balinese style with the use of materials in favour of eco-sustainability. We have created an exotic atmosphere in a modern Scandinavian interior, enriched by an auditorium conceived with the idea of uniting all visitors to this place.
What is YUDIN Design's design style?
We work on the basis of the Scandinavian style with elements of minimalism and loft styles, but always aimed at catering to people's needs.
Where do you draw your inspiration from to create your designs?
Throughout our lives, we have drawn inspiration mainly from travel and the love for our families. Now that travel is impossible for us, and we had to send our families abroad for their safety after the outbreak of the war, it is very difficult to accept this situation and focus on our ambitions. We strongly believe that our future will be again with our families in our beloved nation.
What is a project you'd like us to highlight that is representative of what YUDIN Design stands for?
Each of our projects represents progress in our mentality and skills, and we appreciate each one that we have completed. We can certainly underline that working with large chains such as TAKAVA Coffee-Buffet from the beginning has been a great chapter in the history of our studio. A lot of work and skill was also required in the work we did for the restaurant BULL butcher and wine bar and the CALIFORNIA American-style Asian restaurant.
What message would you like us to pass on to the design community in Asia?
As we say in our Ukrainian language, today in honour of our nation, "Slava Ukraini!" So we ask you to support our people, our nation and our brave President (Volodymyr Zelenskyy)!
Reach out to the Yudin brothers with collaboration opportunities here.
Images of TAKAVA:
Sergey Savchenko