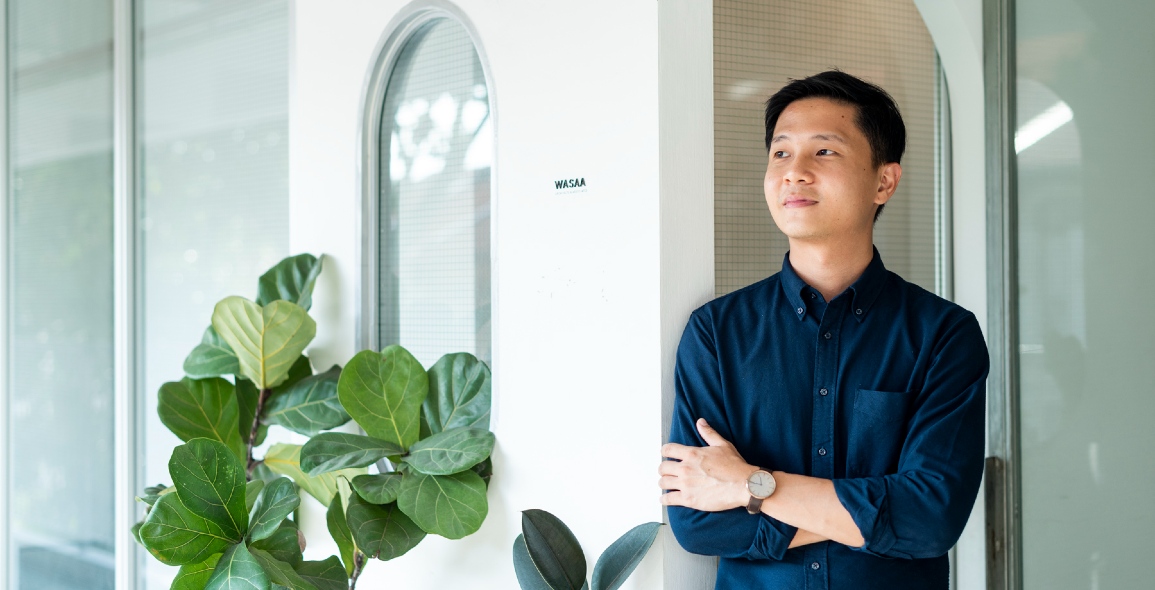 What is your design philosophy?
We seek to design beautiful spaces with natural light and meaningful architecture that embody qualities of simplicity, repose and delight.
Which of your past projects are you most fond of and why?
Pedagogical Landscape Gardens at Westwood Primary School: It is one of the most meaningful design projects for me, even though it was not a building architecture brief. It first started out when we noticed a listing that called for a returfing of an existing courtyard garden in a primary school. After a visit to the site, we observed and noticed how the garden was unused and disjointed from the children's learning environment. That was when we identified the opportunities that the space had. The space was then sensitively reimagined as a pedagogical landscape, a meeting point of communal togetherness in a manner that encourages students to have a healthy interaction with the outdoors – far beyond what the original brief called for.
Layered bucida bucideras trees were carefully chosen, with the lowest just above a child's height to provide a gentle shade and create a feeling of intimacy, while they played in the shadow of the leaves. The placement and design of solid teak benches were also thoughtfully tailored to create intimate pockets of spaces amid the landscaped planter beds, allowing children to gather round, promoting interaction and conviviality. Through considered selection of the planting species to create an eco-system, and empathetically designed furniture, while maintaining a tight budget, the landscape design is subtly scaled towards a child's perspective, engaging and affording them a richer relationship with nature. We were delighted when the principal and operations manager provided feedback that even parents who were picking up their kids commended the success of the new outdoor learning garden.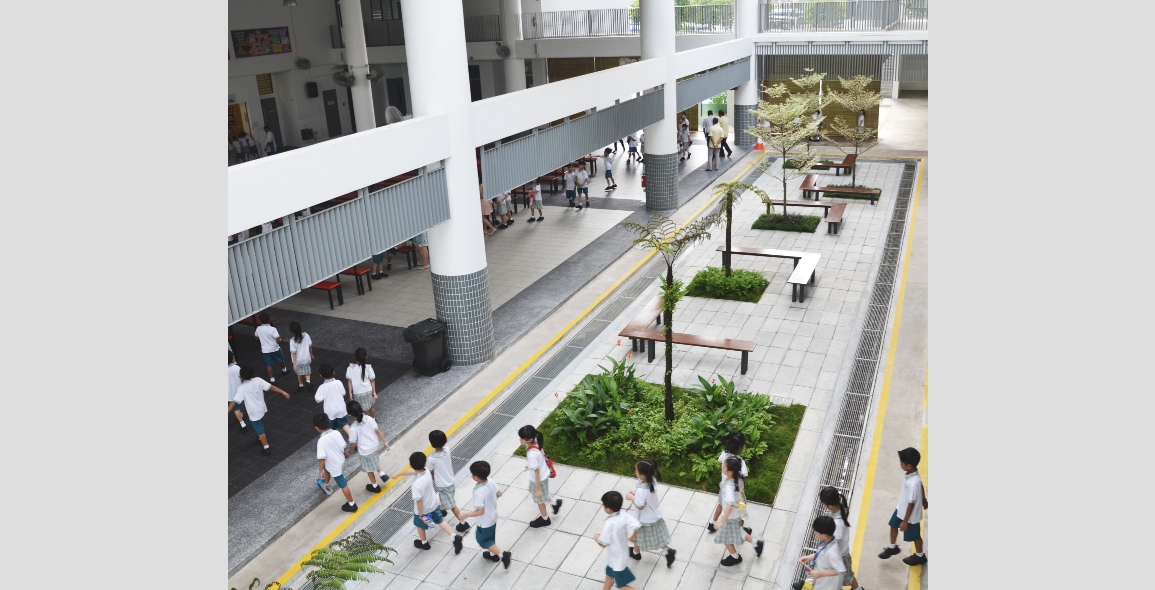 A pair of semi-detached houses: Sited alongside a noisy road along Frankel Avenue, a pair of old semi-detached houses was given a new breath of life alongside its neighbours. The client was conscientious and considerate in setting the design brief to reconstruct the two plots to include an attic, yet careful about the scale of the new building among the neighbours. He also shared his memories of the old house during its construction and had vivid memories of his encounter with the materials and craftsmen back then. With changing attitudes toward resource use and environmental limits to growth these days, a natural response to the design brief was to re-think the environmental value of the existing building structure, as well as potential reuse of the constituent materials and components.
Materials such as the roof rafters, clay roof tiles and timber staircase treads was carefully salvaged, treated and stored away for reuse. A sizeable quantity of timber planks was also retrieved from buildings undergoing renewal around the region, as a commitment to reduce the environmental footprint of the construction. The resultant articulation of the new facade hints of the occupants' desire for a quiet dwelling space, while the integrative composition/melange of these salvaged materials reflects the shared values of both the architect and client.
What do you think are some of the attributes that set your projects apart from other architects?
In truth, we are least concerned with and do not make a conscious effort to ensure that our projects stand out. Perhaps this stems from our philosophy that good architecture is more about being responsible to our clients in the way we craft light, space, order and delight – and less about uniqueness and differentiation. We often spend a good amount of time thinking about light and space for all our projects – how to bring daylight into the spaces pleasantly and making sure the spatial volumes are well-proportioned. This often has to be harmonised with keeping the heat out and carefully orchestrating fenestrations with care for comfort. We would also often seek to find that element of delight that is unique to each individual project brief, site context and parameters through our architectural design, in hope to bring joy through architecture.
Why is craft-making and designing spaces that are simple and delightful important to you?
I think these are fundamentals in ensuring that the design is developed with a good focus on pragmatics and poetry, tectonics and tactility. In many ways, it not only shapes the way we approach projects, clients, collaborators and colleagues but I think it also subconsciously shapes how we approach other aspects of life, with genuineness and sincerity when the superfluous is stripped away.
What projects are you currently working on?
We are currently working on a number of beautiful houses both in Singapore and overseas. These include a series of conservation shophouses with interesting programs, an urban farm nestled in the heartlands on top of a multi-storey carpark and Singapore's next largest skatepark/youth space in the Jurong Lake Gardens development.
Read about the other young architects on our radar in Issue 120: June 2021.
By:
Low Shi Ping & Emma Xu