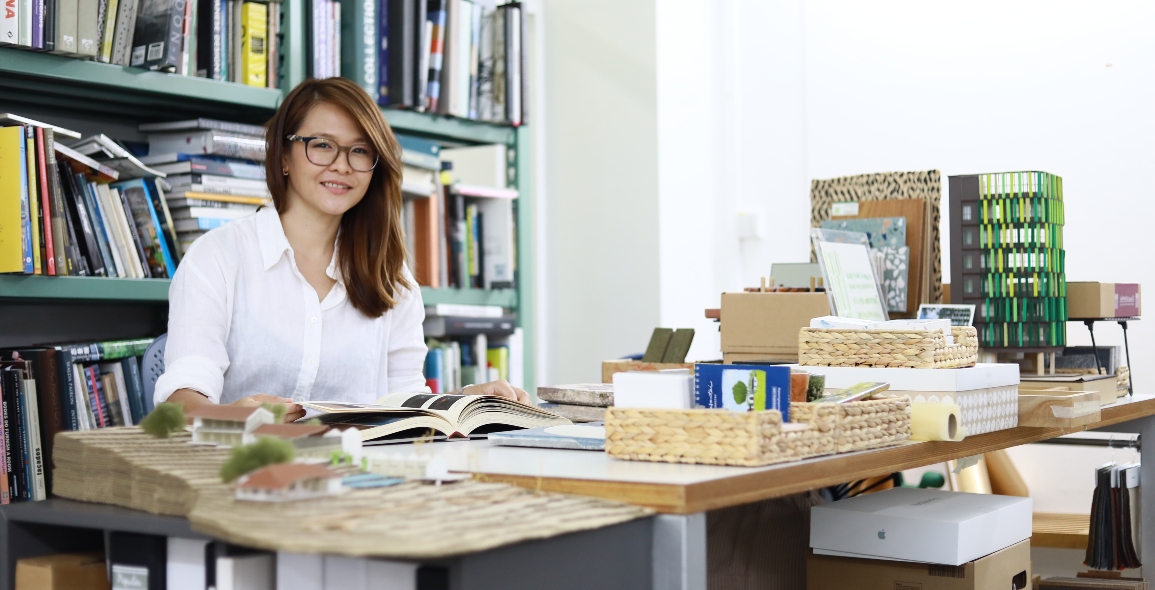 What is your design philosophy?
I find that our memories provide a vital essence in our built environment with every space design. They protect the history and culture of a place and create a sense of belonging for the community, shaping identity and heritage for future generations. This may be part of why our team is so passionate about our regional narrative; we often find ourselves looking for inspiration from our culture, textures and techniques used by regional craftsmen.
Which of your past projects are you most fond of and why?
One of them is a 12-room farm stay in Sukabumi in West Java, Indonesia with an organic vegetable farm perched at the foot of Mt Gede. Not only was it our very first commission, but we also learnt so much through the design and construction process in a rural setting.
The project, Sukasantai Farmstay, had the vision to reconnect guests back to nature and create more awareness of organic farming processes. Visitors can experience the farm-to-table process, cook in the communal kitchen, hike in the bamboo valley or relax in their rooms, which offer an open view towards nature. Sukasantai is a very meaningful project as it hopes to create awareness of our environment and encourage more like-minded sustainable agribusiness to develop in the Sukabumi region.
How do you ensure your projects stand out?
With every project, an honest conversation with our clients is an essential ingredient to the overall design. Therefore, we usually start with a detailed and rather intimate discussion with the client to understand their functional needs, hopes and aspirations for the space. We hope to insert a bit more spark into everyday life through our architecture. It doesn't need to be spectacular, but it needs to be thoughtful and well-considered in balancing the pursuit of aesthetics with the true purpose of architecture, which is to bring well-being, health and happiness to people using the space.
We are trained architects who also love to design interior spaces. Planning their intricacies allow us a better holistic approach to the project's architecture. Therefore, our design is considerate right down to the built-in furniture and furnishings for our clients.
How do you combine your passion for vernacular architecture with craftsmanship?
We want our projects to be able to showcase the vernacular architecture and design language of our region. We are still learning so much from vernacular architecture every day, from its practical and environmental sensibilities to our local climate, to its colourful and exciting array of textures and designs. The idea is to grow Goy Architects simultaneously in three countries: Singapore, Indonesia and Thailand. Each studio will focus on its regional crafts and materials, while looking out for design opportunities in those markets.
Southeast Asia has such a rich and diverse culture and history. It has so many inspiring crafts by artisans whose work can only be found here. In our experience, we observe how many crafts are assisted by machines but perfected by hand. We find that this usually gives additional warmth and character to the material or joinery.
We have just set up a pop-up research office in Chiang Mai that aims to collaborate closely with local artisans to create experimental material palettes to apply in our projects. We are looking forward to expanding our regional team and setting aside more time for material research development.
What projects are you working on currently?
We are working on several residences where we are designing both their architecture and interiors. The more complex project includes three detached homes for a multi-generational family. We are the interior architect collaborating with DP Architects for this.
We are also busy with several conservation projects, with the more notable one being 10 Pender Road, the Danish Church project. Built in 1910 as Tan Boon Liat's stately hilltop home, the Golden Bell Mansion is a unique example of both British and regional influence. The other two conservation interior works are at 169 Onan Road, a rare single-story terrace house built on semi-basement concrete stilts; and a shophouse at Lorong 24A Geylang.
Internationally, our team is working on a master planning and architectural scheme for a one-hectare land development in Jakarta, Indonesia. In addition, we are investigating developing senior living, including independent living, assisted living and rehabilitation living, for another client in Jakarta. The development will reflect the changing needs and philosophy of care for the elderly, providing them with more powerful, meaningful and satisfying lives, work and relationships.
Interestingly, we were also recently contacted by the Royal Thai Embassy in Singapore to work on a small-scale garden-house extension. It will be used as an informal sitting and refreshments area for guests. The brief requires us to work closely with Thai manufacturers to custom-make furniture. It is part of the Embassy's effort to create spaces within it that bear Thai and Singapore design influences. Discussions are still ongoing; wish us luck!
Read about the other young architects on our radar in Issue 120: June 2021.
By:
Low Shi Ping & Emma Xu