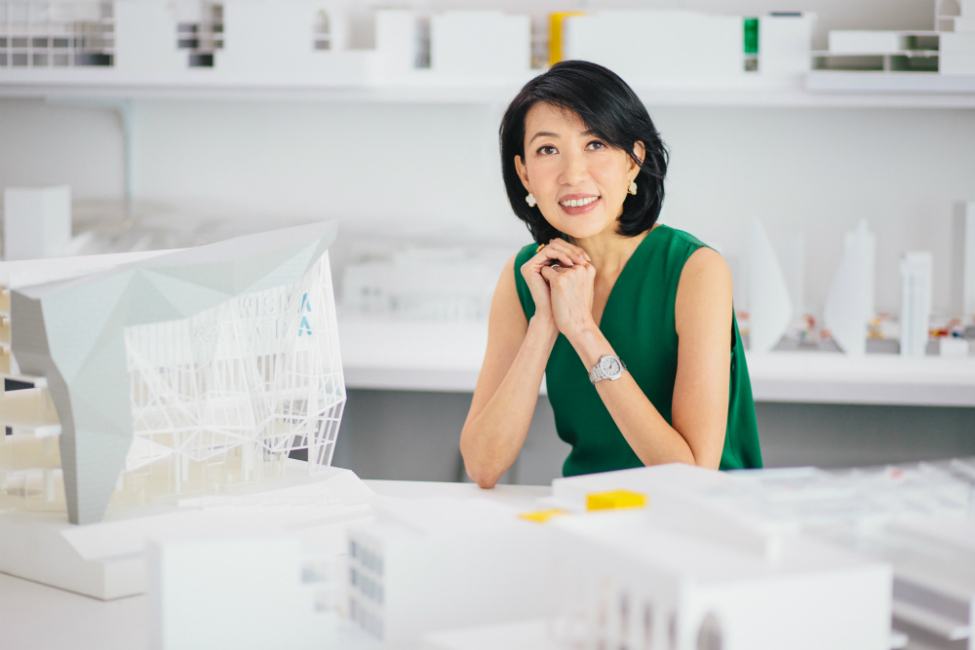 To Angelene Chan, architecture is about the human experience. The tall, statuesque CEO of Singapore-headquartered DP Architects shared this during her thank-you speech, after receiving the President's Design Award (PDA) for Designer of the Year on 17 July 2018.
Having spent close to 30 years practising architecture, Chan is naturally thrilled to get the highest award in the country for the profession. That she is also female makes her win all the more significant, given the gender equality discourse that is currently all the rage.
According to the jury citation, "Angelene understands and exemplifies the multi-faceted role of an architect. Her commitment to working in collaboration with the various stakeholders, professions and communities is exemplary and demonstrates the importance of achieving the best outcomes as a team."
d+a caught up with the mother of two to find out how she feels about winning this award, and her thoughts on her career.
How do you feel about receiving the PDA Designer of the Year award?
I am deeply honoured to receive this prestigious award. It is all the more meaningful because the award has been relaunched this year to focus not solely on the quality of design, but to highlight the far-reaching impact that design can have. What architects do affect the living environment and contemporary life, and so I have always felt that practicing architecture is both a privilege and responsibility not to be taken lightly. I love my work and I work hard, so to be recognised by the design community is a great encouragement.
I also feel thankful. Preparing for the award has given me a chance to review my body of work. Looking back, I am very grateful for the support and friendship from my colleagues, family, clients and collaborators; without them, I would not be able to pursue my passion for architecture.
What will you say are your three proudest career achievements to date?
1. To be named PDA Designer of the Year 2018 is a career highlight. I'm thankful to the jury for this wonderful affirmation of my life's pursuit.
2. Sunray Headquarters, a factory building in Sungei Kadut, winning the PDA Design of the Year in 2015, was also a special moment. The design is a departure from what you would expect of an industrial building. My team and I challenged the norm of this typology. Our efforts paid off and the bold design was well received, setting the benchmark for industrial buildings.
3. Completing The Dubai Mall, the world's largest mall, and putting Singapore architecture on the world stage. The huge success of the mall has surpassed expectations and it is testament to DP's capabilities in planning and designing of big, complex projects. It's been ten years since the mall opened; the success of the mall continues to draw prospective developers from different parts of the world to us.
Of the almost 30 years spent in the architecture industry, which are some of your most memorable projects and why?
Every project is unique and an opportunity to create something wonderful for the environment. Having said that, Wisma Atria has a special place in my heart. It is not often that an architect gets the opportunity to design the same building twice and to rethink and challenge your ideas. The redesign of Wisma Atria in 2004 transformed the mall from the typical boxed form to a street-integrated urban mall – the first on Orchard Road to do so. When the mall changed owners, I was also appointed the designer. The 2012 façade iteration takes a bold crystalline form built over the existing frame. It was an opportunity to explore further the relationship between architecture and user, by enhancing street visibility and responding to human movement patterns through the site.
The Dubai Mall is also a memorable project. It was DP's biggest project at that time, and still the biggest covered mall in the world. The sheer scale of the building alone makes it a memorable project. We planned and designed it like a city. We completed it in four years, from design to mall opening, an unprecedented timeframe for a project of this size. For the mall to continue to be so successful, surpassing its visitorship every year, is very gratifying, because it proves that our design is good.
At the complete opposite end of the scale is Sunray Headquarters. It is a small project, which is a refreshing change from the mega projects I had been working on before. The owner was very open to our ideas and gave us free rein to design. Also it is a factory; not the type of building that immediately comes to mind when you think about beautiful designs. But I believe that all buildings, even utility buildings, should not only be functional and sustainable, but also delightful. So I am very proud that the project was recognised with the President's Design Award in 2015.
To reposition DP Architects for the new challenges ahead, you have cultivated a design culture within the firm. What does this mean? Why did you do it?
DP Architects turned 50 last year; we have to continue to evolve if we want to continue to stay ahead in the next 50 years. The dynamics of the building industry is changing. As a creative practice, it is important for us to rethink and recalibrate our design process in order to stay relevant and thrive. So my responsibility is to spearhead DP's progress as a design firm, so that we continually evolve as a creative practice.
My aspiration is to cultivate a spirit of exploration and invention because I believe the creative freedom to invent and disrupt will deepen the design thinking within the practice, and also promote Singapore design. In the last few years, I have been deeply vested in transforming DP through various initiatives aimed at creating a self-sustaining design-focused ecosystem.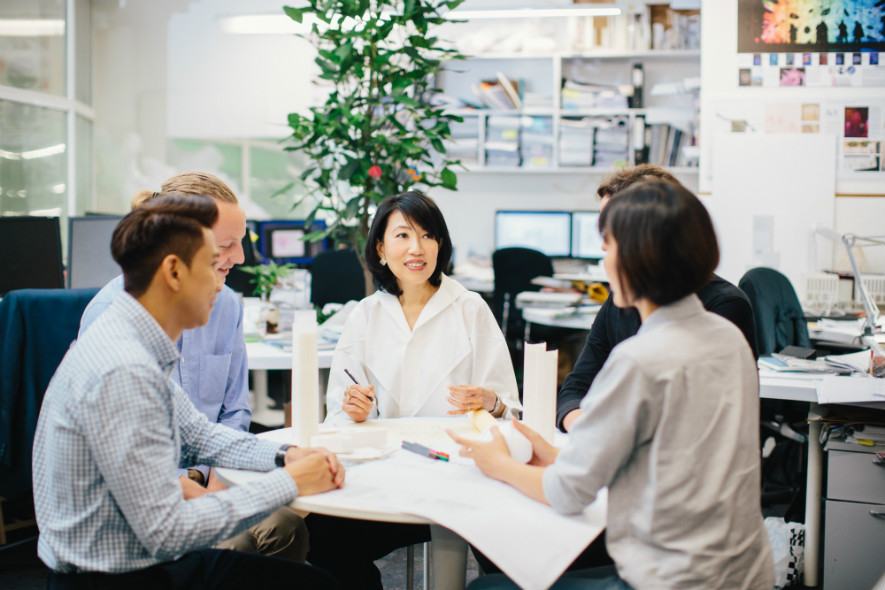 Your drive for innovation has led to the establishment of typology research groups in the firm. What does this mean? When was this established?
Research is a key means to evolve new solutions to design challenges. We have established 10 typology research teams to investigate developments in each building type, above and beyond the research we would typically do for our projects. The groups were formed in 2017. This focus on research to create new knowledge is not something that will reap returns in the short term. However, when the firm as a whole recognises the importance and benefits of research, it will raise the level of investigation in each team, which in turn will results in better design.
Can you share some findings from the group to date and how it benefits the architecture industry?
Our explorations in the hospitality typology has led to the development of an app that can generate hotel quantum with simple data entry on a mobile device. When we meet a client who wants to build a hotel, we will be able to estimate immediately with the app how many rooms the site can have for a three-star or five-star property, for instance.
We have also developed a system that tests the sustainability performance of our building designs. We call it NimbleSIM. It automatically cleans models created with any modelling software, simulates conditions, collates information and suggests design options for our architects and sustainable design specialists.
What's good and what's bad about architecture in Singapore today?
A key feature of Singapore architecture is its approach to planning. In the country's formative years, stringent planning and a problem-and-solution approach determined Singapore architecture. As problems or concerns change over the years, the pragmatism in solving these remains the same. Our successful and much admired public housing began as a solution to the shortage of affordable housing. It has adapted and evolved over the years into quality housing with internationally lauded designs, but the emphasis on efficiency remains. Contemporary Singapore architecture is a product of this wholehearted embrace of modernity and urban planning.
Singapore's vision to be a Garden City, and now City in a Garden, also shaped local designers' sensibilities in integrating the landscape with the architecture. Open, garden space is found in all urban and housing developments in Singapore. Urban greenery is now a key feature in most commercial buildings and office towers, bringing nature to the concrete jungle. This embrace of urban greenery is moving towards biophilic design solutions where the integration with nature focuses on the health and well-being of the users.
The relentless pace of change brought on by and in anticipation of economic growth means that the Singapore skyline is also continually changing. While redevelopment is necessary for land-scarce Singapore to continue to thrive, more can be done about the conservation of our post-independence architectural landmarks. We must also be stewards of our environment, protect it and develop buildings responsibly. It is not about nostalgia, but the preservation of our history, our national identity, the cultural fabric of our society.
Why do so many women study architecture but so few make it to the top of the profession? What are your views on the current debate about gender balance?
Architecture is a profession that takes up a lot of energy and time; a project takes years to complete and requires dogged pursuit and total involvement. Even with equal opportunities, women are still outnumbered by men at the senior level. This could be because many women architects choose to place family and the duties of being a parent and spouse above their career. So, I would say a big challenge for women architects is finding the balance between career and motherhood.
I have always thought that one's work should be enough to speak volumes. The creation process is gender-neutral. A good architect is not defined by their gender or ethnicity; factors we do not control. One should be considered an architect first and be judged on the merit and worth of their ideas and hard work.
At DP, we practise gender equality. DP is never deliberate in terms of hiring or promoting staff simply to fill a gender gap. Man or woman, young or old – all are given equal opportunities to excel and are rewarded based on their performance. DP is also a well-balanced workplace with 47% female staff to 53% male. What we are deliberate about, is meritocracy. Male or female, it is the skill and knowledge that one brings to the drawing block that matters. Each and every staff is assessed based on merits of their work performance. Everyone is given an opportunity to voice their interests and to pursue that opportunity.