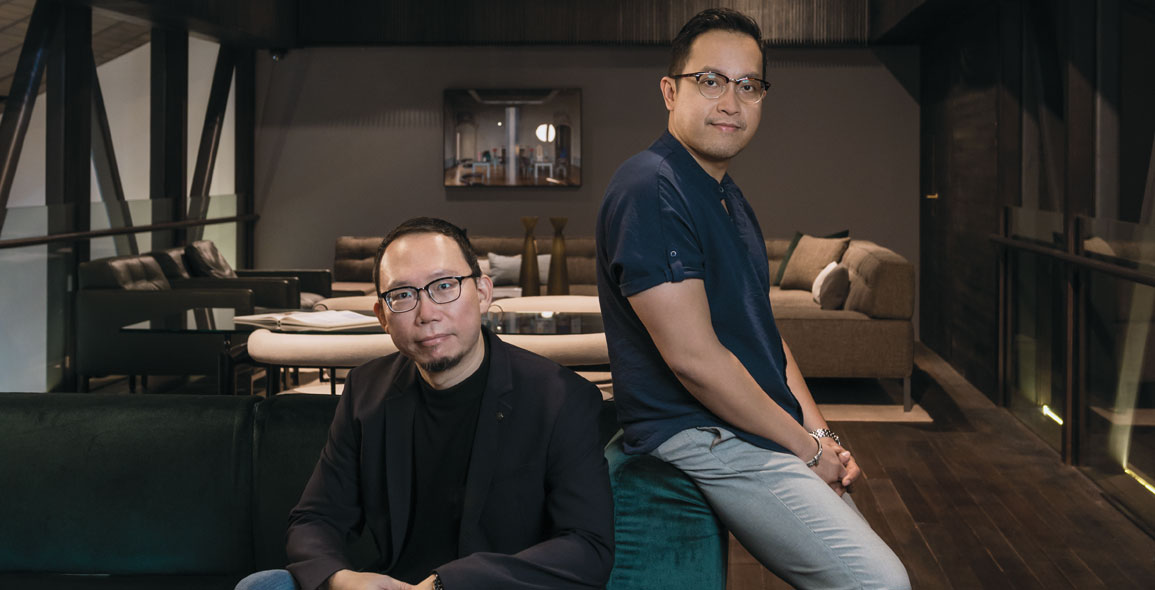 Leslie Seow
What is your design philosophy and style?
I believe good design makes life better. To do so, whatever we create must be beautiful, purposeful, meaningful, sustainable and life-enhancing. My design style is elegant, stylish and sophisticated. I use simple architectural elements as visual layers in an environment to sculpt the space in accordance to its required function. Spaces are finished in materials that befit the mood I want to create, which is usually a timeless look with a strong emphasis on good spatial quality. I employ detailing and furniture to bring out the personality of the individual or brand, but always with a modern twist.
Where do you draw your inspiration from to create your designs?
This comes from the design brief, a client's brand and/or the site/location of a project. I also look at how art, culture, fashion, nature, music, materials and technology can be used as an inspiration, relevant to that project. This allows me to use the right catalyst to move forward with the rest of the design process. For instance, our client ONE°15 Marina Sentosa Cove wanted to upgrade its rooms. We researched on the yachting lifestyle and introduced maritime elements to create the sinuous forms found in water vessels and sea waves. A bedhead wall feature has a canvas painting of soft undulating blues; a rectangular porthole window and full-height mirror are etched with nautical blueprints. In the suites, we injected colours, shapes, forms and patterns from beneath the sea. Yet, we were careful not to overwhelm the room with too thematic a scheme, but provided sophisticated clues to the location's maritime heritage.
How does Ensemble differentiate itself from its competitors?
We design and advise our clients using a holistic approach, which allows us to deliver a solution more accurately and effectively, with time and cost as part of the consideration in our design proposal. Also, having Redzuan as my design sparring partner allows us to challenge each other to give our clients better service.
Why do you enjoy purchasing pieces from Space Furniture?
I love the brands they represent, especially Cassina. I tend to introduce iconic, classic furniture pieces into my projects and the Italian brand ticks those boxes. Now that Patricia Urquiola is Art Director, its collections have a wider range of colours and styles, making it much fresher. All these details are visible when I shop there, especially because Space is very adept at displaying the pieces attractively. Another reason is the variety of more than 20 brands found under one roof. I also like how the service staff are very responsive to queries and requests.
Redzuan Abu Bakar
Why did you decide to become a designer?
Ever since I started doodling in books and on desks and chairs in primary school, I've known that I wanted to be in a creative environment. The decision to work as an interior designer was further cemented in secondary school, when browsing through interior magazines that my mother had at home.
What is your role in Ensemble?
I am the Creative Director. This means I receive, collate, digest and regurgitate a client's brief for a design solution that the team can work on. Leslie's responsibilities are more concerned with business development, company administration and project management.
How would you describe your relationship with Leslie?
Having known Leslie for 23 years, there is a familiarity with each other that makes our business relationship work. We communicate well and understand what the other is thinking. Yet, we are equally comfortable questioning each other's solutions and decisions, with the primary objective of producing a design solution that reaches its fullest potential.
You've been a designer for 20 years. What is a challenge you face right now?
Having worked in the pre- and post-Internet era, information on design has become much more accessible to everyone. The challenge we are facing now is to educate and convince clients that design is not just about copying an image from Pinterest. Meeting such clients makes me feel like our years of education are redundant. The constant reminder that their "solutions" might not work is something we have to keep doing. While Pinterest is good in that it reduces the guess work of what a client wants, we tell them that we can only reinterpret what they like.
This story is produced in collaboration with Space Furniture. It first appeared in Issue 114: February/March 2020 of d+a.
Photography:
Chino Sardea