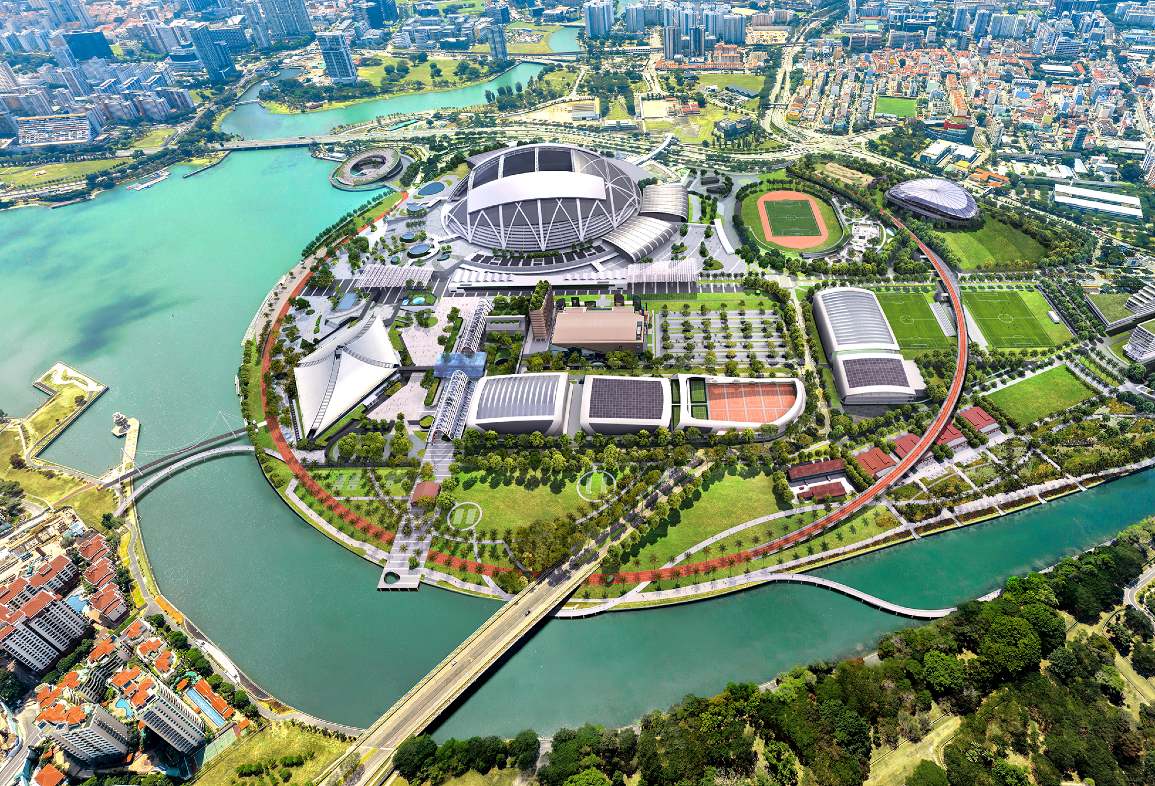 Recreation, entertainment, heritage, sustainability. These are some of what Singaporeans and visitors can expect when the master plan of the Kallang Alive precinct is implemented.
Designed by Pomeroy Studio in partnership with Sport Singapore, it is focused on conserving the Kallang district, while ensuring it is in line with modern elements of cutting-edge design and promoting active living through sport.
Mobility and reconciling the flow of pedestrians within a master plan that has a pre-existing set of diverse sports venues was a challenge, albeit an interesting one.
The solution was to find an "imprint" of the loop from bygone aviation days to provide a means of design reinterpretation as a central organising device.
This allowed the Studio to not only celebrate the site's cultural heritage, but also connect the various sports and recreation spaces in the interests of both mobility and connectivity for the pedestrian and visitor alike.
Here, Pomeroy Studio shares six highlights of the master plan.
1. Social: Curating an all-year round 24/7 sport and recreation-centric space for the young and the old
A velodrome, speed climbing facilities and BMX track are being considered for the Youth Hub. The Kallang Football Hub will host the National Training Centre for Football, ActiveSG Football Academy, and the facilities will be open to the public. The Kallang Tennis Centre, with its sheltered and open courts will appeal to all tennis aficionados keen to play the game or watch international matches.
2. Cultural: Celebrating Kallang precinct's airfield history and sporting heritage
The 400m radius circular landing zone that served as a gathering point for people arriving in Singapore in a bygone era will be adapted into a walking and cycling loop that undulates through diverse landscapes. It will serve as a means of pedestrian mobility and connection to all major venues across Kallang Alive, including the waterfront and Stadium Boulevard.
3. Spatial: Creating a vibrant, inclusive and diverse community park
Various public bodies have come together to transform the stretch of land along the Geylang River to create an inclusive green community space named Benaan Kapal Green to reflect its shipyard/shipbuilding heritage. It will serve not only as a park connector to provide seamless mobility for the pedestrian, but also as a place for events. Expect walking and running trails, a community centre, lush wetlands and lawns for a variety of sports for all ages.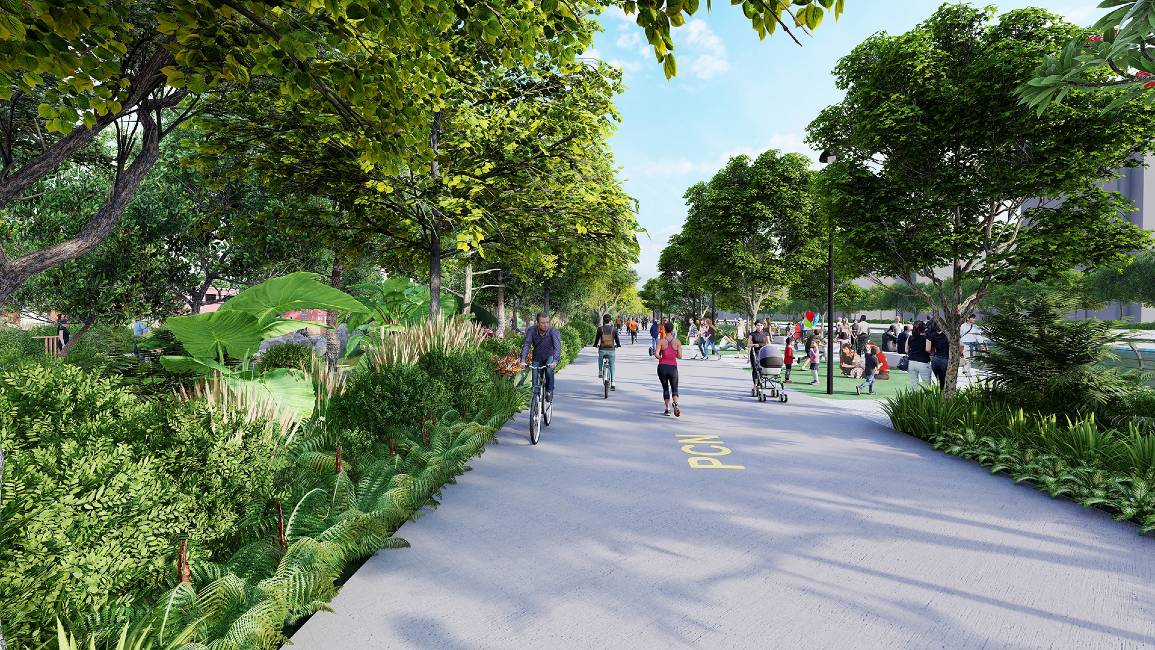 Benaan Kapal Green
4. Environmental: Creating one of the world's most sustainable sports precincts
Integrated into the precinct are environmentally-sustainable solutions. The design reflects the contribution of sport to the national sustainability agenda and partly to the United Nations Sustainable Development Goals. Renewable energy sources will be created from the use of solar panels and piezo electric walkways at the precinct, while an embrace of passive design seeks to keep carbon footprints to a minimum.
5. Economic: Conceiving a mixed-use core for commercial activity and value generation
The present Kallang Theatre, a brutalist structure that was once the site of many a national performance (as well speeches from the former Prime Minister), will be converted into an integrated multi-purpose sport, entertainment and lifestyle hub. This could comprise a multi-purpose indoor arena that could facilitate the hosting of eSport and other sporting tournaments, as well as a themed hotel, sport medical centre, hospitality and event suites and office spaces.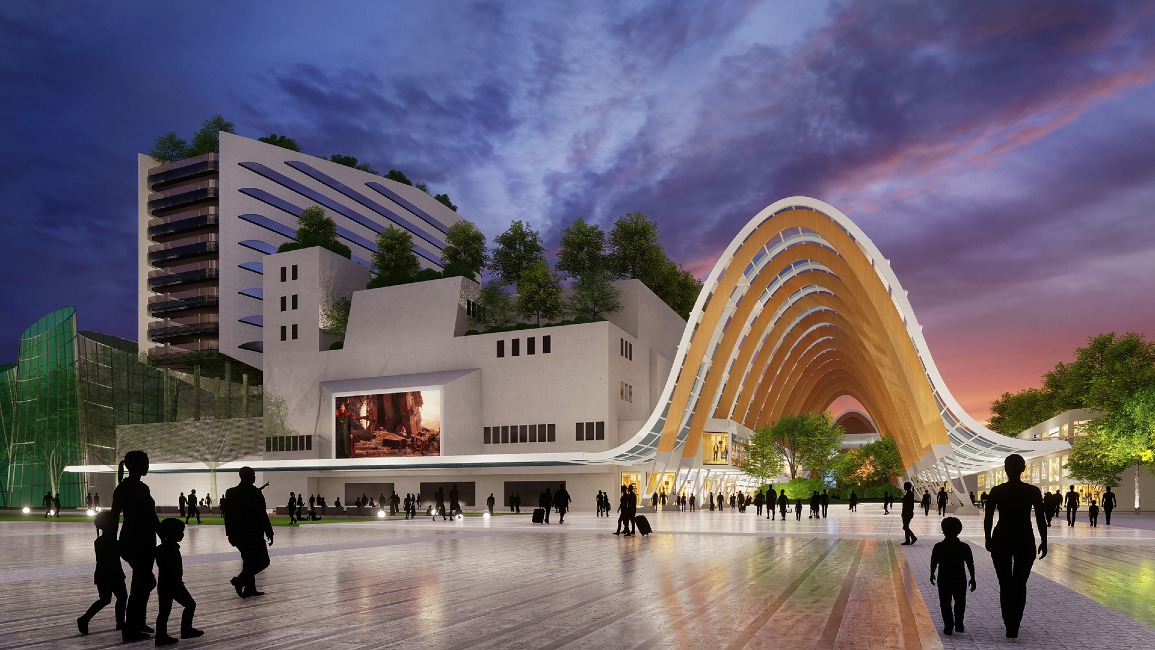 Redevelopment of Kallang Theatre
6. Technological: Enabling the use of smart technology to enhance visitors' experience
Green technologies that can control the temperature and humidity of the walking and cycling loop are proposed, which will enable clean energy to be generated through the combination of both solar power and kinetic pressure pads in the floor. There will also be digitally-interactive light and art installations that will narrate stories of Singapore's culture and sporting heritage to enhance the experience for residents, visitors and tourists alike.