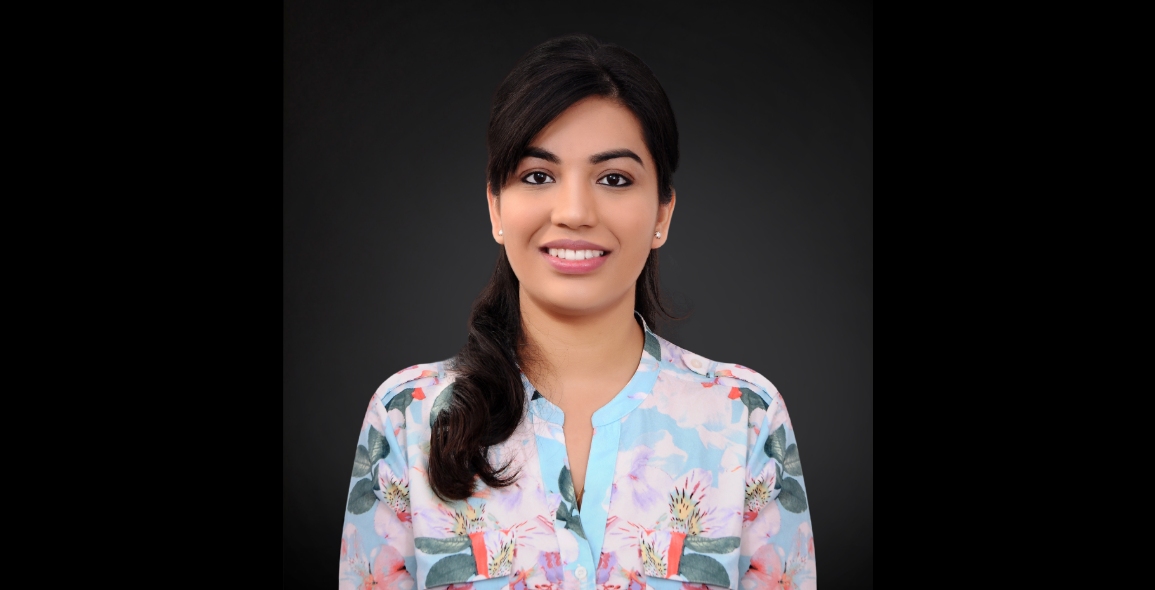 Dedicated seven years of her career to JPA Design has paid off. At the end of 2018, Aditi Gupta was appointed Country Representative (India) of the UK and Singapore-headquartered design firm, overseeing business development in her country.
Among her past projects include Amoda Reserve, India, Cape Waligame, Sri Lanka and Fort Aguada, India. With this new role, she will support JPA Design in securing a stronger foothold in the rapidly-developing Asia.
In a way, the path ahead is not overly challenging, since JPA has been working with a few core hospitality clients in India for the last 30 years. It has designed several outstanding projects such as the Lake Palace in Udaipur, the Taj Mahal Palace in Mumbai, and The Westin Hotel in Pune.
d+a caught up with Gupta to find out what's on her to-do list and how she plans to bring the team forward into 2019.
1. India is so big. What is your business development plan for the country?
In the last decade, India has seen an incredible change in perception towards home ownership. Property isn't just an investment or a secure place to live in anymore; it's a place to entertain and a place to enjoy the luxuries of life. The upcoming landed properties are almost like mini-hotels. Residential localities are being developed with not just fitness centers and functional halls, but also with spas, theatres, and high-end retail. We've worked on a couple of development projects in Mumbai, and are now looking to expand by collaborating with high-end developers around the country.
The air transport sector has also evolved in recent years. India's domestic passenger traffic grew year on year by 18.28 percent to reach 243 million last year and is expected to reach 293.28 million within the next two years. Budget airlines have made their way into the business and are doing exceptionally well. Given the incredible size of the Indian economy class travel sector, we are now starting to think about how we could adapt our award-winning designs to elevate the experience of millions of economy class passengers in India.
Our London office has developed a new business / first class seat using disruptive technology to bring about the next radical change to the airline industry – the Monocoque construction. We have removed the metal sub-structures and incorporated features which permit carry-on luggage to be stowed within the shell, thus eliminating the need for overhead lockers, saving enormous weight in the aircraft (which equates to lower fuel burn, environmental advantages, and cost savings). A spin-off benefit is that removal of the bins also creates a more spacious and pleasing environment for customers. Since the structure is very thin, we have saved about four inches on the pitch giving us a bigger bed and an extra row of seats. We are ecstatic about the prospect of bringing this technology to premium Indian airlines and in turn revolutionizing the first class experience in India.
Having said that, what makes us truly unique is our expertise in high precision work with aviation interiors combined with our deep experience with the hospitality sector. We are exploring the possibility of using the technology we use for aviation interiors and applying it to hotels to create factory-built units for the burgeoning population of young professionals in India who want a comfortable and clean budget friendly hotel. These modules, when produced in bulk quantities, could be very cost effective and the idea certainly has some potential.
2. Can you describe what is JPA Design's interpretation of a quintessentially Indian hospitality design experience?
India is known for its diverse culture, art and history, reflected in its interior design, characterised by the exotic, complex and interesting, with vibrant and varied colours as the hallmark. The colours are incorporated into knick-knacks, hand-spun fabrics, patterns, motifs and paintings to evoke a sense of buoyancy and richness. Solid wood is used in a variety of furniture, and the Indians take immense pride in their master craftsmanship.
At JPA Design, exotic and richness are the core of our Indian hospitality design experience. For heritage projects such as The Lake Palace Hotel, interiors are rich in detail, decorative plaster-relief friezes with intricate corbels, timber grid ceilings with cast brass bezels and delicate frescos. Traditional colourways are introduced in the wall panelling, finished with milk paint and distemper, and in the rich fabrics, most of which were sourced locally.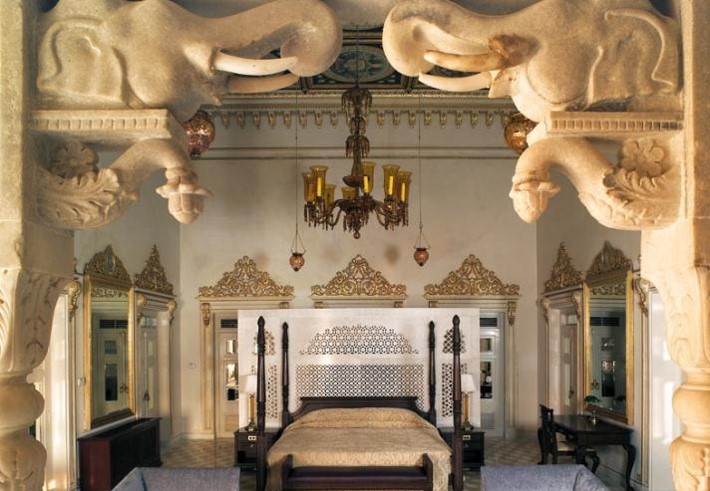 The Lake Palace Hotel
However, India also has a booming business market that demands a more contemporary approach to Interiors. For the hotels we develop with the business traveller in mind, or for a resort destination, our approach is different. The historic Indian decorative references are secondary to a more contemporary approach, and therefore used only to provide a subtle flavour of a particular locality. Some of our contemporary works include the Radisson Blu, Kolkata; Westin, Pune; One Avighna Park, Mumbai; Amoda Reserve, Lonavala.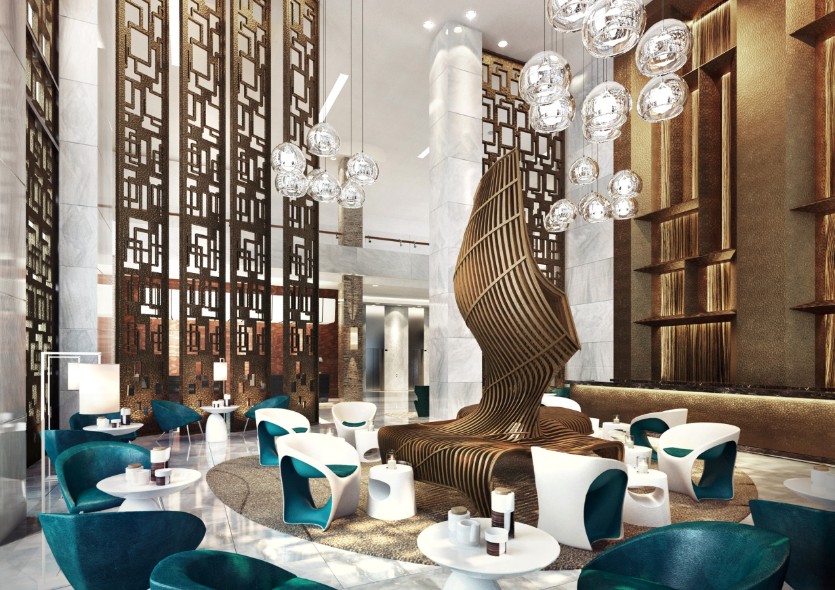 Radisson Blu, Kolkata
3. India is so diverse and has multiple points of inspiration. How does JPA Design translate what the country has to offer into the design projects that it does?
India is a truly a gold mine in terms of its rich cultural and design heritage. The story encompasses the evolution, starting from a series of royal kingdoms to then transitioning into a British monarchy, and finally concluding with the modern India we see today. This journey of evolution contains our design heritage that has witnessed prosperity, knowledge, and art along with the struggle for self-preservation. This, when combined with the unique story that each state has to share, provides endless points of inspiration for us.
It is our privilege and our responsibility towards the traveller to offer them a taste of this special heritage. We draw inspiration from the architectural monuments, traditional artwork, and local materials of the state we design in. Our design for the Lake Palace, Udaipur, saw us collaborating with local craftsmen to achieve an authentic royal Udaipur experience.
4. In your seven years with JPA Design, which would say is the project you're proudest of?
The project I am proudest of has to be Fort Aguada, Goa. The goal was to bring an authentic Goan flavor to the interiors of the cottages. In order to better understand the Goan design culture, I travelled through the streets of Goa, absorbing inspiration from their Indo-Portuguese style of design.
If you look carefully, you will see that the door architraves in the cottages are inspired from the architraves from Basilica of Bom Jesus and the decorative tile border on the floor takes its inspiration from Azulejo tiles from the Ruins of the Church of St. Augustine. The decorative pediments above doors and openings are influenced by the pediments from local buildings. The colour palette of blue and white comes from the very authentic Indo-Portuguese scheme of blue, yellow and white as seen throughout Goa, particularly on the streets of Panjim.
The loose furniture in the cottages and the general flooring is preserved in neutral wood tones to balance the contrast on the walls and upholstery and to bring the various elements together. Beautiful designer plates adorn the walls of the cottages, which are particularly crafted to mimic Portuguese pottery. The project certainly has come together very well and we all are very proud of it.
5. Name an Indian designer that is currently on your radar.
The designer currently on my radar is Turmeric Design. They're into branding and illustrations. What fascinates me is their work for two Smoke House Deli restaurants, in Khan Market and Hauz Khas Village, in collaboration with interior design partner Livin' Colors Design. It includes a unique and very creative combination of graphics and interiors. They've drawn inspiration from the rich, multi-layered stories of the history of two of Delhi's most iconic neighbourhoods, Khan Market and Hauz Khas Village.
At Khan Market, they've drawn stories of the peculiar, post-partition, colonial-Punjabi sensibility of 1960s Central Delhi. At Hauz Khas Village, they've explored the area's layers of rebirths: from its 13th century context, to urban village, to hipster creative hub. These stories are translated into interiors in the form of wall sketches and illustrations. This idea of designing interiors using graphics creates very interesting, dynamic and interactive spaces.